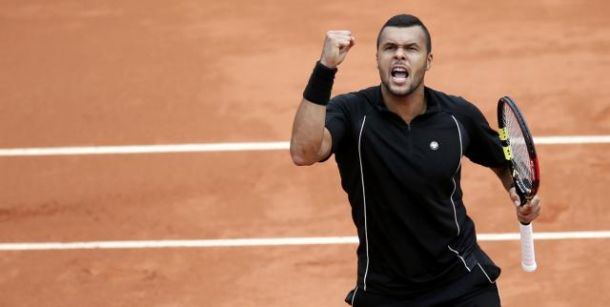 In a hotly anticipated contest, Jo-Wilfried Tsonga took on Tomas Berdych in the 4th round of the French Open. Berdych has been having a relatively good year, having not lost at any events before the quarter final stage. Their head to head was 2-6 in favour of the Czech, with him winning their last meeting in Madrid with relative ease 7-5, 6-2. Tsonga had also had recent time away from the game with an injury; this combined with the 10 place difference in their seedings (Berdych 4th, Tsonga 14th) put Berdych as clear favourite.
The first set saw Tsonga immediately stamp his presence on the match, serving strongly and holding to 30. Berdych went on to also hold once, before being broken in his next service game for Tsonga to lead 3-1. Berdych fought back and attempted to get the match back on serve, but Tsonga held for 4-1. At this point the match was briefly suspended due to the rain that had been interrupting play most of the day; although he was evidently unhappy with the enforced delay Berdych didn't let it affect him and held once play resumed for 4-2. Tsonga held for 5-2 and the pressure was on Berdych to not get broken for the set to allow Tsonga to serve first in the second set – he rose to the challenge and held to love with a great cross court volley. Then was Tsonga's turn to resist the pressure. He went down 0-30 on his serve but managed to steal the set with a stunning forehand down the line that forced the error from Berdych, 6-3 in 46 minutes.
The second set was much a continuation of trends from the first; Tsonga immediately carved out three break point opportunities for himself, and capitalised with a netted forehand from Berdych. Tsonga's forehand in particular had a lot of spin, and soon he was leading 3-1. With the patriotic crowd behind him, Tsonga broke for a second time in the set by coming in on a drop shot and forcing Berdych to net a volley. He then promptly consolidated – Berdych looked desperate but held with an ace, 5-2. The Frenchman got himself to double set point and took the set 6-2 with a forehand Berdych could only claw into the net.
The 3rd set passed smoothly for both men on serve until 4-4, where Tsonga imposed himself on Berdych's serve and broke with a wayward forehand from the Czech. Upon attempting to serve out the match however, Tsonga was broken back to 30 with a forehand that fired just long. Berdych then consolidated and Tsonga followed suit, holding to love to force a tiebreak. Tsonga raced to a 3-0 lead with a mini break, however some smart play from Berdych equaled the score at three-all. Tsonga won another point with an unreturnable serve, but Berdych dominated the rest of the tiebreak, finally winning it 7 points to 5 in 59 minutes with a netted backhand from Tsonga.
It was evident that Berdych had been inspired from his 3rd set victory; he held to love in the 2nd game of the 4th set before breaking Tsonga with a forehand cross court drop shot pickup right on the line and holding again to lead 3-1. Tsonga however wasn't going to give the match up without a fight, and managed to get the break back with stunning defensive tennis forcing a backhand error from Berdych to level the set at 3 all. Tsonga created 2 more break point opportunities in Berdych's next service game, and soon broke with an amazing forehand and fist pump to give himself another chance to serve out the match. 2 aces and an unreturnable serve saw the crowd favourite have 3 match points, and he took the first with another strong serve and forehand to force an error from Berdych, winning the match 6-3 6-2 6-7(5) 6-3 in just short of 3 hours.
Tsonga's next opponent will be Kei Nishikori, who breezed through his 4th round match in straight sets. It will be a tough match for Tsonga considering Nishikori leads their head to head 4-1, but with the support from his home crowd and his current form, he has a decent chance to pull off the upset.