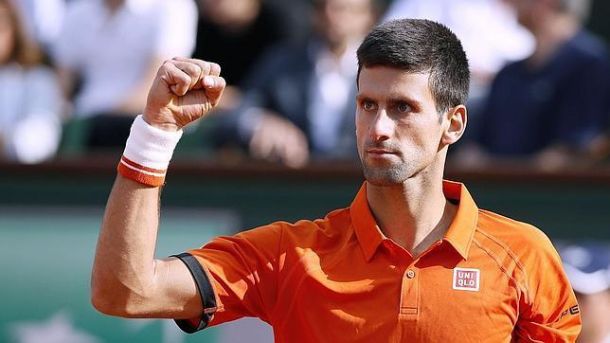 World number one Novak Djokovic proved yet again, why he holds that moniker as he hammered the Frenchman Richard Gasquet 6-1, 6-2, 6-3 to set up a dream quarterfinal round with arch rival and nine-time French Open champion Rafa Nadal.
Djokovic made it look like child's play and was dictating terms right from the beginning. Racing to an early lead of 4-1 in the first set, Novak put the pressure on the Frenchman. A series of backhand unforced errors from Gasquet didn't help his cause as he was broken for a second time and Djokovic took the first set 6-1.
Novak came out once again in relentless fashion never allowing the crowd favourite to get on top as he served deadly blows at the beginning of the set. This has been Novak's specialty this year as he begins to put pressure on opponents right in the beginning of the set and races away to positions from which the opponents never recover. That's the reason why you find so many bagels and breadsticks being served by Novak. It was no different against Gasquet as he was forced to be on the back foot all the time even in the second set Novak once again raced to a 4-1 lead. The home crowd support was no match for Novak's domination and he took the second set 6-2.
Well, nothing changed in the third set and it all looked gloomy for Gasquet at 4-1 down for the third time in the match. However he managed to win his service game and immediately broke the Serb's serve to reach 4-3. Sadly he faced three break points the next game and could manage to save just one and Novak was back on top at 5-3. Djokovic was definitely not going to drop serve for a second time and a series of powerful forehands and finally a side spinning drop shot proved to be decisive and he wrapped up the game at 6-1 6-2 6-3.
Well, no one can wait for the big quarterfinal now. Whatever has happened in the first four rounds, is the past. Can Novak win the Rafa challenge? Can he do something no one in the past decade has done except Robin Soderling? We'll find out on Wednesday!