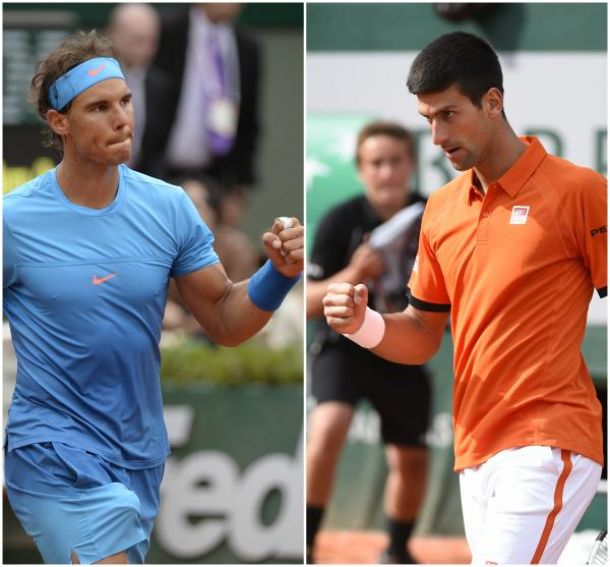 Rafael Nadal and Novak Djokovic have played each other 43 times, with Nadal leading the head to head 23-20. It's one of sports greatest rivalries and produces the most exciting and crucial matches of the year. This year the two will face off earlier than usual, in the quarterfinal. With Nadal's lowest ranking since 2005, in this years French Open, the seeding results in an early clash of the titans. Rafael Nadal is a nine-time champion in Paris, with an incomprehensible 70-1 record. Djokovic has been desperate to get his hands on the Coupe des Mousquetaires for years, but Nadal has always been the one person in his way. Rafa leads their head to head at Roland Garros 6-0, often defeating him in finals at the most crucial of times. This year, Novak's form is better than ever whereas Rafa is struggling. Is it the year the Serb can finally beat Nadal and capture the elusive title he's had his eyes on for a decade?
Rafa comes into the blockbuster quarterfinal dropping just one set to Jack Sock in his fourth round. He's satisfied with his play during matches and perhaps most importantly his progress, after a difficult few months. Nadal came into Roland Garros without a title during the spring clay court swing, which is an extremely rare occurence given his dominance on the dirt. Playing the world number one Djokovic is a huge challenge and if you're not at your best, your chances can slip between your fingers. The match will be a huge indicator of the Spaniard's level and just how much he has improved mentally. Earlier in the season he confessed he felt nervous on the big points. Tomorrow's encounter will have plently of vital points, which he will need to secure if he has any chance in coming through the match with a win. Lots of questions are asked of Nadal at this time of year, and even more so now due to his difficulties. Nonetheless, he is a nine-time champion who knows how to suceed in Paris. With the advantage of five sets and all of the memories contained inside Chatrier, he can be even more successful at the French Open than any other clay tournament.
The weather will either hinder or help Nadal tomorrow. If the conditions are dry and hot, Rafa can generate huge amounts of topspin on the ball, which gives him the lethal addition to his forehand. If the conditions are cloudy, it'll be harder for him to create the effects he desires on the forehand side, one of the most impressive and successful aspects of his game. Check the weather forecast, because it might just be a huge factor in the match.
Novak Djokovic has won every major event this year due his impeccable form. This season he's the Australian Open champion and has won all Masters events he has entered, both on clay and hard court. He's made it no secret that he is ready to win in Paris this year as he looks to fill the gap in his résumé. The French Open is the only slam he is yet to win. Novak won their last meeting in the semifinals of Monte Carlo and is constantly proving he can trouble Nadal on his favourite surface. The head to head is 5-5 on clay since 2011 despite the world number one not being able to beat Rafa at Roland Garros. This year, he seems as ready as ever and extremely confident as he looks to capitalise on Rafa's rough form. Djokovic comes into the quarterfinal without dropping a set.
Both players will be under immense pressure tomorrow, but just what is at stake? For Rafa, if he doesn't win, it'll be only his second loss in his career at Roland Garros. Many will claim it is the end of Nadal, putting him under even more pressure next year. It's an endless spiral of doubt that wears the Spaniard down. For Novak, if he doesn't win, it'll be just another fail at Roland Garros. He'll be down 0-7 - Nadal at Roland Garros. After all of the expectations that he will win this year, a loss would be a massive knock to his confidence.
So, who does VAVEL think will win? Taking Novak's form and confidence into account, we think he'll be able to edge Nadal. It'll be a battle...
Prediction: Novak Djokovic in five sets.