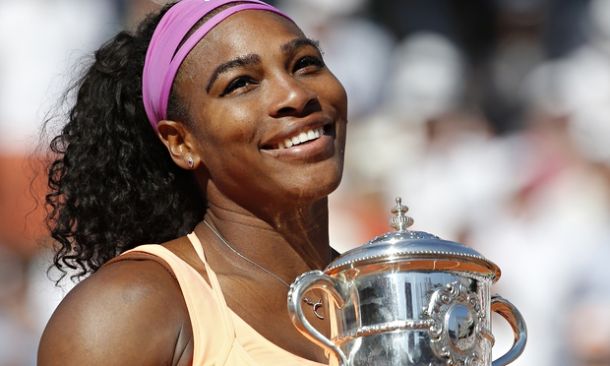 Serena Williams has battled against tough opponents, an illness and most importantly, herself, during the past two weeks in Paris. Despite not playing her best, she's fought like she always does and won an incomprehensible 20th Grand Slam title. Serena is now just two Grand Slam titles away from equaling Steffi Graf's record of the most major titles in history.
Lucie Safarova of the Czech Republic was coming into her first ever Grand Slam final, but she appeared confident and ready to give it her all. Williams and Safarova had played each other eight times, with Serena winning all of their matches. Their last meeting was in Beijing last year, with Serena dominating in straight sets. Not many experts predicted that Safarova would trouble Serena today, but they were wrong, as the match took a very different turn in the middle of the second set.
Over the past two weeks, Serena had beaten the likes of Errani and Azarenka while Safarova was having the tournament of her life, taking down Sharapova and Ivanovic. The key for Safarova was to make Serena move and run for every ball, to allow her to take control from the middle of the court. Safarova had been playing fantastically but beating Serena, who always peaks at finals, would be her biggest challenge yet.
Serena began with a sense of urgency. She immediately seemed fresher and more competitive than she had been in the tournament so far, which gave us an indication that her battle against the flu was finished. Her serving was exceptional from the beginning. Safarova was a little tentative, although that is understandable. One of the key things that had helped her through Roland Garros was her serve, which seemed to be firing today. A few unforced errors from Serena gave her the chance to level up at 1-1. A fantastic point won by Safarova spiced up the match early on and Lucie took advantage of a weak smash by Serena to hit a lob right to the back of the court, but it wasn't enough. Serena held her serve and broke in the next game with an insanely good forehand cross court winner. Her strong serves and perfect reading of the ball sent her up 3-1. She was on fire. Although Safarova was doing everything she could, during the first set nobody would have been able to do enough. Smooth yet effortless power from Serena gave her to opportunity to take the first set 6-3 in just 31 minutes. In the first set, Serena won 30 points as opposed to Safarova's 22.
Safarova wasn't playing badly, but she was yet to encounter a player in the tournament that gave so much depth and speed. Serena was painting the lines and taking advantage of anything less than perfection coming from the other end of the court. Safarova was serving smartly, out wide to Serena's forehand. She was forcing her to get out of the court which gave her chances to create winners. Her tactics were solid and made an appearance from the second set. Serena whipped strong backhand winners down the lines and into the corners, breaking immediately. Serena was well on her way to her 20th grand slam title by this point, but Safarova wasn't finished yet. Two double faults and unforced errors in a slack game from Serena enabled her to break serve, although still down a game. A fantastic dropshot and passing shot to follow gave the Czech a new spark in the match and drilled some belief into her veins. Safarova broke once again and leveled the score at 4-4. She was no longer walking back to her chair, she was marching.
The match was becoming a contest, and a very tight one indeed. Efficient and compact groundstrokes frustrated Serena, who shouted and almost begged herself to pick her level up, but big deep backhands and an improvement in movement let her break and serve for the French Open. She could smell victory. However, two daring huge forehands down the line from Safarova gave her a breakpoint. A firing backhand down the line gave her the game and the power to send the second set into a tiebreak.
Safarova was 5-0 on tiebreaks so far in the tournament, and with her form in the second set, it seemed like a perfect time to take her 6th. Errors from the American sent Safarova up 3-0 straight away. Then, an incredible rally was won by Serena which pumped her up. However, it wasn't enough, as her opponent held her nerve and won the tiebreak despite hanging by a thread for multiple points. What a match it turned out to be...
A tired and frustrated Serena double faulted and flung groundstrokes all over the place, letting Safarova break her serve. Everything started to fall into place for Lucie. Her serving was consistently fantastic, her movement was exceptional and her mentality strong. She wasn't daunted, even when playing the world number one in her first grand slam final. Serena didn't give in, though. She did everything she could and eventually it was just enough, letting her break back and level the score at 2-2. Serena constantly demands perfection, so she's ruthlessly tough on herself. Giving herself a stern talking too seemed to have fixed her, as she responded to an early crisis with a love hold, sealed with an ace. Serena broke once again and had now won four games in a row. A jawdropping rally (the longest of the match at 19 shots) was taken by Serena. Despite difficult movements forcing her to hit a left hand forehand (!) she won it in style. After a mid-set turn around, Serena found herself serving for the championships at 5-2. Serena Williams was to be crowned the French Open champion 6-3 6-7 6-2.
Despite gutsy play from Lucie and some messy patches from Serena, she did exactly what she needed to do. She's breathtakingly dominant, even when she's not at her best. Chris Evert summarized the match perfectly- 'Safarova didn't lose it, Serena won it.' By no means did the 28 year old Czech play badly. She played the tournament of her life and didn't disappoint today in the slightest.
20. It's the number that everybody is talking about. Serena furthers her legacy in style, once again.