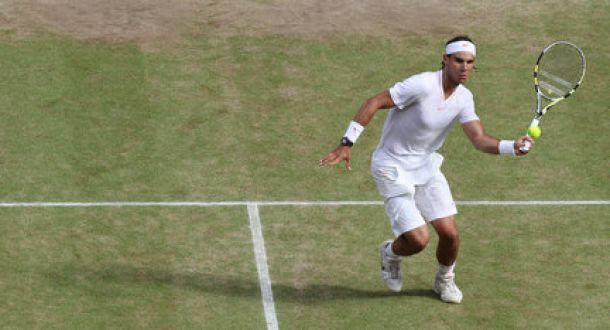 In 2008, Rafael Nadal defeated Roger Federer in a five set match, 9-7 in the fifth, to win his first ever Wimbledon title. He established himself as an all-round tennis hero, not just on the clay. If you ask Rafa what his most memorable victory was, he'll put that first Wimbledon title seven years ago near the top of the list. Two years later, he fell to the ground at the All-England club once again, claiming his second title at Wimbledon. Since a defeat in the final in 2011, things have gone downhill for Rafa on the grass.
In the second round of Wimbledon in 2012, Rafa crashed out of the Championships to Lukas Rosol, in his worst Grand Slam upset ever. The following year, it only got worse. He lost once again, this time to world number 135, Steve Darcis in the first round. So, just why is Rafa now struggling on a surface that was so successful for him in the past?
After Wimbledon in 2012, Rafa took seven months off the tour to recover from tendonitis in the knee, an injury that threatened to halt his career. Many questioned if the Spaniard would ever return. Luckily, he did, but it's never been the same on the grass since. His troublesome left knee is one of the key reasons why.
On grass, the bounce is lower. We know he loves a heavy topspin and a high bounce, but on grass, he has to adapt his movement to bend lower to reach the ball. Nadal never likes to blame his defeats on injury, but in reality, that's often the secret situation. On his favourite surface, clay, his heavy playing style doesn't bother his knees. On the grass, it's another story altogether.
Rafa always struggles during the first week of Wimbledon. Opponents are low-ranked and inspired, and the courts are abrupt and new. If he survives the early rounds, Nadal transforms into a much more comfortable version of himself. By week two, the courts are worn in and the ball bounces higher. It's not just the court conditions that change, his confidence increases too- we know it's a vital ingredient to his success. Higher amounts of confidence and a higher bounce are a winning combination. The difficulty in previous years is that he hasn't been able to leap over the hurdles in the first week.
This year, an extra week will be added between Roland Garros and Wimbledon. Adaption is a huge aspect determining players' success during the grass-court season. The change from clay to grass is huge, and without proper introduction, it's difficult to do well. Rafa's grass-court season this year is busy, which will help him with his run up to Wimbledon. He plays in Stuttgart in singles and doubles with Feliciano Lopez. Next week, Nadal and his team travel to the Queens Club in London, where he won in 2008. After that, he still has a whole week to train before Wimbledon begins.
More time to adapt to playing matches on grass will be a huge advantage for him. Also, an earlier French Open loss than usual gives him time to perform well in these warm-up events. Last year after winning his 9th French Open title, Nadal arrived in Halle less than 24 hours later. He predictably lost in his first match.
Rafa's knees are in better shape than the last few years too, he declares himself free of injury. Physically he is well and energized, the only thing now stopping him is the infamous confidence issues he's struggled through this year. However, perhaps when performing on a surface like grass, he will not feel as much pressure, aiding him to play freely without doubts.
Nadal's future on grass is unpredictable, yet exciting. He will be competing against grass-court experts such as Djokovic and Federer. There's no room for anything less than perfection. Can he revert back to his winning ways, or is his grass-court greatness over for good? It's going to take something special to convince everybody that his grass days are not yet over.