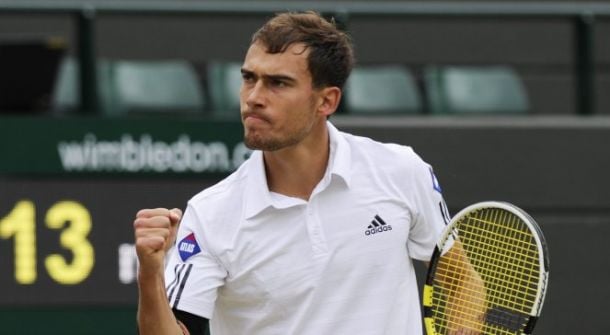 Next month marks the two-year anniversary of Poland's Jerzy Janowicz being the hottest up-and-coming prospect in men's tennis. He had just reached the semifinals of Wimbledon, taking a set off of eventual champion Andy Murray. It seemed as though his run to the 2012 BNP Paribas Masters final the previous November, which saw him beat five straight top-twenty opponents before falling to David Ferrer in the final, was no fluke. He'd been putting up solid results all season, with Wimbledon being the best yet. By reaching the semis, he was the first of men's tennis' "next generation" to go that deep in a major. He soon reached a career-high number fourteen in the rankings with tons of points up for grabs. It seemed as though the best was yet to come.
But here we are, almost two full years later, and not only has Janowicz failed to improve upon his early promise, his results have steadily tailed off. Since that run at Wimbledon, Janowicz has yet to make it out of the third round of a major. He's reached two finals at ATP 250 events, losing both. His ranking has plummeted to the edge of the top fifty (currently number fifty on the dot), with it dropping as low as sixty-five. He's struggled immensely overall and no match ever seems to be a sure thing. He seems to have completely fallen off the map as an up-and-coming star, eclipsed by the likes of Kei Nishikori, Milos Raonic and Nick Kyrgios. He no longer makes headlines. He's just another also-ran on the ATP World Tour.
So what happened? How could someone with as much promise as Janowicz completely fall of the rails the way he has.
And to be fair, he had so much potential. Janowicz's game was, and technically still is although it's proving not to be very effective, brilliant. At 6 foot 8 inches, he can hit the ball harder than almost anyone on the tour. His serve is monstrous, consistently landing in the 130s MPH, and coming in straight down due to his massive reach. He can crush both his forehand and backhand. He moves way better than anyone his height should be able to. He is also almost impassable at the net because of his massive wingspan. But perhaps most importantly, he possesses incredible variation on his ground strokes. He loves to mix things up with his strokes, throwing in slices and mixing up power and spin to keep opponents off guard. His drop shot is one of the best on the tour. Janowicz was built to win, especially on fast courts like Wimbledon. But this brilliant game has not helped him get the results he desires. Why? How?
There is more than one factor at play in Janowicz's struggles, but there is one predominant factor that most easily explains Janowicz's struggles. He's had a nightmare with injuries. Since his Wimbledon run, Janowicz has been injured consistently. It started with a back injury at the US Open in 2013, a mere two months after he'd reached the semi-finals of Wimbledon. That back injury was largely responsible for his first-round defeat in New York, during which he served underhand at one point. The back injury would keep him out of action for over a month, and he was rusty on his return. When it came time to defend his 600 points for finishing runner-up in Paris, he struggled and lost in the second round to Rafael Nadal, which cost him 555 points. Still, he finished the year ranked twenty-first with high expectations for 2014. Again, the injury bug bit Janowicz. He struggled through January with a foot injury, missing the Hopman Cup (which he would win a year later) and losing early in Sydney and Melbourne. After the Australian Open, he revealed that he'd been playing with a broken bone in his foot. Illness then kept him out of the Open 13 in Marseille. As the clay season kicked off, injuries and rust had limited Janowicz's play over the previous six months. It wasn't all that surprising when he struggled through the clay season. He failed to re-find his form when the tour returned to grass and he crashed out of Wimbledon in the third round. That's when Janowicz's ranking took the devastating blow that knocked him out of the top fifty. After Wimbledon, another foot injury limited him. The period from August 2014 until February 2015 was the longest Janowicz went without health problems since Wimbledon 2013, but his health turned on him at the worst possible moment.
Janowicz reached the final of the Open Sud de France in February, a run which included a straight sets win over Gilles Simon, ranked in the top twenty. But before the final against Richard Gasquet, Janowicz went down with a viral infection. He tried to play the final, but retired after losing the first three games. Since then, Janowicz has seemingly been healthy, but it has yet to have much of an effect on his results. He's 2-5 in ATP Masters 1000 events this year, including three straight first round losses at the clay Masters 1000 events. He also lost on Wednesday in the second round of the Stuttgart Open to Philipp Kohlschreiber in straight sets. He'll be hoping to call on some of that 2013 magic to turn things around at Wimbledon. While he's struggled when he's healthy, you do have to feel a bit sorry for Janowicz. His body has not been kind to him. And what's strange is that they're not injuries that you would necessarily expect for a player with his style. Back is not surprising. It's not uncommon for big servers to have back injuries. But a foot injury? That's more unusual for a guy who plays a big hitting style like Janowicz. Nadal had foot trouble back when he was young, but considering his style of play, it's not surprising. But it is for someone like Janowicz, who doesn't scramble along the baseline and put the same strain on his feet that Nadal does. Janowicz has also had no luck with illness. He's had a few bizarre, poorly timed infections that have limited his play. You can't blame that on him. But it's played a role in his downfall.
Whenever a young player has a meteoric rise like Janowicz and proceeds to crash, the role that pressure and the pressures that come with stardom tend to be responsible. We're seeing it right now with Eugenie Bouchard. She came out of nowhere last year and put up amazing results in the Slams. Then this year, there is tons of pressure for her to repeat and she's been cracking. That could be a bit of what happened to Janowicz. His run to the BNP Paribas Masters final was such a sensation that he immediately captured the imagination of fans and media alike. All of a sudden, there were expectations on him. He was supposed to be contending for Masters 1000s and Slams. His name was being thrown in with the up-and-comers who'd been around for a few years already like Milos Raonic and Grigor Dimitrov. By the time the Australian Open rolled around two months after his run in Paris, he was expected to contend. That's a lot of pressure to face very suddenly. The pressure only mounted when he made that run at Wimbledon because he was seemingly proving that everything that had been said about him was true.
Again, this is a lot of pressure for a young player. We've seen it destroy many careers over the years. Now, the pressure may not have been as immense on Janowicz because he's Polish. He wouldn't have had to deal with the media attention that American players have to deal with. Still though, the weight of expectations can be crushing. Not to mention that Janowicz would surely have high expectations of himself because he'd made these big runs. After reaching the semi-finals of Wimbledon, Janowicz would surely expect nothing less from himself. We've seen flashes of mental struggles from Janowicz before in the form of on court tantrums. He shows open frustration regularly often on court. This is often a sign that a player lacks a level of mental toughness. When you combine that with high expectations, the result can often be implosion. There are exceptions of course (Connors, McEnroe, Serena etc…), but in young players, it's usually a bad sign. This has also likely played a big role in Janowicz's struggles.
There is one important thing that needs to be remembered about Jerzy Janowicz. He's actually only played two good tournaments in three years. He made his break-out run in Paris and then his big run at Wimbledon, but that's it. He's actually done little else. And that was all in his first nine months on tour. Compare that to Milos Raonic, a player only seven weeks younger than Janowicz. His breakout came at the 2011 Australian Open, reaching the fourth round and taking out world number ten Mikhail Youzhny on the way. Within two months, he'd won his first title, coming at the 250 event in San Jose, and reached another final at the 500 event in Memphis. His ranking has steadily risen since then. Janowicz had his break out by reaching the final in Paris. He would not reach so much as the quarterfinal of an event for seven months after that, losing in the quarterfinals of the Italian Open to Roger Federer in May. Wimbledon was only his second career semifinal. It's entirely possible, if not probable, that Janowicz's run in Paris was actually a bit of a fluke. He put his game together and player better than ever for five matches, but in reality, he's not actually that good of a player. Sure, when all the pieces connect, he can be really strong, but overall he's just not that great a player. We see this all the time in tennis: an average player has a great week or two and everyone expects them to play at that level all the time, only for them to return to their normal level and forever be disappointments. A great current example is Stanislas Wawrinka.
Throughout his career, he could put together a solid week or two and make a great run at a tournament. Last year, he finally put everything together at the Australian Open and won it. He then proceeded to be an average, if not subpar player for the rest of the year with the exception of one week in April when he did it again to win Monte Carlo. Seemingly every few months, Wawrinka could get hot for a week. He did it in November at the ATP World Tour Finals. Again in Melbourne this January. And of course, this last fortnight at Roland Garros. But Wawrinka isn't consistently as good as he was at Roland Garros. That was above his normal level. And that's probably what we've seen from Janowicz. The way Janowicz played in Paris 2012 and Wimbledon 2013 was 150% of his full capability. What we've seen since is him at 80%. Janowicz at 80% isn't a great player. But when he gets to that super high level, he's capable of great things. But it's unfair to expect him to play at 150% regularly. It's more likely that Paris and Wimbledon were the anomalies and the Janowicz we're seeing now is the real Jerzy.
There are lots of reasons why Jerzy Janowicz has collapsed since his Wimbledon run two years ago. He's been injured. He's cracking under the pressure. Maybe he's just not that good. These are all possibilities. Lots of players have had hot streaks over the years. More players have probably had one good Slam run and never matched it again than have been consistent at Slams. It's relatively easy to play great and do great things for a week or two and never match those results again. At the end of the day, what the world should expect from Janowicz is erratic play. Maybe he'll bring it when Wimbledon starts in a few weeks and go deep. It's just as likely that he'll lose in the first round. Who knows. Janowicz has been great and he's struggled. It happens. He's still young, only 24 years old. He still has lots of time to turn things around.