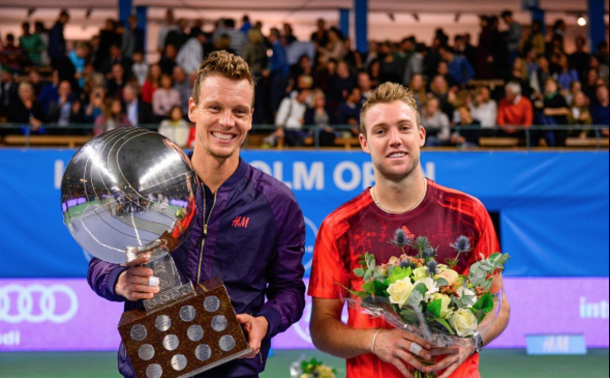 Tomas Berdych took home a second consecutive title at the If Stockholm Open defeating Jack Sock. The top-seeded Czech was tested in the opening set but made light work of Sock in the second to finish him off 7-6(1), 6-2. The Czech has now won two titles in the month of October after failing to pick up a title in the first nine months of the season despite making three finals.
Sock Races Ahead First But Berdych Wins Opener In Breaker
Both men were using their forehands early on to try and see if they could outhit their opponent from the back of the court, but it was to no avail. Sock knew that with his much weaker backhand side, he would have to mix it up a bit more to keep Berdych on his toes. A few points here and there, Sock would go serve and volley and even implemented his favorite drop shot which kept his French opponents this week, second-seeded Gilles Simon and third-seeded Richard Gasquet, on the run.
The American number two had the first two looks to break as a he got up to a net cord ball and slid it right down the line past the Czech for a winner. He would go on to break then held at 15 to confirm the break lead. Both players would hold until when Sock had a chance to serve out for the first set. Berdych ramped up the pressure and broke Sock as he netted a forehand to level the set.
Pretty much every punch Sock threw at Berdych in the tiebreaker was not enough, Every short ball was tracked down by the Czech as it was pure domination in the tiebreak as a shanked return gave the opening set to the Czech.
Berdych Does The Damage Early As He Wins In Stockholm
The world number five put himself in full control of the match after the third game by breaking Sock's serve after a big return down the line set him up for an overhead winner. Sock would only grab one more game, the fifth game to keep him down a break, but that was all she wrote.
Berdych trailed 40-0 in the seventh game but would break then to all but clinch the match. He served out the match by holding at 30 as he lifted a second consecutive Stockholm title and third overall. Stockholm is the first event that the Czech has won three times.
Despite the loss, Sock moves to 29 in the world, just two behind his career high. He will be playing Basel this week. Berdych on the other hand, will be taking the week off.