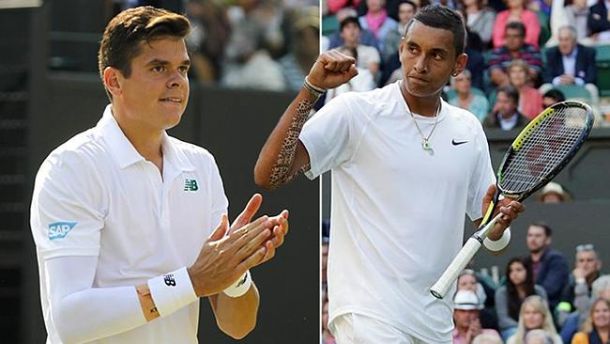 Both Milos Raonic and Nick Kyrgios's seasons have come to an end as they have withdrawn from the Paris Masters. It's bad news for the tournament, as they will lose two of the best players in the world at a world class event, the last Masters of the season.
Raonic's Withdrawal
On Tuesday, organizers of the Paris Masters confirmed that Raonic will not be present. Canadian number 1 Raonic has cited a back injury as his reason for withdrawal. The world number 9 dealt with back problems earlier at the US Open, but was able to bounce back as he would capture his only title of the season at the St. Petersburg Open, defeating Joao Sousa in the final in 3 sets.
The 24 year old also reached one final at the beginning of the season in Brisbane. With his sole title of the 2015 season, the Canadian extended his streak of title winning seasons with 5 years straight since 2011. Under the guidance of coaches Ivan Ljubicic and Riccardo Piatti, the 6'5" right hander reached a career high of number 4 in the world. With the injury problems he has faced, his chances of qualifying for the top 8 spots to play at the ATP World Tour Finals are almost zero to none as he is currently #14 in the singles race. Overall, it's been another successful season for Canadian number 1 as he rests to get ready for the 2016 season.
Kyrgios's Withdrawal
World number 30 Nick Kyrgios's controversial season has come to an end. The 20 year old dealt with many critics as his on court antics and sledge to Stan Wawrinka left many tennis fans disappointed. Newly appointed Australian Davis Cup captain Lleyton Hewitt has stated he believes that Kyrgios will learn from his mistakes and become a complete player in the future. The veteran former world number 1 has been overseeing the young 20 year old throughout the season, giving him knowledge and advice about the game in a mentor role.
The 6'4" player reached a Grand Slam quarterfinal for the 2nd consecutive year as he was inspired at the Australian Open. Kyrgios also reached a career high of 25 and made his 1st final appearance on clay at Estoril. With flashes of brilliance, the young Australian was unable to maintain a consistent level on a week to week basis throughout the year. With over 160,000 twitter followers, he tweeted to his fans, "Another year in the books. #SeasonOver #Thanks". The 20 year old cited an arm injury as his reason for withdrawal which has ended his up and down season. He now hopes to get healthy as he looks to the beginning of the 2016 season where he will be featured at the Hopman Cup.