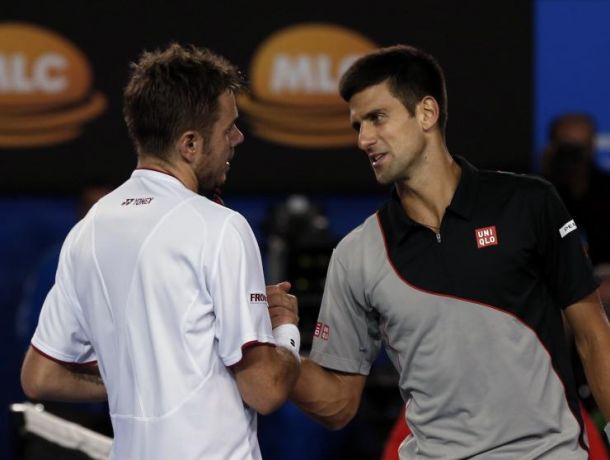 Novak Djokovic heads into Saturday's semifinal with a 20 match win streak intact. He has also won 28 straight sets during the streak.
How Djokovic Got Here
This week's top seed is six for six in sets won in Paris this week. He opened by dropping Brazilian Thomaz Bellucci 7-5, 6-3. Djokovic scored three breaks of serve in that match and crushed the second serve of Bellucci by winning 61 percent of the points. The Serb won a sloppy affair with Gilles Simon in the third round 6-3, 7-5. Djokovic struggled with his serve in the second set where he was broken four times. He countered that by breaking the Frenchman seven times in the match. In the quarterfinals, Djokovic played a nearly flawless match as he slipped past a solid Tomas Berdych 7-6, 7-6. Djokovic did not score a break of serve in the match, which marked the first time in 680 ATP wins that the world number one did not break his opponent's serve.
How Wawrinka Got Here
The fourth seeded Swiss started his campaign in Paris with a solid 6-3, 7-6 win over Bernard Tomic. Wawrinka was crushing his first serve against the Aussie as he won 32 of 37 points and added in 13 aces. The third round saw Wawrinka survive Viktor Troicki 6-4, 7-5. The Swiss' serve was not quite as effective with Wawrinka struggling to get his first serve in play. He landed just 50 percent of his first serves which allowed Troicki some looks at his second serve. In the quarterfinals, Wawrinka showed the fierce first serve again as he won 81 percent of the points against Rafael Nadal. The Swiss was able to bounce back from an early break to take the opening set tie break and then rallied back to win the second set tie break as well to beat Nadal 7-6 (8), 7-6 (7).
2015 Meetings
The semifinals in Paris will mark the fifth time that Djokovic and Wawrinka have met this season. The first meeting was on New Year's Day in Dubai where Djokovic won an early season match easily 6-1, 6-2. Djokovic won the second match 7-6 (1), 3-6, 6-4, 4-6, 6-0 in the semifinals of the Australian Open. Wawrinka scored sweet revenge in the French Open final a few months later by knocking off Djokovic 4-6, 6-4, 6-3, 6-4. That win denied Djokovic a chance to complete his "career Slam" and netted Wawrinka his second Grand Slam title. The Serb returned the favor when they met in Cincinnati in August by dusting Wawrinka 6-4, 6-1 in the quarterfinals of the Western & Southern Open.
Game Plans
The reality is that Stan Wawrinka has had issues beating Novak Djokovic when it has not been in a Grand Slam. Wawrinka's two wins in the last two years have both come at Slams, while Djokovic has won 14 straight over the Swiss in non Grand Slam events. Wawrinka's last win over Djokovic in a non Grand Slam came in 2006 in Vienna. That does give the Serb a distinct advantage heading into Saturday's action as he plays to win his third consecutive title in Paris.
Wawrinka is one of the few players who has shown the power and depth in his ground strokes to compete with Djokovic on a consistent basis over the past few years. When he has chosen to be engaged, he has those consistent strokes that cause Djokovic problems. If Wawrinka is to have a shot at stopping the Serb's win streak in the semifinals, he will need to show the consistent first serve that has been present in two of his three matches this week. If Wawrinka struggles to find the measure of his first serve, Djokovic will eat him alive and have every chance to add to that win streak.
Djokovic is likely to be dialed in on Saturday with the win streaks and potential history in the making if he can win this week. A win in Paris would be Djokovic's sixth Masters title this season, a feat no other player has achieved. With that and the memory of the French Open there for fuel, expect Djokovic to find the answers necessary to advance to the final. No player uses past losses better as motivation than Djokovic.
Prediction: Djokovic wins in straight sets