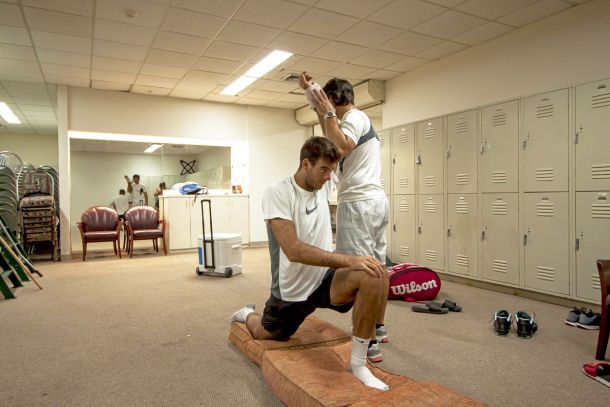 Juan Martin Del Potro has not played a match since losing to Vasek Pospisil in the first round of the Miami Open in March. He underwent a third surgery on his left wrist in June and just began to train again.
Del Potro Staying Positive During Rehab
Juan Martin Del Potro said in an interview with an Argentina TV station this week that he is doing much better in his rehab from wrist surgery. Del Potro plans on returning to the ATP World Tour as early as possible in 2016. For now, he has targeted January or February with no definitive game plan yet. The 2009 U.S. Open champion has been sidelined for large portions of the last two seasons due to continued problems with his left wrist. The Argentine has played just 14 matches over the last two years and rehab has been difficult. Del Potro told station CSN that it has taken him a bit of time to get mentally focused during the rehab process, saying, "My mindset is much better than a few months or few weeks ago."
Hitting the Double Handed Backhand

The majority of Del Potro's rehab to this point has been focused on physical conditioning and getting the range of motion on his wrist back. The biggest step now for the Argentine is hitting his back hand. La Nacion reporter Sebastian Torok took to Twitter this week to report that Del Potro has in fact begun hitting the shot.
[email protected], en el ensayo que hizo con Daniel Orsanic, pegó algunos reveses de dos manos, el golpe que más le exige la zona operada.

— Sebastian Torok (@sebatorok) November 9, 2015
Roughly translated, it is reported that Del Potro begun hitting a few double handed backhands to test his recovery from surgery. Del Potro has been doing this under the supervision of Argentina's Davis Cup captain Daniel Orsanic.
No Setbacks Are Key
The most important thing during Del Potro's rehab process is to take things slowly and make sure there are no setbacks to derail him from being back on court next year. He has been working in Miami on his physical conditioning and mobility exercises for his wrist for over a month now. For now, progress is being reported each day in the right direction for Del Potro. The Argentine has said if things continue to go well, he is hopeful of having an exact return date set as a goal some time in the next month.