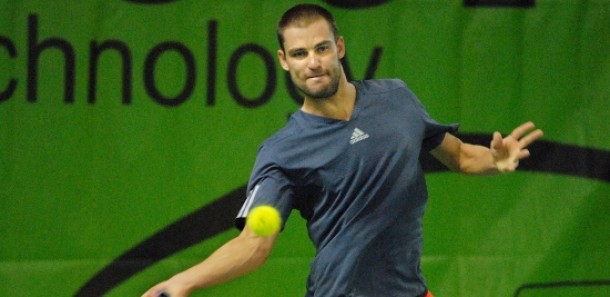 Mikhail Youzhny played his first ATP Challenger level event in four years this past week. It paid off as the Russian won his first singles title in two years. He also became the first player to win Challenger titles 15 years apart from each other.
Youzhny Likely To Finish 2015 Ranked Outside Top 100
For the first time since Youzhny was a second year player in 2000, the Russian looks as if he will end a season ranked outside of the Top 100. The last time he was this low was at the end of the 2000 season where he finished ranked 113th. Youzhny entered this week ranked 129th. That number received a good bump of 24 spots after the Russian won his first singles title in more than 24 months last week. Youzhny played the Watertechnology Cup 2015 in Eckental, Germany and beat Benjamin Becker in the final 7-5, 6-3. The title was Youzhny's first Challenger trophy since 2000 when he won in Samarkand, Uzbekistan. That marks the longest gap in between Challenger titles. That was a record previously held by American Michael Chang who went 14 years and five months in between Challenger titles.
Win Ends Overall Title Drought
Youzhny's last singles title came in October 2013 at the ATP level where he defeated David Ferrer for the Valencia Open title. At that time, Youzhny was ranked just outside of the Top 20. His fall from that point to now has been fast and hard with the Russian winning just 27 matches the last two seasons to see his ranking plummet more than 100 spots. The Russian had a paltry 9-24 record in 2015 in ATP World Tour events. His best performance in 2015 came at the Rogers Cup in Montreal where he worked through qualifying and made the Round of 16 before losing to Rafael Nadal. It was one of just two tournaments in which he won back-to-back matches this season. The other came in Zagreb in February where he lost in the quarterfinals to Marcos Baghdatis.
Despite a disappointing season, Youzhny said winning the title in Eckental has shown him that he isn't ready to talk retirement, "I had a tough year but my career isn't finished yet. I'm still enjoying playing tennis, no matter where."
To that point, Youzhny is continuing his season with another Challenger level tournament this week. He is currently playing in the Peugeot Slovak Open in Bratislava, Slovakia. The Russian won his sixth consecutive match with a 6-4, 6-0 win today against Martin Blasco in the first round. He faces Edouard Roger-Vasselin in the next round. Youzhny will be hoping to continue his form from Germany as any rankings points will help him get closer to being back inside the Top 100. That could help Youzhny from having to go through qualifying in some of the bigger tournaments in 2016.