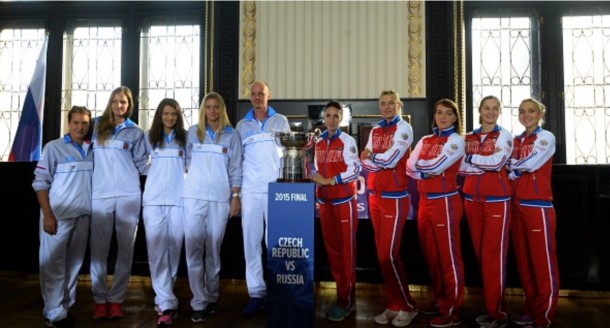 This weekend, the Czech Republic will face Russia in the highly anticipated 53rd final of the Federation Cup. Led by Petra Kvitova and Lucie Safarova, the Czechs will be looking for their third title in the last four years, while Maria Sharapova will attempt to lead the Russians to their first title since 2008.
Kvitova, Safarova, Pliskova and Strycova Form Lethal Czech Combination
As the defending champion, the Czech Republic has enjoyed lots of success in Fed Cup competition recently. The biggest reason for this success is the breakthrough of many Czech women on the big stages of women's tennis. At the end of 2015, there will be six Czechs in the top 100, with the top four slated to play this weekend, and two on standby. Inspired by a generation with the likes of Martina Navratilova and Ivan Lendl, many Czechs have become inspired to pursue their career as a professional tennis player, and it seems to be working. Earlier this year in the last full summer month of August, there were three Czech women in the top 10 of the WTA rankings for the first time in the Open Era — Petra Kvitova, Lucie Safarova and Karolina Pliskova were all proof that Czech tennis is on a steady incline towards the top.
One might ask, "Why has Czech tennis seen such a big breakthrough at the professional level in recent years?" There is no real answer to this question except for... it has just happened! However, it's worth noting that the top four Czechs on both the men's and women's side — Kvitova, Safarova, Pliskova and Tomas Berdych — all take the ball extremely early and they're not afraid to go for their shots. This fearless style of tennis has been widely adopted worldwide in the last two decades, and it seems that getting to the upper echelons of professional tennis requires you to have a lot of physical and mental strength. On the other hand, there have been some players who hit with more variety, and those women have been able to break through at different stages of their career. 29-year-old Barbora Strycova broke the top 20 for the first time this past March, while WTA rising stars Denisa Allertova and Tereza Smitkova were able to crack the top 100 for the first time in the past 18 months. Now back to the incredible Fed Cup roster for the Czech Republic...
Led by Petra Kvitova, the Czechs will be looking to win their third Fed Cup title in four years. The Czech team will be composed of two-time Wimbledon champion Petra Kvitova, French Open finalist Lucie Safarova, WTA rising star Karolina Pliskova, and seasoned veteran Barbora Strycova.
Petra Kvitova has had a very up-and-down year, in which she has had to battle mononucleosis all year. After losing in the second round of the Qatar Total Open in Doha, Kvitova decided to take a two-month long break from competition, citing exhaustion. When she came back, a rejuvenated Kvitova returned to action and ended Serena Williams' 27-match winning streak in Madrid, en route to the title in the Spanish capital. After a decent clay court swing, Kvitova struggled on her beloved grass, losing in the third round of Wimbledon. After the third Grand Slam of the year, Kvitova was officially diagnosed with mononucleosis, which caused a dip in her results at the Rogers Cup and the Western and Southern Open. However, the two-time Grand Slam champion showed what champions were made of, successfully defending the Connecticut Open title and making the last eight of the U.S. Open — her best result in the city that never sleeps. After a disappointing Asian swing, Kvitova made the final of the BNP Paribas WTA Finals Singapore presented by SC Global, coming just four games away from the title. All in all, it has been a very up-and-down year for Kvitova but when she returns to the O2 Arena in Prague — a stadium she has played in many times before, she could become a big threat against the Russians if she find her rhythm.
Lucie Safarova has had quite the breakout year, winning two Grand Slam doubles title and reaching her maiden Grand Slam singles final in Paris. Despite her struggles in the last few months with an abdominal injury and a bacterial infection, Safarova looks fresh and ready to compete, which is great news for the Czechs. It turns out, the Czech number two has always come through when her team needed her the most. In the 2012 Fed Cup final, Safarova beat Serbia's Ana Ivanovic and Jelena Jankovic to clinch the tie and title, after Kvitova went 1-1 in her singles rubbers, respectively. A great singles and doubles player, the 28-year-old has been a great asset to have on the Czech team.
Karolina Pliskova, the current world number 11, has made the Czech team for the second time this season, after leading her compatriots to a 4-0 win over Canada in the first round. Pliskova has made great strides on the WTA tour this season because of her efforts to become a more well-rounded player. When she first burst onto the scene, Pliskova was known as a rising star with a big serve but lacked efficiency in her movement and ground strokes. After working her hardest to improve in those areas, as well as her big serve, the Czech number three has broken the top 10 and has won 52 of her 77 matches in 2015. Despite hitting a rough stretch of form that lasted nearly three months, Pliskova regrouped nicely by reaching the final of the inaugural WTA Elite Trophy event held in Zhuhai, pushing Venus Williams in two tight sets before succumbing to the American. If she needs to, Pliskova will be ready to represent her country with flying colours this weekend.
Veteran Barbora Strycova rounds off the Czech roster and will most likely be put in a doubles rubber, if Kvitova and Safarova are both able to play this weekend. An experienced doubles player and longtime Fed Cup participant, Strycova brings a lot of experience to her team with 17 doubles titles to her name. As a matter of fact, the 29-year-old won her first two Fed Cup matches for the Czech Republic at the age of 16 in 2002, where she won both of her rubbers to help secure a win over Canada.
Sharapova, Makarova, Pavlyuchenkova and Vesnina Prepare to Rain on the Czechs' Parade
The Czech Republic's opposition this weekend will be none other than the Russian team led by Maria Sharapova, with Ekaterina Makarova, Anastasia Pavlyuchenkova and Elena Vesnina not far behind her.
Maria Sharapova has had a mediocre second half of the year, where she was forced to miss nearly three months worth of the WTA season due to multiple injuries to her leg and forearm. However, she returned in fine style at the BNP Paribas WTA Finals Singapore presented by SC Global, winning all three of her round robin matches before being defeated by an on-song Kvitova. Despite the loss, Sharapova sounds upbeat and ready to do battle in Prague. If you look at her first half of the year, it was pretty spectacular. A champion in Brisbane and Rome, the Russian made her 10th Grand Slam final down under, as well as the semi finals of Wimbledon. The five-time Grand Slam champion played in the first round of Fed Cup earlier this February, where she defeated both Radwanska sisters to help clinch the tie for the Russians. Sharapova has a great record indoors, but will need to be on her A game right from the off as her Czech counterparts are very used to the O2 Arena in Prague, and the court could favour the home favourites.
Ekaterina Makarova, like Sharapova, has had an injury-ridden and up-and-down season. After making the semi finals of the Australian Open, Makarova struggled to find that same consistency to reach the latter stages of tournaments. At the Citi Open in Washington D.C., it was clear that the Russian wasn't 100%, but she played through the pain before retiring against Fed Cup teammate Anastasia Pavlyuchenkova in the quarter finals. After another early loss at the Rogers Cup in Toronto, Makarova decided to withdraw from Cincinnati, in order to recover in time for the U.S. Open. Surprisingly, the 27-year-old didn't partner with Elena Vesnina — who also made the Russian Fed Cup team — whom she has won two Grand Slam doubles titles with. It was clear that Makarova wanted to focus on getting herself 100% for singles, and doubles was forced to take a back seat. Playing through pain in her leg, Makarova made the second week of the U.S. Open for the third consecutive year, before being eliminated by an inspired Kristina Mladenovic. After that match, the Russian number two travelled back home to Moscow in order to get treatment for a right leg injury, which she said she sustained in New York. That injury was so severe, that Makarova was forced to miss all of the tournaments in Asia, and was forced to make the unfortunate decision to pull out of the BNP Paribas WTA Finals Singapore presented by SC Global — a tournament she and Vesnina had already qualified for after Wimbledon. Now returning to action for the first time in three months, there will be a lot of question marks surrounding the health of Makarova. Will she be ready to play this weekend? Will she be able to trouble the Czechs right from the get go? These are things that the Russian Fed Cup team captain — Anastasia Myskina — has to consider before making her nominations.
Anastasia Pavlyuchenkova has been playing some great tennis as of late. After struggling with consistency in the first half of the year, Pavlyuchenkova seems to have regained it in the latter stages of the 2015 season. After making the quarter finals of the China Open in Beijing, the Russian travelled to Linz and Moscow — which are both played on indoor hard courts. The 24-year-old seems to thrive indoors, having won two indoor titles last season. That trend continued in 2015, as she won the Generali Ladies Open in Linz, and followed that up with an impressive showing at the Kremlin Cup in Moscow. Despite not feeling 100%, Pavlyuchenkova was able to play some of her best tennis whole battling through a left leg injury. Heading into the Fed Cup final, the Russian says she feels good and is ready to do battle if required. Anastasia Myskina will have to do a lot of thinking to do before selecting Ekaterina Makarova — her second highest ranked Russian — or Anastasia Pavlyuchenkova — someone who loves playing indoors. Whomever she chooses, that woman will have to face the daunting task of defeating Petra Kvitova, who has won 20 of her 22 matches in Fed Cup competition.
Elena Vesnina comes in with the most Fed Cup experience. The 29-year-old has made the most Fed Cup finals, participated in the most ties, and has the biggest number of wins amongst her three other teammates. Despite her struggles in singles, Vesnina has excelled in doubles with compatriot Ekaterina Makarova. Given their history as a team, it wouldn't be surprising if Vesnina and Makarova were nominated to play the doubles rubber.
With all of these things considered, this final tie of the 2015 Fed Cup season could prove to be a fun one.