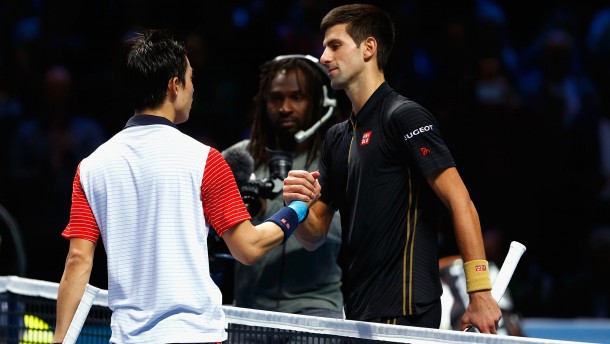 Novak Djokovic looks to join Pete Sampras and Ivan Lendl as five time winners of the ATP World Tour Finals. Djokovic opens his week in London against Kei Nishikori. It is their second meeting of 2015.
(1) Novak Djokovic vs. (8) Kei Nishikori
There are not enough adjectives to describe the season that Djokovic has had in 2015. Awesome. Superb. Astonishing. Extraordinary. Those just tip the iceberg on a season that has seen Djokovic win 78 matches and lose just five. He has ten titles to his name this season. Three of those are Grand Slams, another six are Masters Series titles. On top of that, the Serb is in the midst of a 22 match winning streak entering play on Sunday. It is his second streak of 20 or more wins this season.
Kei Nishikori meanwhile is back in London for the second straight year albeit under different circumstances than 2014. Last year, Nishikori seemed on the cusp of super stardom after a huge run at the U.S. Open where he made his first Grand Slam final. 2015 looked like a year in which Nishikori was poised to join the elite on the ATP Tour. It hasn't been all bad. Nishikori has gone 53-14 with three ATP titles, but he has fizzled some as the year progressed. After two quarterfinal showings at the Australian and French Opens, the eighth seed stumbled in the final two Grand Slams. He lost in the second round at Wimbledon and in the opening round at the U.S. Open. The year-end tournament is a spot for him to finish strong after just a 5-3 finish in the post-U.S. Open tournaments.
Head-to-Head Meetings
Is is meeting number seven between Djokovic and Nishikori on Sunday at The O2 Arena. Djokovic has won three straight since Nishikori stunned Djokovic in the semifinals of the 2014 U.S. Open. They have met three times on indoor hard courts in their six career meetings. Nishikori beat Djokovic in Basel in 2011, but Djokovic won the more recent meetings. Those two came last season with Djokovic winning in three sets both in Paris and at last year's Tour Finals. Overall, the Serb is 4-2 against Nishikori with a walkover win also against the 8th ranked Japanese star back in Miami in 2014. Their lone meeting in 2015 came on clay where Djokovic won 6-3, 3-6, 6-1 in Rome.
Speed Bump or Road Block?
Nishikori arrived in London early this week to test out a balky back, In compensating for his back, this week's 8th seed came up with an abdominal injury in Paris in his last match. He was forced to retire in his match against Richard Gasquet due to the ab issue, but he has had around ten days to recover. There have been no problems reported in training this week.
Where that leaves Nishikori is up against a runaway train that has been laying waste to every player in its path. Djokovic has lost just one set in his last 15 matches. Nishikori has shown good prowess indoors with a 7-1 mark indoors this year. He has the experience of a year ago at this event, so nerves should not be problematic. He managed to get to the semifinals where he lost to Djokovic 1-6, 6-3, 0-6.
While Nishikori has been solid indoors, Djokovic has been unstoppable. The last time the Serb lost on an indoor hard court was the 2012 Paris Masters. Since then, he is 35-0 across all competitions on the surface. In the build-up to the tournament this week, that fact was not lost on Nishikori. He knows he is up against the best in Djokovic to open on Sunday saying, "He only lost a few matches this year. He stays focused all the time. I think his concentration is amazing. He's the toughest player to beat right now."
Final Thoughts
The layoff due to injury isn't the best set-up for Nishikori coming into this match. Off-the-ground, Nishikori is one of the few players who can pose an athletic challenge to Djokovic. He has the speed and shot making ability to keep up with the world number one. What he may not have is the fitness to compete at the level needed to win over the course of the match. If his back isn't an issue as the match goes on, Nishikori could compete here and maybe steal a set. That seems the best case scenario though as he looks more like a speed bump in the top seed's path to open the Round Robin stage on Sunday.
Prediction: Djokovic wins in straight sets.