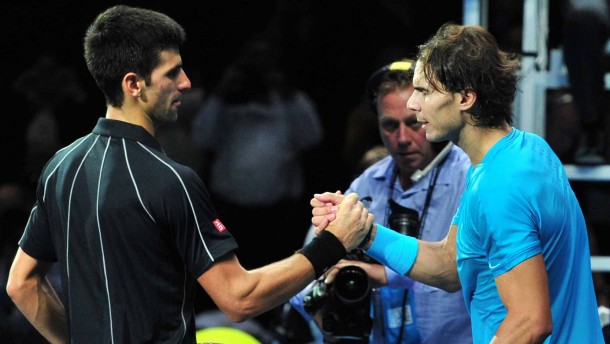 Novak Djokovic looks to take a step closer to winning the ATP World Tour Finals for the fourth straight season. In his way is Rafael Nadal. The lefty is looking to book a spot in the final for the third time in his career. Nadal has never won this event.
(1) Novak Djokovic - (5) Rafael Nadal
Djokovic rebounded from his first loss in three months to get to this point. After losing to Roger Federer, the Serb had fewer issues in defeating Tomas Berdych 6-3, 7-5 to finish the Round Robin stage at 2-1. He was still a shade off with his serve, winning just 66 percent of his first serve points. That is almost ten percent lower than his season average. The Czech did also break him twice in the match, but Djokovic took advantage of Berdych's second serve. The top seed won 17 of 24 points played as he broke his opponent four times on 12 chances. Djokovic still seemed aware that he perhaps is not playing his best the last few days as he talked about what it will take to beat Rafa on Saturday, saying "He has played great in his first couple of matches in London and hopefully I will be able to play my best. That is what is needed to beat him."
Nadal has had a solid week in London with a perfect 3-0 mark in Round Robin play. Nadal finished off his final match on Friday by taking down David Ferrer in a three set war 6-7 (2), 6-3, 6-4. Nadal was a bit rough in the opening set as he could not find the measure of his serve. The set turned into a break fest with both Spaniards breaking the other three times. Rafa managed to win just half of his first serve points in the set. The fifth seed seemed to turn it up a notch after losing the tie break though as he would not let Ferrer see another break opportunity for the rest of the match. Nadal won 41 of 53 service points in sets two and three and was consistently into the Ferrer service as he crafted 12 break chances in the match and cashed in on seven. After the match, Nadal likewise was thinking to the semifinal showdown with Djokovic and what it would take to win, saying "Novak is playing almost better than impossible. He is achieving almost everything that one player can dream. I have to play to the limit of my best to have a chance."
Back-To-Back For Nadal
An interesting scheduling anomaly happens for players during the Tour Finals and that is having a rare day of rest in between matches during the Round Robin stage. It goes against the grain of what they handle during the tail end of the ATP Tour schedule when they are more used to play consecutive days. For Djokovic, he has the benefit of another day of rest in between his match against Berdych on Thursday and Saturday's semifinal. Nadal however will be playing back-to-back for the first time since Paris, a string of nearly two weeks without having to play consecutive days. While that may not normally sound imposing, it could be in this case. Nadal played his longest match of the tournament against Ferrer, a two hour and 37 minute grinder that saw him expend a bit of energy. Going from that straight into playing against one of the most athletically gifted players on tour is not ideal.
Head-to-Head
This will be career meeting number 46 between Djokovic and Nadal with the Spaniard clinging to a 23-22 edge. The three meetings in 2015 have been lopsided in the Serb's favor with straight sets wins at Monte Carlo, Roland Garros and Shanghai. Nadal has only won more than three games in a set against Djokovic this year once in seven sets played. The last win for Nadal came at the 2014 French Open where he defeated the Serb in four sets. Djokovic owns a 2-1 edge in meetings at the Tour Finals. He won the last one in 2013 by a score of 6-3, 6-4 in the final. They split Round Robin matches in 2009 and 2010 with Rafa winning the 2010 encounter. This series has been dominated by Djokovic since Nadal beat him in the 2013 U.S. Open final. The Serb has won seven of the last eight.
Another Baseline Battle On Tap
The tactics rarely change when these two meet. The baseline is normally where play begins on most points and where a lot of the action happens. The relatively low ball bounce reported on the court at The O2 Arena this week has obviously not been detrimental to Nadal, but this could be different when facing Djokovic. Rafa appeared to get less than the best efforts from Andy Murray and Stan Wawrinka this week, so it will be a task to step up and match Djokovic from the baseline on Saturday. The Serb for his part has also been a little off in his last two matches although appearing better against Berdych after a sub-standard outing against Federer. The main issue from the baseline for Nadal will be how he can effectively set up Djokovic in uncomfortable spots. For that, he'll need to hit more forehands that backhands where his top spin can have some effect. Due to the slower conditions though, the top seeded Serb will still likely be able to use his athleticism to hunt down balls and return shots that put the Spaniard in equally uncomfortable positions.
The edge in most baseline battles likely goes to Djokovic unless he has a slew of unforced errors which have shown some in the last two matches. Where Rafa can do himself a big favor is on serve. Djokovic has shown already this week and for the season how he chews up the second serve of his opponents. For the season, he is averaging winning 57 percent of the points off his opponents' second serves. A staggering number by any means that could be a huge factor on Saturday. Djokovic has won close to 60 percent of the second serve points off of Nadal in their three meetings this year. Rafa normally gets a high percentage of his first serves in play, so it is not that he is always left with a ton of second serves. The problem is that they are very vulnerable and often too easy for Djokovic to convert into crucial points.
Final Thoughts
On paper, this looks like a straight forward win for Novak Djokovic. Nadal has done nothing to show that he is capable of knocking off the top ranked player in the world this season. It would be a monumental win for the Spaniard for sure, but the end of his season is already a success. Nadal has found better rhythm to his game and consequently scored better results in the past two months. He still has difficulties beating the cream of the crop though and will need help from Djokovic to pull off the upset on Saturday. Expect Djokovic to pick apart Nadal's serve as the sets wear on. As long as his own serve holds up enough, the Serb should come out on top and make his fourth straight trip to the Tour Finals championship match.
Prediction: Djokovic wins in straight sets.