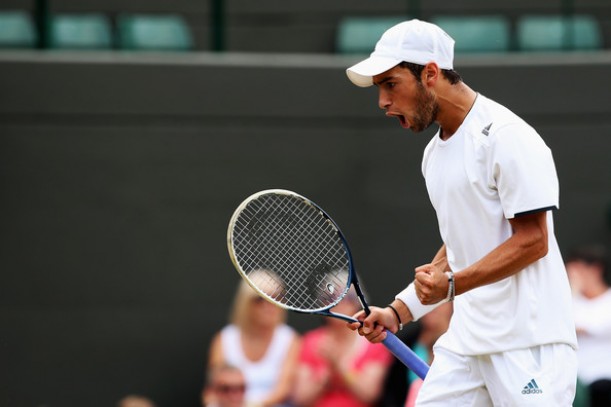 After an interesting week at the JSM Challenger of Champaign, 19-year-old American Noah Rubin has officially clinched a spot in his first Australian Open main draw. A wildcard was given to the 5'10" right hander after he won the Australian Open Wild Card Challenge. The challenge consisted of the player who could earn the most points from 3 USTA challenger events including the $50,000 Charlottesville Challenger (week of October 27), $50,000 Knoxville Challenger (week of November 3), and the $50,000 Champaign Challenger (week of November 10). Additionally, the challenge only calculated each players' 2 best results out of the 3 events.
Fellow Americans Mackenzie McDonald and junior world number 1 Taylor Fritz were also in contention for the wild card bid. This week at the Champaign challenger, Fritz ousted the two-time all-American McDonald in the semifinals 6-7(4), 6-2, 6-2, to set a meeting against world number 290 Henri Laaksonen. At stake in the final for Fritz was the Wild Card Challenge; if he won the match, he would have overtaken Rubin as the challenge leader and in the ATP rankings. Laaksonen denied the American the opportunity, defeating him in 3 hard fought sets.
Thanks to his title winning run at the Knoxville Challenger, Rubin earned his way as the leader of the Wild Card Challenge. The world number 339 came out of 3 rounds of qualifying and capped off the title with 8 straight wins. In the final, he came back from 2 breaks down and 2 match points down to defeat fellow American Tommy Paul. The victory gave him an important 80 points in the wild card standings. Coached by Lawrence Kleger and Eric Rubin, the American is working on playing a consistent level on the professional circuit. He has won the 2014 Wimbledon Junior title and played an extremely successful freshman year at the collegiate level for Wake Forest in addition to winning his first professional circuit singles title. It will be intriguing for many American tennis fans to see how Rubin does as he is hoping to win his first ATP World Tour match when he competes at the Australian Open.