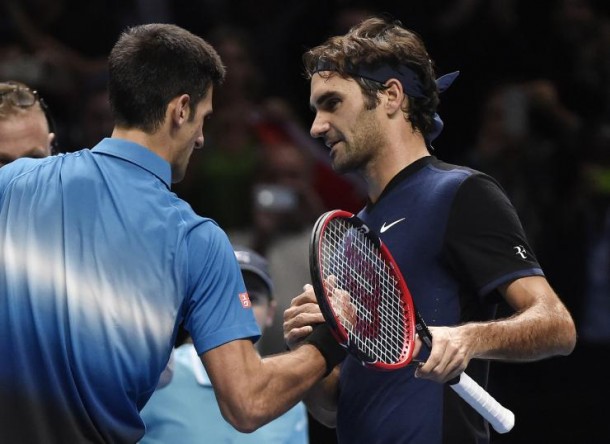 Novak Djokovic seeks his fourth straight ATP World Tour Finals championship. Roger Federer stands in his way. They have met at the Tour Finals finale once prior with Djokovic winning 7-6, 7-5 in 2012.
(1) Novak Djokovic - (3) Roger Federer
It is the 8th time that Djokovic and Federer will have met in 2015. Djokovic owns a slim 4-3 advantage after Federer beat him earlier in the week 7-5, 6-2. For Djokovic is was his worst match in months and it also added a little tension to the week. That came after Djokovic told reporters that he handed the match to the Swiss who took exception to that remark. It will add a little extra frosting to a fantastic dessert to culminate the end of the season.
Djokovic made it to his fourth straight final in London by verge of a 6-3, 6-3 win over Rafael Nadal in the semifinals. The Serb easily had his best serving match of the week, winning 89 percent of his first serve points and 61 percent of his second serve. He did not face a single break point against the Spaniard. Rafa's first serve was just a bit too easy for Djokovic to break down with the top seed winning 17 of 37 points. He broke Nadal three times to reel off his 18th win in his last 19 matches at the Tour Finals.
Federer faced friend Stan Wawrinka in the other semifinal and eased to a 7-5, 6-3 victory. Wawrinka had his chances with a 4-2 lead in the first, but he gave up the break lead as Federer began to wear his compatriot down by moving to the net often. The third seed broke Wawrinka to end the opening set and then took firm control with a break in game two of the second set. Federer was solid enough on his own serve, winning 72 percent of the points. Wawrinka didn't seem much interested in putting forth a full effort, so the win might be taken with a grain of salt in looking ahead to Sunday.
Payback or Two Straight?
There seemed little doubt when Federer stunned Djokovic earlier in the week that a rematch could see the Serb with added motivation. Not that you would figure the top player in the world to need it, but there will definitely be a tinge of revenge in the air at The O2 Arena. Federer for his part will also be hyped to end the season on top after being unable to add to his Grand Slam trophy case this season.
Djokovic's serve was poor against Federer during their Round Robin match and the unforced errors were high. Expect both of those to be much better on Sunday. That means the Swiss is going to have to bring forth perhaps his best effort of the tournament. As usual, it all starts with the Federer serve. When his first serve is solid, it allows the Swiss to chip and charge and keep the points short and aggressive as he would like.
The Serb says that Federer provides him with a tough test every time they play, saying with regards to the Swiss that "When he's on, it's hard to play him. I think he also likes playing me because he has a variety in his game with the slice, he comes to the net, takes away the time from me. We always play matches with a lot of tension. There is a lot at stake."
Final Numbers
Roger Federer is taking part in an unprecedented 12th final at this event. Djokovic is in his fifth and will be seeking his fifth Tour Finals title. A win on Sunday would put the Serb into a second place tie with Ivan Lendl and and Pete Sampras with five Tour Finals wins. That would be just one behind Federer. The winner on Sunday stands to make a nice chunk of change. A win for Djokovic nets the Serb just over $2 million, while the Swiss would win around $2.2 million. Look for a battle fitting on this final, but look for Novak Djokovic to complete one of the most remarkable seasons on record with his 82nd win of the year.
Prediction: Djokovic wins in three sets.