Yesterday, Milos Raonic announced that he parted ways with his coach, Ivan Ljubicic. The move came as a shock at the end of a disappointing year for Raonic, were he went 33-16, won only one title, struggled with injuries and fell out of the top ten.
Raonic faces a difficult road ahead. Ljubicic seemed to be a very good fit for Raonic. He was a former player who had played a similar game to Raonic and had a thorough understanding of what Raonic needed to do to succeed. And the results were positive. Under Ljubicic, Raonic entered the top ten and started going deep in big tournaments with consistency. Ljubicic will be very difficult to replace.
What Now?
How would one replace Ljubicic? Raonic will turn 25 next month, so he can no longer be considered a young-gun and it can no longer be said that he has time. If he was to be a serious contender, he needs to do something now. He could still become a solid player, contending for the odd tournament like a Tomas Berdych, or even getting hot for a fortnight and winning a major like Marin Cilic. But if he wants to be a true champion, he needs to pick a coach soon and start working hard.
What should Raonic be looking for in a coach? He needs someone with experience. Ljubicic was a first time coach, which can be ok for some players, particularly young ones who are developing. But Raonic has a particular set of struggles and needs a coach who can help him overcome them. He needs a coach who understands injuries, how players deal with them and what is required to overcome them. On top of that, Raonic's game comes pretty much fully formed, so he needs a coach who can work with a big hitter. A good coach for Raonic will need to cover all of these bases.
Some Coaching Options
Boris Becker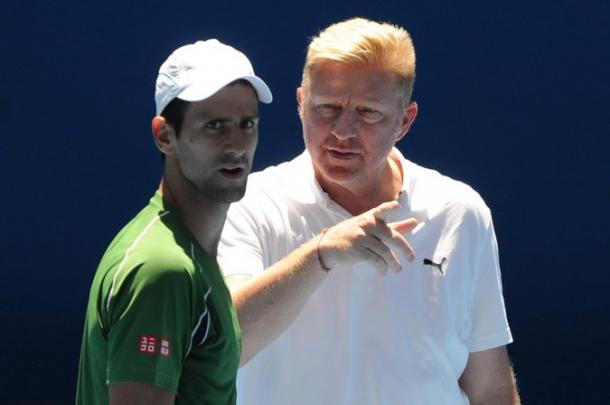 Boris Becker (right) is coaching Novak Djokovic (left). Photo: New York Times
Off the bat, this is pretty much impossible because Becker is taken; he's busy coaching Novak Djokovic. But he would be a good fit for Milos Raonic. On the court, he and Raonic play very similar styles. Becker was one of tennis' first truly great power players, hence the nickname "Boom Boom Becker." Becker's game was driven by his gigantic serve and huge forehand and he was very successful with that, reaching the number one ranking and won six grand slams. He can help straighten out the kinks in Raonic's game, which still exist, and get Raonic playing to the best of his abilities. The disadvantage of Becker is he does not have the same amount of experience with injuries, both in his own career and in Djokovic's. However, he does have experience with playing through adversity, which is better than nothing. Becker has proved with Djokovic that he can take a player already playing at a high level and make them better. If he were available, he would be a good choice for Raonic. Too bad that's not an option.
Daniel Nestor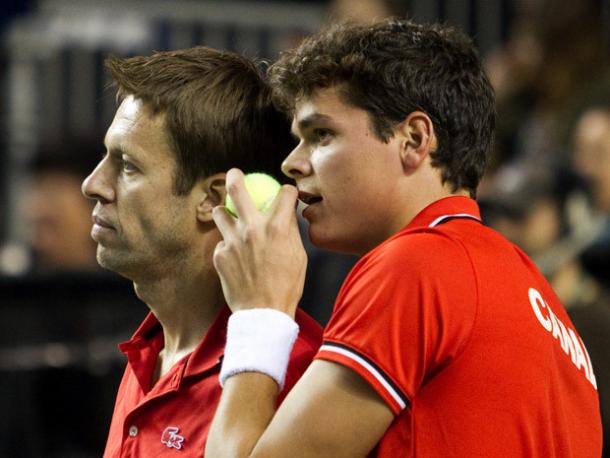 Daniel Nestor (right) with Raonic during the 2012 Davis Cup. Photo: National Post
Nestor is still playing, but at 43, stepping down to coach would not be much of a stretch. Nestor comes with all the experience anyone could ask for. He's been playing, and winning, on the ATP World Tour for over twenty years. He's played against some of the best tennis players the world has ever seen, including the Bryans, the Woodies, Pete Sampras and Andre Agassi. He could easily help Raonic take his mental game to the next level. What is more is that Nestor can help Raonic make the necessary tweaks to his game to help cut down on injuries. Think about it. Nestor is 43 and has never had serious injury trouble. He can help to get Raonic playing a less physically brutal game, while still dominating opponents. Nestor himself was an aggressive player, he just did it by using shot placement rather than raw power. If he could help move Raonic towards that style of play, he could extend the younger Canadians career and give him more chances to win. An added advantage with Nestor is the built-in relationship. Nestor and Raonic have been Davis Cup teammates for years and have played doubles together on occasion. Nestor is already a mentor to the Canadians anyway. Why not take it to the next level?
The Dream Coaches
Larry Stefanki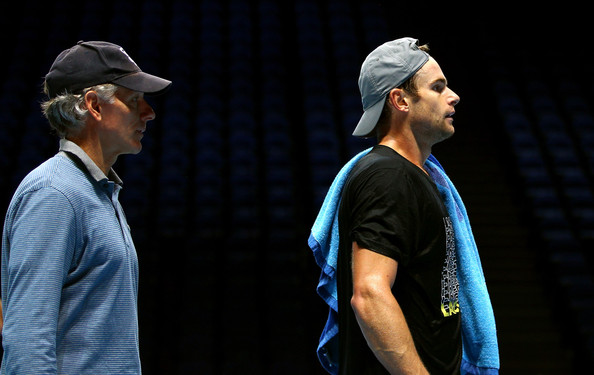 Larry Stefanki (left) with former charge Andy Roddick (right). Photo: Zimbio
Milos Raonic has a big serve and likes to dictate with his forehand. After some early success, he's struggling in his mid-twenties. Sound familiar? It should. It is a lesser version of the tale of Andy Roddick, who had great success early, dropped off in his mid-twenties only to bounce back. Why not bring in the man who helped guide Roddick back towards the top tier of men's tennis, Larry Stefanki? Stefanki helped revitalise Roddick's game, turning him into more of an all-court player. Stefanki got Roddick playing some of his best tennis, coming within two games of a Wimbledon title in 2009. Roddick played a very similar style to watch Raonic plays now, so Stefanki is proven with that style of tennis. Stefanki also has experience taking a struggling player and getting them back on their feet, which is exactly what Raonic needs right now. Stefanki has been here before. He's done it before. He has a better chance than almost anyone to help Raonic. Add in Stefanki's overall experience and he would be a dream for Raonic. In the past, he's worked with John McEnroe, Marcelo Rios, Yevgeny Kafelnikov and Fernando Gonzalez.
Paul Annacone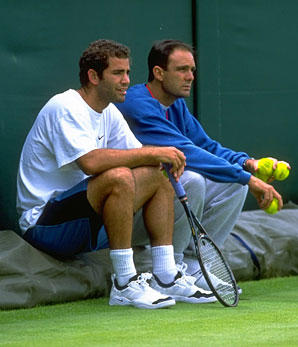 Paul Annacone (left) with Pete Sampras (right). Photo: plazbovo
Roddick was not the first player to succeed on tour with a big serve and forehand. Not even the first American. Before Roddick, there was the legendary Pete Sampras. Sampras had a similar story to Roddick, only with more success. Great success while he was young, but his mid-twenties hit and he struggled with form and injuries, only to bounce back and continue winning. In the Sampras tale, there was added tragedy of the death of his long-time coach Tim Gullikson, who was nearly irreplaceable for Sampras. And who filled that role? Paul Annacone. Annacone took over an impossible situation with Sampras and managed to help the American continue to dominate the tennis world, winning nine slams together and setting all sorts of records, including weeks at number one (since broken by another Annacone-coached player in Roger Federer) and consecutive year-end number ones. Sampras struggled with injuries in the late-1990s and Annacone helped him come through it. He also started to struggle with form and again, Annacone managed to motivate him. Sampras and Annacone parted ways in the early 2000s, only for Sampras to bring him back in 2002 because he knew Annacone could help him. Annacone is a proven motivator and has experience helping players who are struggling but have had past success improve. Of course, Raonic's past success is nowhere near the level of Sampras or Roddick, but he's still a good player. If Annacone could do it with Sampras, there is every reason to believe he could do it with Raonic. What's more is that Raonic not only plays a similar style to Sampras, he based his style on that of Sampras. There would be very few surprises for Annacone. He would be going over and improving a style he helped perfect already. Annacone checks all the boxes for what Raonic needs in a coach. Oh yeah, and Annacone did it with Roger Federer too, leading the Swiss back to number one in 2012 and helped him win his seventh Wimbledon crown. Annacone is the perfect pick for Raonic. And he's currently available.
Milos Raonic is facing a tough decision, but it's one that he needs to make quickly. There are lots of options out there for him. But if he is serious about contending for grand slams on a regular basis, he needs to make the decision quickly and make a smart decision. There are lots of coaches who could help him, and he needs to find them. A player in his situation cannot afford to be without a coach for long.