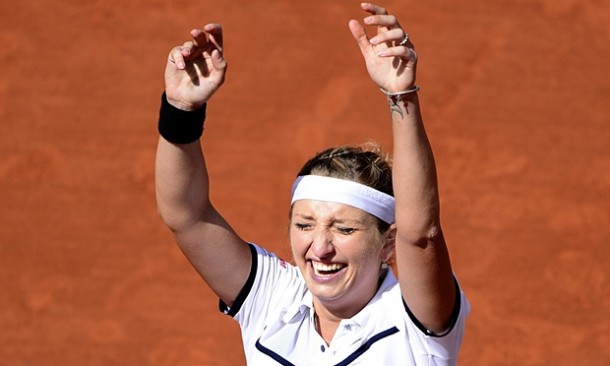 One thing is for certain: 2015 was a season Timea Bacsinszky won't forget in a little while. Starting off the year ranked number 48 in the world, the Swiss climbed her way up the rankings and ended up debuting in the world's Top 10 in October having achieved results she had never accomplished before in her career.
Win/Loss Record
When all had been said and done, Bacsinszky capped off her phenomenal season with a win-loss record of 41-14. Contributing to her total match win count was a 15-match winning streak lasting from early February to midway through March and only coming to an end at the hands of the world number one Serena Williams in Indian Wells. During that time the Swiss racked up two titles in addition to a Premier Mandatory quarterfinal and two Fed Cup rubber wins.
High Points
There were highlights aplenty for Bacsinszky in 2015 but none were as rousing as her emotional run to the semifinals of the French Open. The sympathetic Swiss upset the higher-ranked Madison Keys and Petra Kvitova en route and made many new fans with her heartfelt celebrations and sincere press conferences. Only a matter of weeks later, she went on to reach her second consecutive Grand Slam quarterfinal at Wimbledon. The above-mentioned winning streak was another high point of Bacsinszky's year, particularly her two titles won on the Mexican soil in Monterrey and Acapulco - overall her second and third singles titles on the WTA Tour. She also made another two finals in Shenzhen and Beijing, the latter being her first Premier Mandatory final and ensuring her debut in the Top 10. On top of everything, Bacsinszky helped Switzerland to ascent to World Group in Fed Cup with five wins including a deciding doubles match in the play-offs, 9-7 in the third set, alongside Viktorija Golubic.
Timea Bacsinszky after winning in Monterrey. (Photo Credit: Miguel Serra / Keystone)
Low Points
All the matches Bacsinszky had played in the first half of the season seemed to have caught up with the Swiss a little after Wimbledon. She found herself on the end of a five-match losing streak after the US Open and had to withdraw from the tournament in Wuhan due to 'not being 100% to compete yet'.
Best Results
Having only once been to the third round of a major previous to this season, the Swiss player enjoyed her best Grand Slam results by far in 2015 with the semifinal appearance at Roland Garros being the zenith of her season. Following up that result with a quarterfinal showing at Wimbledon despite not playing any matches on grass between the two majors was hugely impressive as well.
In the regular WTA tournaments, Bacsinszky had enjoyed a very fruitful February earlier in the year, sweeping up two titles in Monterrey and Acapulco defeating Caroline Garcia in both finals. Right at the end of the season, in her second-to-last tournament in Beijing, she reached the biggest final of her career beating Camila Giorgi, Carla Suárez Navarro, Sara Errani and Ana Ivanovic en route. That run secured her entry into the Top 10 - another first in a season of firsts.
Bacsinszky (on the right) posing with her trophy in Acapulco, alongside runner-up Caroline Garcia. (Photo Credit: Christian Palma / Keystone)
Worst Results
Bacsinszky suffered six opening round losses, of which only one came during her stellar first half of the season in Madrid (against the world number three at the time, Maria Sharapova). Her first round loss against Alison Riske in Toronto was a rough one as she had held match points but ended up losing 7-6 in the third set. In the last match of the Swiss' season in Luxembourg, she had to retire after suffering a knee injury, which left a little sour taste in the mouth after such a magnificent year.
Grade: A-
Bacsinszky more than exceeded everyone's expectations for the season with the dip in form over the North American summer hardcourt season being the only minus. She finished the year as Switzerland's number one player at 12th (ahead of Belinda Bencic who sits at 14th) and there is no reason why the cheerful 26-year-old couldn't keep improving and reaching for even bigger things in 2016.