 It was an all-important doubles rubber on the second day of the Davis Cup Final as Great Britain's Andy and Jamie Murray took on Belgium's David Goffin and Steve Darcis. Team Murray overcame plenty of dramatics, taking the match 6-4, 4-6, 6-3, 6-2. The win put them one win away from an elusive Davis Cup title.
Goffin Gets The Nod
Just a couple of hours before the final, captain Johan Van Herck plus doubles specialist coach Michael Llodra, went with the call to start their star singles man, Goffin, over Kimmer Coppejans. Coppejans was the man originally named to the squad and in the lead-up to the match, Van Herck said that Goffin, Coppejans, and Ruben Bemelmans were all in contention to start still. Bemelmans was the only player to have played in all three doubles ties to date and played well enough against Andy Murray to deserve a start and was unlucky to miss out.
Belgium Fails To Capitalize On Break Point, Falters In Final Game Of Set
The Belgians won the toss and chose to receive to open the match. Both teams started out with love holds with each team's star singles player opening up the serving for the sides. Andy's big brother Jamie found himself in a bit of trouble though in his opening service game. A superb Darcis forehand return forced the game to deuce, but the Brits came away unscathed. Darcis then found himself in a battle on his serve as well though he came away unharmed as well to level the match at 2-all.
Both teams dominated on serve until the ninth game where the Brits found themselves forced to save break point. Belgium could not convert it though as Darcis netted a backhand return; Brits would hold for 5-4. Goffin served to stay in the opening set, and nerves showed from both teams as Goffin looked uneasy while Jamie Murray missed a second serve return which fell into the net. Darcis cracked on set point down as he traded volleys with the singles world number two as the the Brits took the opening set 6-4.
Belgium Bounces Right Back
The Brits were looking to catch the Belgians off-guard early by trying to snatch an early break. The first set victory was definitely going to give Jamie Murray more confidence because the Scot looked quite nervous in the opening set. Both teams began the second set with holds at 30. Apparently Jamie Murray did not get the memo about "showing up" as a couple of errors from him gave Belgium two break points. Neither Goffin nor Darcis can convert the chance, but third time was the charm for them with Goffin's smash giving the break as the Flanders Expo finally livened up a bit.
A hold to 30 consolidated the break, but the Murrays made it known they were not backing down quickly with a hold to love for 2-3. Neither team sniffed a major opportunity for the rest of the set as the servers dominated. Belgium went on to take the second set 6-4.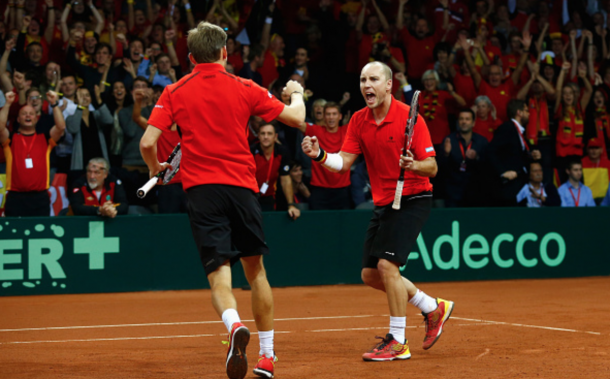 Steve Darcis and David Goffin of Belgium celebrate winning the second set against Jamie Murray and Andy Murray of Great Britain in the doubles during day two of the Davis Cup Final. (Photo by Julian Finney/Getty Images)
Darcis' Serve Begins To Crumble As Britain Moves Within A Set Of Victory
The confidence in Belgium grew after taking the second set, something the Brits did not take advantage of. It didn't take long for Belgium to find themselves up a break again when Darcis' phenomenal forehand winner set up two break points. A forehand return down the line from the singles world number 16 sees the Belgians up 2-1. However, the Brits struck right back this time around. It was on Jamie Murray's last two service games where the Brits conceded breaks, but his volleys helped the Brits get the break right back.
Andy Murray, the only player who has not been broken up to this point, held for a 3-2 lead to consolidate the break. The Brits made it three on the bounce as another Jamie Murray volley forced Belgium into difficulty. Darcis found himself trying to get to it in time but could not react quickly enough, and Britain raced to a 4-2 lead.
Belgium found themselves with a couple of break back points after Andy skewed a volley into the net. Jamie's poor showing was on display again as he failed to put away a smash as Belgium struck right back. With Darcis serving, the home side looked to level it. However, the Brits broke at love right with a multitude of errors coming from the hosts. Leading 5-3, Britain had the man they wanted up to serve for the set, Andy Murray. The two-time Grand Slam champ continued his fine serving display and held to 30 as Darcis' forehand found the net to give the Brits a two sets to one lead.
Dramatic Fourth Game Leads To Belgium Downfall
The Brits, with their visiting support in full force and the duo with loads of confidence, earn break point after Darcis double faults. Goffin then net a volley as the Brits took full control of the match. The Brits somehow escaped a momentum-shifting fourth game. Belgium get three break chances as they race out to a 0-40 lead but see it evaporate in the blink of an eye. This is all happening on Jamie Murray's service game so the entertainment was not finished yet.
Belgium find themselves with not one, not two, not three, but four more break opportunities. Three of those four opportunities saw the Belgians commit errors as they undoubtedly cracked as Andy Murray put home a couple of volleys to hold and end the dramatics. Goffin managed to keep his composure as they held to 15 just keep themselves in it.
Darcis had been struggling on his serve since the third set and found himself in trouble once again. He went off the rails in the seventh game of the set with his errors giving Jamie Murray a chance to serve for a 2-1 lead. After Darcis' return just went wide, Britain had two match points. They couldn't convert on the first but another error from the veteran Belgian gave the Brits a 2-1 lead in the tie and put them one rubber away from their first Davis Cup title since 1936.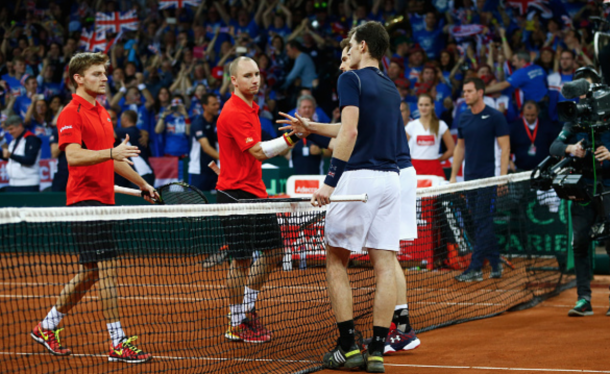 Jamie Murray and Andy Murray of Great Britain are congratulated by Steve Darcis and David Goffin of Belgium after their 4 set win in the doubles during day two of the Davis Cup Final. (Photo by Julian Finney/Getty Images)
The Murray brothers now move to 3-0 in Davis Cup doubles this year, and Andy is now an astounding 10-0 in Davis Cup this year (has a shot for 11-0, 8-0 in singles tomorrow; John McEnroe and Mats Wilander are the only members that have gone 8-0 in a single year with the American the lone one to go 8-0 and lead his country to a title).
Post-Match Comments
Great Britain captain Leon Smith was asked what going 2-1 up meant. Here's what he had to say, "There's so much to be played tomorrow, potentially two big matches. You could argue it will not decide the tie, but it's a good position to be in, winning the doubles. They did very, very well today."
Goffin said after the defeat and on his second day of play, "Physically I'm feeling good. I played five sets yesterday and four sets today. But I think physically I can play another match tomorrow. I think it's not a problem if I have to play five sets tomorrow. I will be ready. I think I'm still confident for tomorrow, even if we lost the match today. I'm feeling good with my groundstrokes and everything is okay for tomorrow. I'm ready to give everything."
Andy Murray was asked on whether or not the tie was over since his side led 2-1 and he was favored over Goffin. He said, "It's far from over. Obviously to be 2-1 up gives us a better chance of winning."