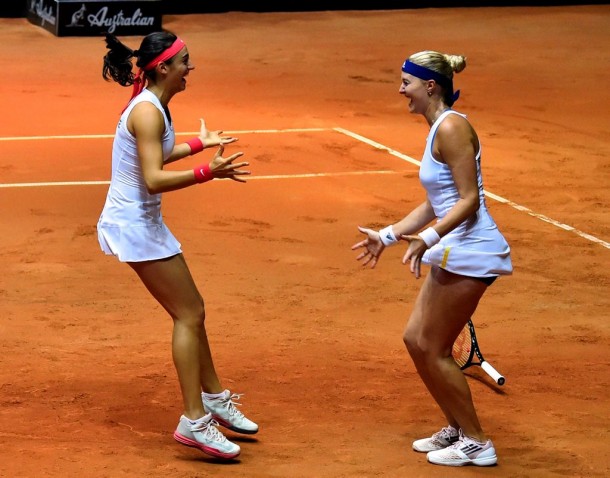 French compatriots Kristina Mladenovic and Caroline Garcia have announced their 2016 doubles partnership on Twitter. The pair will play together starting in January, in preparation for the Rio 2016 Summer Olympic Games held in Rio de Janeiro, Brazil.
Mladenovic and Garcia Announce Partnership
In tweets released Wednesday, Mladenovic and Garcia both announced their partnership simultaneously, saying they are both excited and ready to achieve big goals in 2016, which one might expect to include winning gold at the Olympic Games.
https://twitter.com/KikiMladenovic/status/669595343579955200
https://twitter.com/CaroGarcia/status/669595227208990720
Looking Back at Mladenovic and Garcia's Year on the Doubles Court
In 2015, both Mladenovic and Garcia enjoyed success, but with different partners -- the former teamed up with Timea Babos, while the latter teamed up with Katerina Srebotnik.
Childhood friends Mladenovic and Babos decided to team up after a successful 2014 season which saw them make it all the way to the Wimbledon final, before losing to Sara Errani and Roberta Vinci. In 2015, the pair achieved even greater success, winning three titles in Dubai, Marrakech and Rome, and also made it to the BNP Paribas WTA Finals Singapore presented by SC Global. Best friends off the court, Mladenovic and Babos are able to communicate really well, as well as hit with an incredible amount of pace off of both their serves and ground strokes. This is very crucial for any team as the doubles game is becoming even more physical and challenging nowadays when compared to twenty years ago.
Garcia teamed up with Srebotnik starting in 2015 for the first time, and their game styles seemed to compliment each other nicely right from the start. In their first tournament as a team at the Brisbane International, they made it all the way to the final before losing to Martina Hingis and Sabine Lisicki. Despite not being able to keep up that consistency for most of the year, Garcia and Srebotnik never doubted their partnership, and when they hit a hot streak, they were very dangerous. Other than their runner-up showing in Brisbane, the French-Slovenes duo also picked up a title in Eastbourne, as well as another runner-up performance in Toronto, beating top seeds Martina Hingis and Sania Mirza along the way. Srebotnik, a seasoned veteran on the WTA tour, with a total of 36 titles to her credit with twelve different partners, was the perfect fit for the youthful exuberance and big, aggressive gamestyle of Garcia. From the back of the court, the Frenchwoman was very solid, which set up opportunities for the Slovene to put away the winning volley at the net.
Will Mladenovic and Garcia's Partnership Work?
Since they are both big hitters off the ground but with great volleys, Mladenovic and Garcia are perfectly capable of finding the perfect balance between power and fitness. The pair are already great friends, so communication will most likely not be a big problem for the compatriots. Both are great doubles players, as shown by their results this season, but the only concern that one might have about this team is whether or not they will be able to do well right from the off. With the Olympics rapidly approaching in August, the duo will have six to seven months to figure out a winning formula because you can practice all you want, but it's on the match court where it really counts.
If Mladenovic and Garcia are able to find this winning formula early on in the year, they could be a major threat to the rest of the WTA field in 2016.