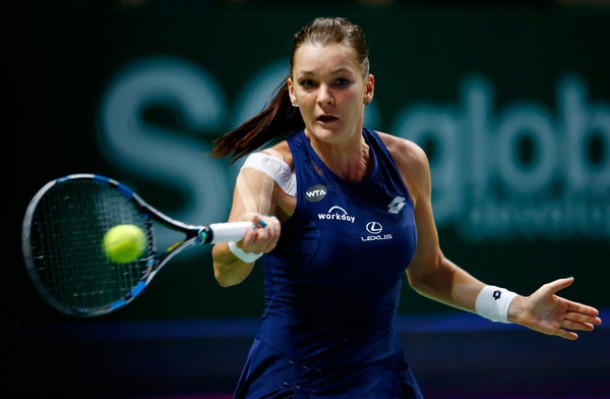 After calling for the WTA season to be shortened, only to tear through the finals months of the tour, Agnieszka Radwanska will take a slightly longer offseason than originally planned. Radwanska has announced that she will limit her play in the 2015 International Premier Tennis League (IPTL) season to the ties held in New Delhi and Dubai. The IPTL season kicks off tomorrow in Kobe, Japan.
Calls for a Shorter Season
Radwanska was outspoken in the fall about her desire to shorten the WTA season. In order to qualify for the WTA Finals, Radwanska was scheduled to play five tournaments in five weeks, stretching to six in six if she qualified. She would qualify, and pulled out of one of her final events to rest, and went on to win her first ever title at the year-end championship, defeating Petra Kvitova in a three set final.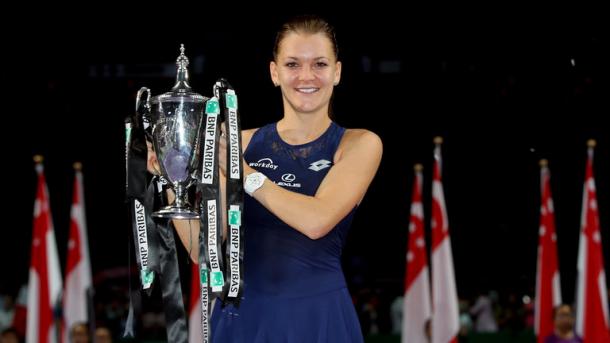 Radwanska victorious at the WTA Finals. Photo: SkySports
After Radwanska's complaints about the long season, it came as a surprise to many that she committed to play in the IPTL. Limiting her play to only New Delhi and Dubai comes as no surprise. However, even by playing in Delhi and Dubai, she could be playing up to six matches in seven days.
2015 IPTL
Radwanska is making her first appearance in the IPTL. She will be playing for the reigning champion Indian Aces. She will be joined be Rafael Nadal, Gael Monfils, Sania Mirza, Ivan Dodig, Rohan Bopanna and Fabrice Santoro. Samantha Stosur will replace Radwanska in the other cities.
The IPTL had its inaugural season in 2014 and features stars both past and present from the ATP and WTA. The tournament is a round robin format where all the teams play each other multiple times. A tie is one best-of-five match where each set is played by different players and consist of men's singles, women's singles, men's doubles, mixed doubles and "past champions" (legends) sets. Points are award both for the final result and the number of games won by a team in a tie.