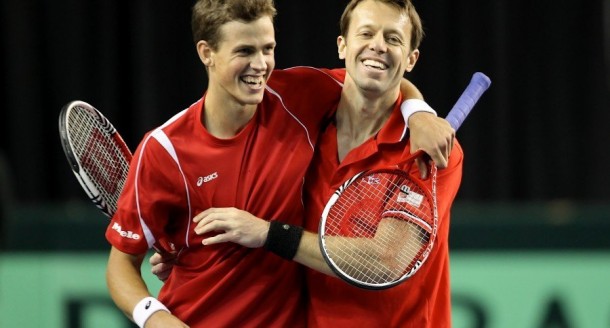 Daniel Nestor is arguably the greatest doubles player of all-time, so it has been naturally assumed that the Canadian legend would represent Canada in the men's doubles tournament at the upcoming Olympic Games in Rio de Janeiro. However, may be out of luck, as Canada's other doubles specialist, 25-year-old Vasek Pospisil intends to partner with Canadian singles number one Milos Raonic.
Representing Canada
Raonic approached Pospisil about the possibility of playing doubles together during the US Open. The pair famously defeated the pair of Rafael Nadal and Novak Djokovic at the 2010 Rogers Cup, however they have not played together since. Pospisil has much experience with the 43-year-old Nestor in doubles, having played together at the last Olympics in London, and are regular doubles partners for Canada's Davis Cup team.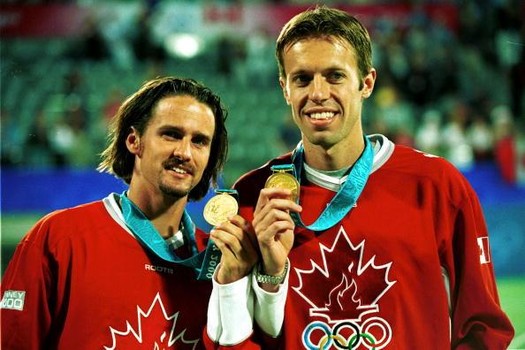 Nestor (right) and partner Sebastien Lareau with their gold medals at the 2000 Olympic games in Sydney. Photo: The Examiner
It is entirely possible that Nestor, the 2000 Olympics gold medalist and 12-time Grand Slam champion, could miss the Olympics entirely if Vasek Pospisil also plays mixed doubles. However, the decision ultimately belongs to Tennis Canada, and they could select Nestor over Raonic for the doubles in any case. Nestor is currently ranked 18th, Pospisil is ranked 21st, and Raonic is ranked 853rd in doubles, 14th in singles. Raonic was 1-3 in doubles play this year.
Pospisil's Decision
Pospisil reportedly thought long and hard about Raonic's offer, telling Nestor of his decision only a few weeks ago. Nestor said that he was disappointed by Pospisil's but was understanding of the decision. Nestor's results have slowly declined over the past few seasons. He failed to reach the quarterfinals, or even the fourth round, of a major for the first time since he started playing doubles full-time in 1994. His year-end ranking of 18th was only the third time this millennium that he was not ranked inside the top ten. He's spent the last few seasons jumping between partners, although he appeared to find some chemistry with France's Edouard Roger-Vasselin this summer, winning the Cincinnati Masters.
Pospisil said, despite the fact that Raonic is inexperienced in top-level doubles play, he expects Raonic to be "dialed in" which will give them a good shot. The pair intend to play together at a few events during the early months of the season to get some more experience playing together and rebuild the chemistry they had as juniors.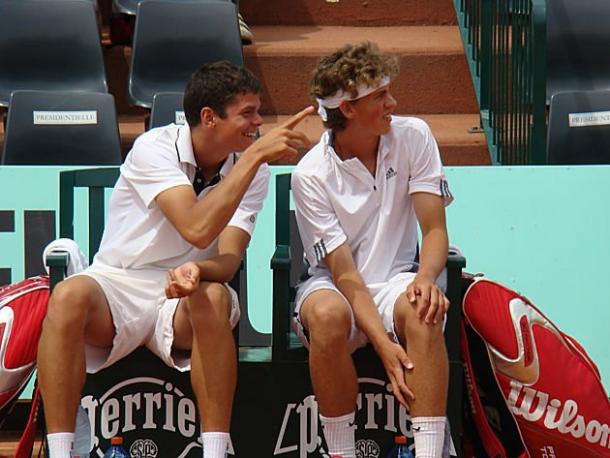 Raonic (left) and Pospisil (right) at the 2008 French Open. Photo: Trevor Scott
However, a lot could change between now and August. It is entirely possible that Raonic and Pospisil will not have any chemistry. Also, both Pospisil and Raonic also have had chronic injuries, with the latter having his 2015 season completely ruined by various injuries. Raonic missed much of the clay season and the final month of the year with injuries, including foot surgery. If Raonic is not healthy come the Olympics, it is entirely possible that Pospisil will chose to play with Nestor.
Alternatives for Nestor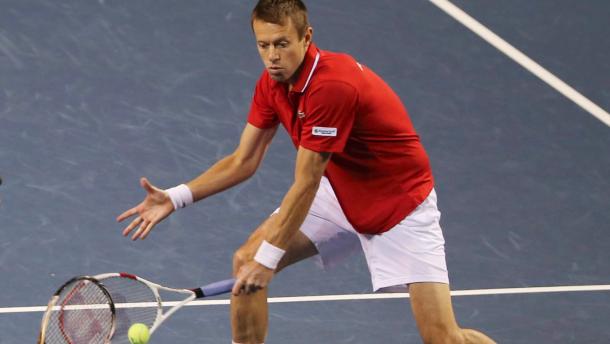 Nestor during the 2014 Davis Cup. Photo: Olympics.ca
Even if Pospisil and Raonic do end up playing together, there is still a chance that Nestor could play men's doubles. If he manages to climb back into the top ten before June 6th, the cut-off date for qualification, he would qualify automatically and could bring any partner of his choice, likely Canada's number three doubles player Adil Shamasdin. If Shamasdin climbs into the top 40, he and Nestor would also be eligible to play together. He's currently ranked 66th.
Nestor is the only Canadian ever to medal in tennis at the Olympics (along with his retired partner Lareau), so it seems bizarre that the nations number one ranked doubles player would not participate his sixth Olympics. However, it would be an effect of the times for a nation whose tennis starts are getting younger. All that being said, the Olympics are still eight months away, so a lot is still to be decided.