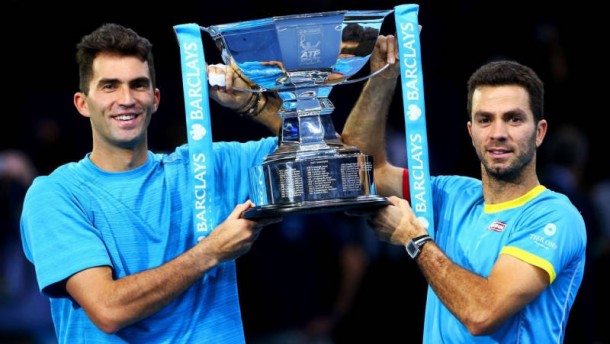 Jean-Julien Rojer and Horia Tecau completed a whirlwind 2015 season with a perfect 5-0 run at the ATP World Tour Finals. The wins moved them into the top spot in the year-end rankings and gave them their third title of the season.
Win-Loss Record
Rojer and Tecau played nearly the entire season together as they amassed a 48-21 mark overall in 24 tournaments played. It was a huge leap forward for the teammates as they ascended from the sixth spot where they ended 2014 to the top of charts as the number one ranked doubles pair. The win total matched their exact number from 2014, but they did it playing in five less tournaments. Rojer-Tecau were involved in five finals in 2015, winning three overall titles. They showed remarkable consistency at all four Grand Slams with semifinal or better finish at three of the four Slams.
High Points
An easy pick with both players winning their first-ever Grand Slam event at Wimbledon this season. For the 34-year-old Rojer, it was a special moment as he played in his first ever Grand Slam final in London. Tecau had previously made the Wimbledon final twice with Robert Lindstedt in 2010 and 2012, but was denied the title in both instances. This time would be different. The pair entered Wimbledon as the 8th seeds. After winning their first round match via retirement, they were tested several by Andre Begemann and Julian Knowle in the second round. Rojer-Tecau would survive a tense fifth set that extended to 28 games by a final of 15-13 as they rallied from a two sets to love deficit.
That seemed to focus them as they blew into the semifinals with a pair of straight sets wins. The semifinal would be another massive get for the duo with another five set battle that went extra with the Dutchman and Romanian finally slipping past Rohan Bopanna and Florin Mergea 13-11 in the fifth set. They were up against hometown favorite Jamie Murray and his Australian partner John Peers in the final. Rojer-Tecau would leave no drama in the final with a 7-6 (4), 6-4, 6-4 win to give both their first career Grand Slam title.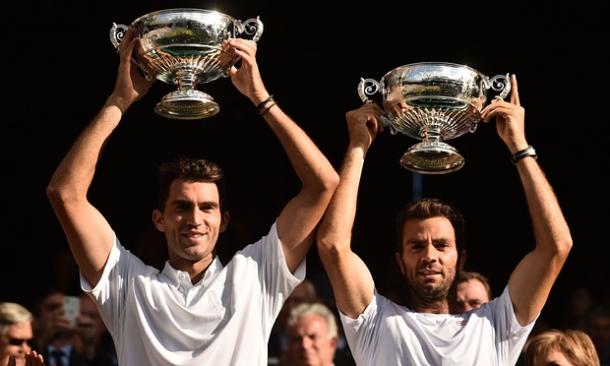 Photo: Getty Images
Low Points
Although the pair was rock solid at Grand Slams, Masters 1000 level events troubled this duo in 2015. Rojer-Tecau went just 6-9 in the nine Masters events they participated in this season. They never advanced past the quarterfinals in any of them. It wasn't a stark contrast to their first year together in 2014. They went just 7-9 in Masters events last year. Their best showing coming at the BNP Paribas Masters in Paris where they lost to the Bryans in the semifinals.
Best Results
Although the Wimbledon men's doubles title was the cherry on top of their 2015 season, the best string of results for Rojer-Tecau arguably came during the season-ending ATP World Tour Finals. Rojer came to the event having lost all nine of this previous matches at the Tour Finals over a three year span. Tecau had similarly struggled with just a 2-7 mark in three trips. That made it all the more amazing for the new number one team to come through the round robin stage in London at 3-0 and then to go on and win the title with a perfect 5-0 record at the event. In doing so, Rojer-Tecau did not lose a single set and became the first doubles team to do so since round robin play was introduced at the event in 1986.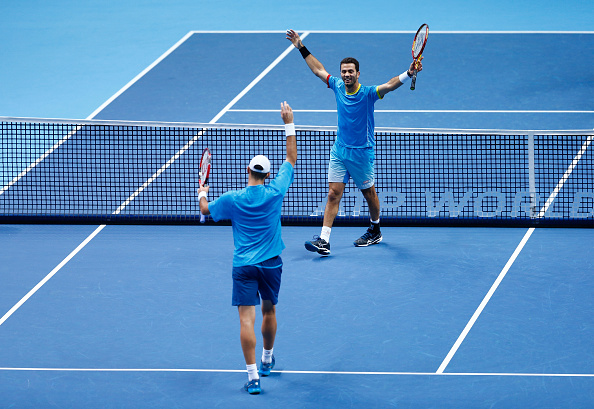 Photo: Getty Images
Worst Results
Two Masters results really stick out like sore thumbs for Rojer-Tecau in 2015. The first was their early exit in the first round at Indian Wells to the tandem of Andy Murray and Thanasi Kokkinakis. Of course we know that Murray has turned out to be a very reliable doubles player in Davis Cup play, but this was a first time pairing Rojer-Tecau had already made a couple of finals and won the tournament in Rotterdam. To lose 6-3, 7-5 to Murray-Kokkinakis was a poor result. The other match that sticks out is a super tie break loss to Marin Cilic and Viktor Troicki in Madrid. To be fair, Rojer-Tecau did not play together the week before in Munich as Rojer teamed up with Andy Murray. Perhaps that threw off their mojo, as they dropped their opening match to Cilic-Troicki 4-6, 6-2, 7-10.
Grade: A
Despite winning just three titles in 2015, the year was an unmitigated success story for this duo. The Wimbledon title alone gives this team a ton of credibility. Their strong play at the other Slams adds strength to their season in spite of the weak showings at Masters tournaments. Rojer-Tecau would probably stare a B in the face though if not for their heroics at The O2 Arena in the Tour Finals. Running the gauntlet through the best doubles teams on tour and becoming the number one ranked doubles duo to end the season net this team a solid overall grade with room for improvement still in 2016.