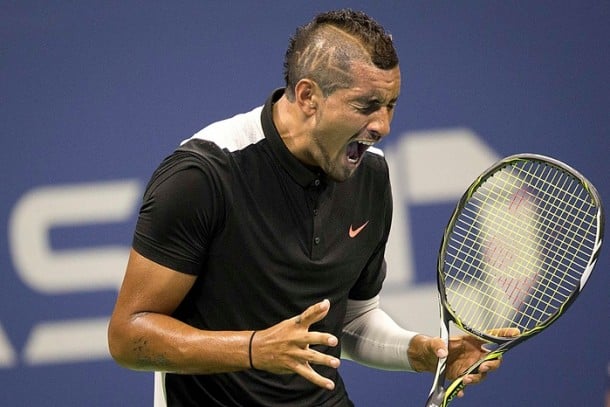 The currently coachless Nick Kyrgios may have a great option available. Roger Rasheed, former coach of several top players, has come out and said that he would be interested in taking on the challenge that is Nick Kyrgios. While Kyrgios has not contacted Rasheed as of yet, the Australian coaching veteran has said he would be willing to discuss the possibility with the Aussie young gun.
Personal Histories
Kyrgios, age 20 and ranked 30th in the world, has been playing without an official coach since before Wimbledon, although he's been receiving guidance from former world number one and current Australian Davis Cup captain Lleyton Hewitt. During that time, Kyrgios was involved in several on court incidents, most notably when he made rude comments to Stan Wawrinka at the Rogers Cup about his girlfriend on court. Kyrgios is currently on probation, facing a 28-day suspension should he get in any more trouble in the next few months.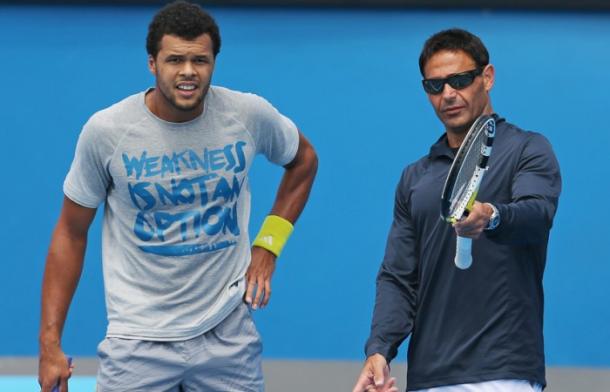 Roger Rasheed (right) with former charge Jo-Wilfried Tsonga (left). Photo: Tennis.com
Rasheed is an extremely experienced and effective coach. He led several players to their career best results. He started off with Lleyton Hewitt, who just spent time working with Kyrgios, in 2003, helping Hewitt reach a pair of grand slam finals in 2004 and 2005. He then started working with Gael Monfils in 2008, helping the flamboyant Frenchman reach his career-high ranking of seventh in the world. He followed that up with a stint with another Frenchman, Jo-Wilfried Tsonga. Most recently, he coached prodigy Grigor Dimitrov, taking "Baby Fed" and turning him into a consistent top-twenty player on the ATP World Tour in 2014. The pair parted ways after inconsistent results this summer.
Kyrgios' Needs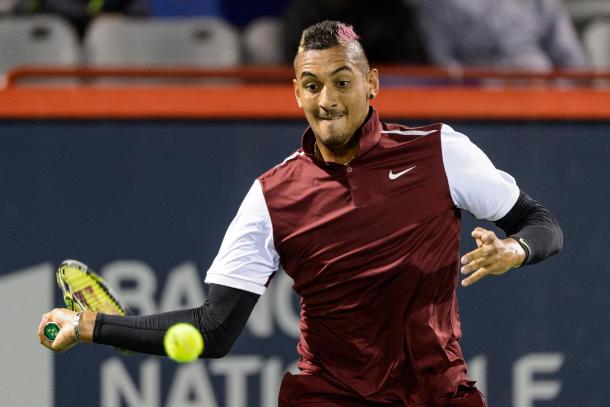 Kyrgios during the Rogers Cup. Photo: Yahoo Sports
What Kyrgios needs most in a coach at the moment is someone who can help him sort out, or at least control, his attitude. At the moment, it appears as though his poor attitude will be his undoing on the tour. He already possesses a solid game with powerful shots. He just needs to develop a bit more consistency. But what he really needs to do is calm down and focus on his game, rather than making a scene on court. With the way he is going, he may become a mainstay on the tour, but will only be famous for poor behaviour rather than winning.
Is Rasheed a Good Fit?
Rasheed should be able to help with that. He has experience coaching players with big personalities and some questionable attitudes. Lleyton Hewitt was not dissimilar to Kyrgios in that he was very feisty and could be volatile, although Kyrgios makes Hewitt look downright well behaved. Monfils has often struggled with focus, seeking attention for any reason, even if it's is doing funny things on court rather than winning. While Kyrgios is the next level of attitude, Rasheed already has more experience working with players with attitude problems, which makes him a better fit than many coaches.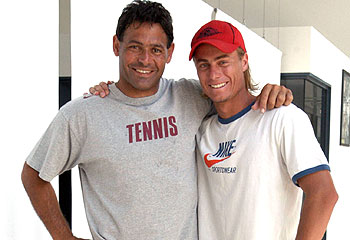 Roger Rasheed (left) and Lleyton Hewitt (right). Photo: Fox Sports
On top of that, Rasheed is very good at helping players develop. He took both Monfils and Dimitrov to the high points (so far) of their careers and got them playing their best tennis. What is more is that both of those players were youngsters with a ton of potential and the high expectations that went with them. And while neither has yet to match the high expectations and seriously contend for majors, both have become solid players on the ATP tour. Kyrgios is in a similar boat. There are very high expectations for the Australian, but he will need help to get there and Rasheed has a good track record in that department.
Roger Rasheed would be a good fit for Nick Kyrgios. He is qualified to help Nick Kyrgios in most of the areas that the volatile young Australian needs. It would be in Kyrgios' best interest to reach out to Rasheed. Especially considering Kyrgios' reputation, he may not be able to find many good coaches willing to work with him. This is a great opportunity for Kyrgios. He should take advantage of it.