Poland's Fed Cup team has found a new coach. Tomasz Wiktorowski resigned in April after Poland was demoted from the Fed Cup World Group I. He will be replaced by Poland's current number two doubles player, Klaudia Jans-Ignacik. Wiktorowski will stay on as the coach of Poland's number one singles player, Agnieszka Radwanska.
Poland Under Wiktorowski
Poland appeared in the Fed Cup World Group I for the first time since 1994 this year, only to be swept by Russia in the first round. They were demoted to the World Group II after losing a heart-breaking 3-2 tie to Switzerland in the playoff, which was decided 9-7 in the third set of the fifth and deciding doubles rubber.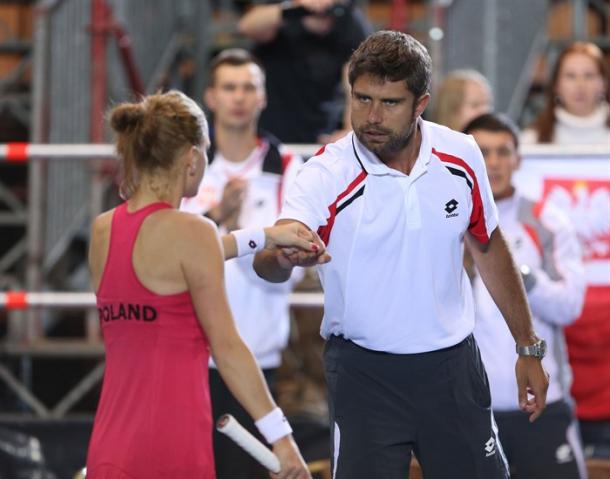 Wiktorowski (left) first bumps Radwanska during Poland's 2014 Fed Cup World Group Playoff win over Belgium. Photo: Fed Cup
During Witkorowski's seven years as Fed Cup captain, the team's best result was in fact playing the in first round of the World Group I in 2015. During his time as captain, Wiktorowski helped Poland climb into the World Group II on two occasions, the first time falling back to the Europe/Africa zone, the second time earning promotion to World Group I, that being last year.
Moving Forward
Jans-Ignacik made her Fed Cup debut for Poland in 2002. The thirty-one year-old Pole has mostly played doubles, going 20-9 in Fed Cup action since 2002. She lost the deciding rubber this past year against Switzerland. Despite her role as captain, Jans-Ignacik says that she will continue to play for the team.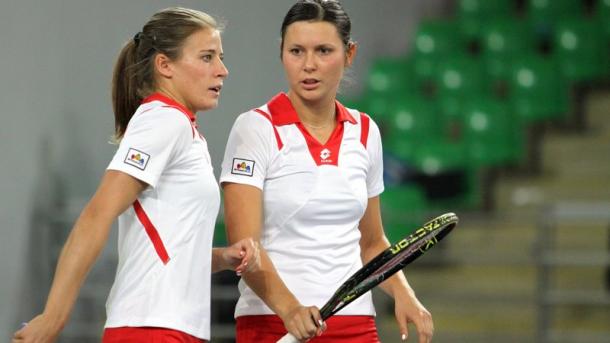 New Fed Cup captain Klaudia Jans-Ignacik (right) with partner Alijca Rosolka. Photo: Newspix/Eurosport Poland
Despite resigning, Wiktorowski will continue to coach Polish number one Agnieszka Radwanska. This comes as a slight surprise after Radwanska's father, Robert Radwanski, openly criticised Wiktorowski back in April and called for his daughter to fire Wiktorowski. Radwanska was in the midst of her worst start to a season since 2007. However, she would pick up steam over the final months of the season, culminating in the biggest title of her career at the WTA Finals in November.
Radwanska has made no secrets of her intentions for 2016, making her desire to win a Grand Slam title very clear. After her hot run in October leading into the WTA Finals, it does in fact make sense that she would stick with the coach who helped her win that title. She will be hoping for a fast start to the 2016 season.