Roger Federer's announcement that he and coach of two years Stefan Edberg had parted ways yesterday came as a surprise to many. It marked the end of a partnership that had completely revitalized the Swiss' career. Let's take a look back at Roger Federer's two years working with Stefan Edberg.
Federer's Struggles
When Roger Federer joined forces with Stefan Edberg in December of 2013, his career appeared to be almost done. He had struggled with back injuries throughout the season and had fallen to number six in the world. That was his lowest ranking since February of 2002. He missed the quarterfinals at two of the four majors for the first time since 2003. What made matters worse, Federer's early losses at Grand Slams came at what were considered his best events, Wimbledon and the U.S. Open. Combined with Rafael Nadal's resurgence, Novak Djokovic's consistency and Andy Murray's new confidence, it seemed as though the Federer era was well and truly finished.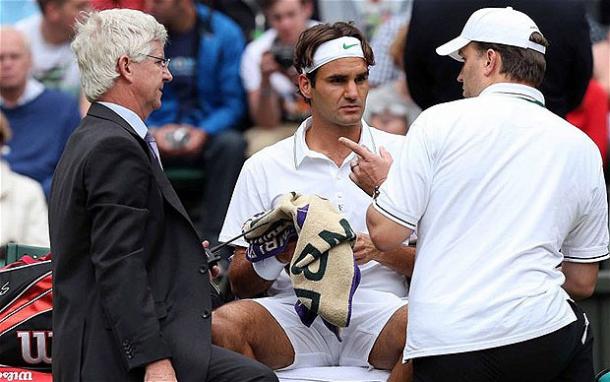 Federer gets medical attention for his lower back at Wimbledon 2012/Photo: Press Association
Federer was no stranger to being written off at that point. Ever since Rafael Nadal had taken the number one ranking away from him for the first time in 2008, Federer had been forced to suffer through increased scrutiny. Many would claim his career was over at that time, but he kept playing. But in 2013, the feeling seemed different as Federer was struggling with injuries and confidence. The end was nigh.
The Renaissance
2014: Return to Form and Charge at Number One
When Federer brought in Edberg before the start of 2014, it was a signal to the world that he wanted to revitalize his game and refocus on a return to competitive tennis. The effect was immediate. Federer kicked off his season by reaching the final in Brisbane and followed it up by reaching his first Grand Slam semifinal in 12 months at the Australian Open, including a win over Andy Murray. He followed that up with his first win over Novak Djokovic since August 2012, taking down the Serb in the Dubai semifinals en route to winning the title.
Federer's good results continued when the Masters 1000 season started, reaching two of the first three finals. He stumbled a little bit during the clay court season, but what followed was a summer to remember. He started off by winning the Gerry Weber Open in Halle, Germany for the eighth time. A fortnight of magic ensued at Wimbledon, as Federer put on a vintage performance at the All-England Club. He raced through the draw, dropping only one set in making it to his first Grand Slam final since the 2012 Wimbledon Championships. He then did battle with top seed Novak Djokovic in an epic five-set final. In the end, Federer would lose a heart-breaker in the fifth set, but it was clear to the world that he was back.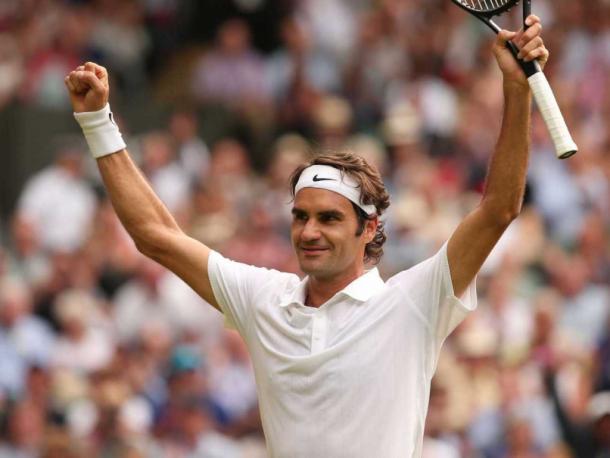 Federer celebrates his quarterfinal victory over Stan Wawrinka at Wimbledon in 2014/Photo: AFP
Federer followed up Wimbledon by reaching back-to-back Masters 1000 finals in Toronto and Cincinnati, winning the latter. His magical summer ended after he reached the U.S. Open semifinals for the first time since 2011, losing to eventual champion Marin Cilic. As the season entered its final stretch, what had seemed impossible a year earlier, was now a genuine possibility. Federer was within striking distance of reclaiming the number one ranking for the first time since 2012. Federer would win his first two tournaments, giving himself a genuine chance to reach number one. However, a quarterfinal loss at the Paris Masters to Milos Raonic ended the bid. Federer reached the final of the ATP World Tour Finals, but was forced to withdraw with a back injury. His year was not done yet and the Swiss would end on a high note. He closed out an amazing season by claiming the title that always seemed out of reach, The Davis Cup.
2015: Continued Success, Close Calls at Majors
Edberg had originally only signed on to coach Federer during 2014, but after the great success of that season, the Swede agreed to continue working with Federer through 2015. They started out by winning Brisbane. After a disappointing third round loss at the Australian Open, Federer mirrored his 2014 season by beating Djokovic in Dubai and winning the title. He would also reach the final in Indian Wells. He had a much improved clay court season in 2015. Federer won his first title on red clay since 2009 (he won on Madrid's controversial blue clay in 2012) in Istanbul, before reaching the final of the Internazionali BNL d'Italia in Rome. He would then return to the quarterfinals of the French Open, losing to eventual champion Stan Wawrinka.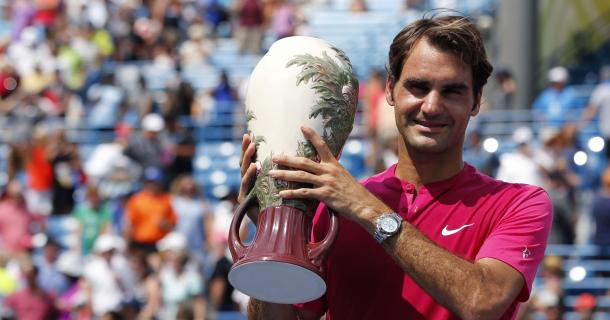 Federer after his dominant victory over Novak Djokovic in Cincinnati/ Photo: USA Today
Once again, Federer hit his stride on the grass. He won in Halle for the eighth time and reached his second consecutive Wimbledon final, once again losing to Novak Djokovic. His best performance in years would come at the Cincinnati Masters. Federer blew apart the draw, winning the title without dropping a set or having his serve broken. That included a dominant performance over Novak Djokovic in the final. He followed that up by storming through to the final of the U.S. Open for the first time since 2009. He did not drop a set, before losing an ugly final to Djokovic. Federer closed out his season with another title in Basel and a runner-up performance at the ATP World Tour Finals. He would end the year ranked third.
That completed his run with Edberg. While working with the six-time Grand Slam champ, Federer won 11 titles and reached three Grand Slam Finals. The Swiss also spent the better part of those two years ranked number two in the world.
The Edberg Effect
When Federer hired Edberg, it was assumed that Edberg was going to try to get Federer to play a more aggressive, net-oriented style of play. That is exactly what happened. Under the Swede's guidance, Federer turned his game into a more serve-and-volley style of tennis. Federer's serve, already great, became one of the best and most feared in the game. His dominance on fast courts was reminiscent of Federer circa mid-2000s.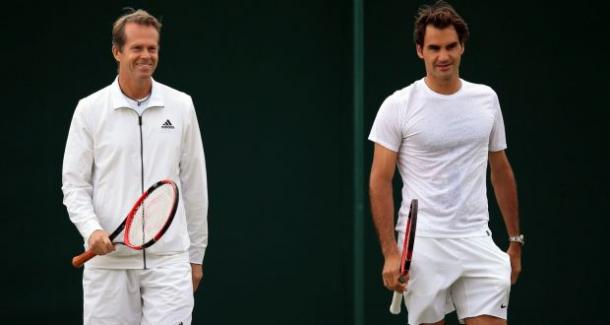 Edberg and Federer/Photo: Press Association
By being more aggressive than ever and attacking the net, he covered up his weaknesses on the baseline. As time has gone along, tennis has become more and more baseline oriented and Federer was getting left behind. He could not keep up with the big hitting base liners like Nadal and Djokovic. As he was aging, he was not physically strong enough to play baseline tennis with the big guys. So, Federer made it irrelevant by attacking, keeping rallies short and taking youth and physicality out of the equation. This strategy, conceived and perfected with the help of Edberg, was a huge reason as to why the Swiss was able to become competitive again.
This new style of game was also huge for physically extending Federer's career. The grinding baseline play had been breaking Federer down, playing a role in the back injuries that seemed to be threatening to derail his career in 2013. But by keeping points short, he spends less time on court and has been able to extend his career by not wearing out his body. Federer has been saying for years that his goal was to play at the The Olympic Games this year in Rio de Janeiro. Not only will he accomplish that goal, he is committed to play more ATP tournaments into 2017. Stefan Edberg is a big reason why Roger Federer is still playing tennis at an elite level. At this rate, he very well could outlast rival Rafael Nadal, who is five year's Federer's junior.
Roger Federer will certainly miss Stefan Edberg. The Swedish legend has done a lot for the Swiss and is a major reason why Federer remains one of the best tennis players on the tour at the moment. Federer seems to be in a position to continue playing for several more years and he owes that to Edberg. Federer's last two seasons were remarkable and hopefully he can take the lessons learned from Edberg into next season and many more to come.