It has been a bad couple of days for the Philippines Mavericks and back injuries. First, Milos Raonic was forced out with a back injury earlier in the week that could leave his 2016 start in jeopardy. The Mavericks other top men's singles player, Richard Gasquet, has now joined the Canadian on the sidelines. The Frenchman also reportedly has a back injury.
The Injury
Gasquet has officially withdrawn from the 2015 IPTL with a back injury. The injury certainly seems somewhat serious as he is also considering withdrawing from his first ATP World Tour event of 2016 in Doha. The Doha tournament is scheduled to start on January 4th. There is no word as of yet as to whether or not the current world number nine will be forced to miss the Australian Open. He was on the official entries list released earlier this week. The Australian Open starts on January 18th.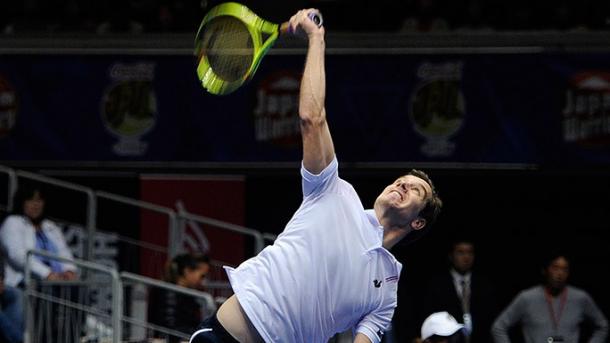 Richard Gasquet fires a serve at the IPTL/Photo: IPTL
This injury is not a new one for Gasquet. The Frenchman missed all of the clay Masters 1000 level events with a similar back injury in 2014. He returned at the French Open, but continued to struggle with the injury in the final months of that season. He ended his 2014 campaign with a beat-down at the hands of Roger Federer in the decisive rubber of the Davis Cup Final.
Bitter End to a Good Year
2015 was largely a bounce-back year for Gasquet. He won a pair of titles in the first half of the season, before reaching his third career Grand Slam semifinal at Wimbledon. He followed that up by making quarterfinals of the U.S. Open. A hot run in October, which included a pair of semifinal appearances and a quarterfinal showing at the Masters 1000 event in Paris, saw Gasquet finish the year in the top ten for the first time since 2013.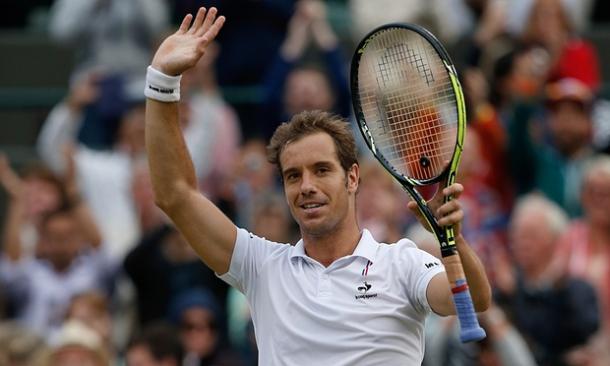 Gasquet during his Wimbledon run/Photo: Getty Images
Gasquet will spend the next month recovering and will hope to be ready for the Australian Open. The timing is unfortunate for Gasquet, as it will stop the momentum he would have had going into 2016. Losing Gasquet two days after losing Milos Raonic is also a major blow to the Philippine Mavericks, who are now without a top ATP singles player. The Mavericks are currently in fourth place in the five team IPTL.