2015 was a year filled with a lot of ups-and-downs for Croatia's Mirjana Lucic-Baroni. Despite ending the year with a 23-29 record (.442), the 33-year-old was still able to play well at times against the likes of Simona Halep and Karolina Pliskova, bagging impressive victories in a roller coaster season.
Lucic-Baroni's Struggles With Inconsistency Before the French Open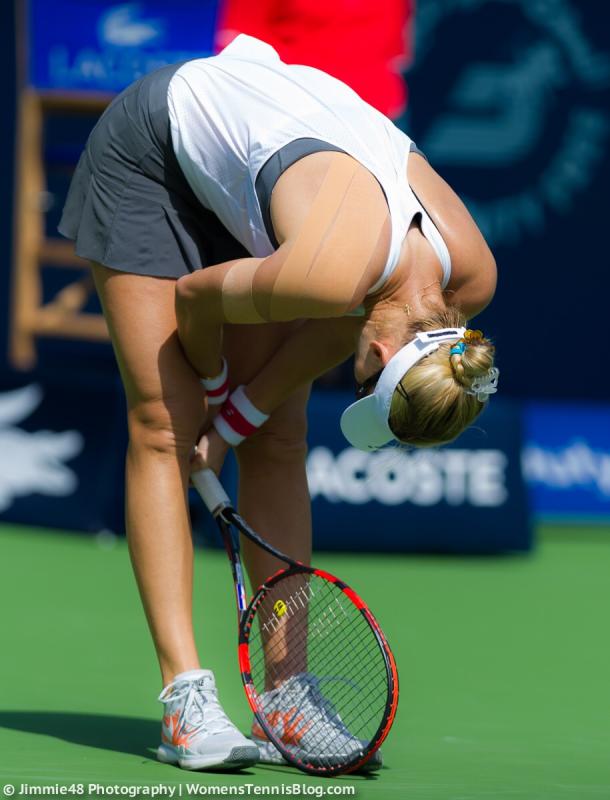 After a stellar comeback season that saw her win her first title in 2014, Lucic-Baroni was hoping to carry that same form into the 2015 season. Unfortunately for her, she was unable to find any of that same form for the first five months of the season. The Croatian number two won just eight of her twenty-one matches prior to the French Open, and only two of those eight wins came in the main draw of WTA events. At one point, Lucic-Baroni was on a twelve match losing streak in main draw matches on the professional circuit, and was struggling to find any consistency with her big, powerful brand of tennis.
Lucic-Baroni's last match before the French was an unfortunately perfect way to sum up her season at that point in the year. Leading a set and 5-0 in Strasbourg, she looked to be in the verge of ousting top seed and WTA rising star Madison Keys but remarkably, Keys fought back to win the match 4-6, 7-6(3), 7-6(0). That defeat was admittedly a bitter pill for the 33-year-old to swallow, who couldn't seem to catch a break results wise.
Lucic-Baroni's Impressive Rebound in Paris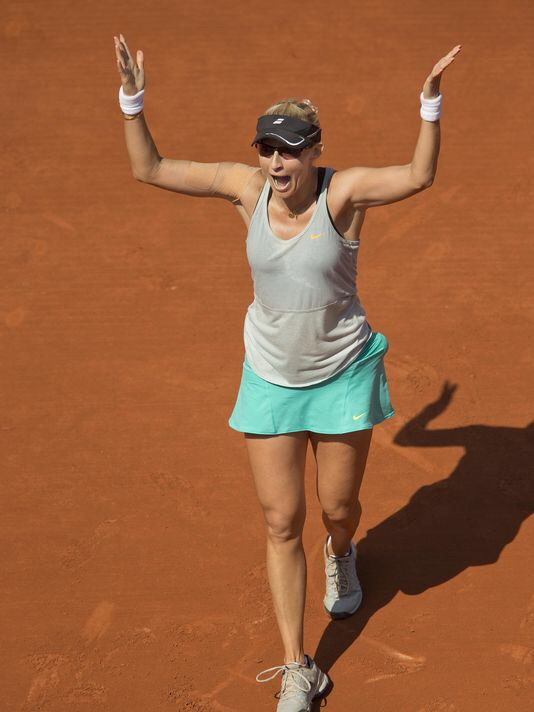 Photo: Susan Mullane/USA TODAY Sports
After a terrible first five months of the season, Lucic-Baroni arrived in Paris motivated and ready to make a splash in the second Grand Slam of the tennis calendar. After defeating Lauren Davis in three sets, the Croatian number two set up an intriguing clash with third seed Simona Halep — whom she beat the last time they met at the U.S. Open nine months ago. In this encounter, history repeated itself as Lucic-Baroni blasted winner after winner against a helpless Halep, who could only tip her hat to her more experienced opposition. The form displayed in that match by the 33-year-old looked more like the old Mirjana Lucic-Baroni, and things were beginning to look bright for the world number 70. Unfortunately, all of the happiness surrounding her shock triumph over Halep was short lived as the German-born Croatian lost to home favourite Alizé Cornet two days later in a well-contested three set battle.
Lucic-Baroni's Struggles with Consistency Return in Second Half of 2015
Shortly after leaving Paris, Lucic-Baroni's struggles with consistency seemed to have returned. Things certainly didn't come easy to the 33-year-old until the latter stages of the WTA season.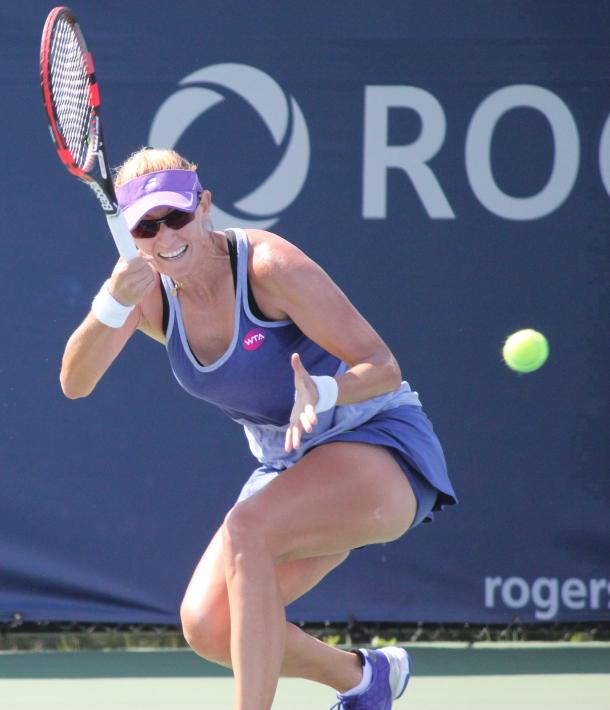 Photo: Max Gao
After a mediocre grass court swing in which she won just two of the six matches she played, the Croat appeared to be finding her game again, upsetting then-world number eight Karolina Pliskova after successfully qualifying for the Rogers Cup presented by National Bank. Unfortunately for Lucic-Baroni, this success was short lived as she was only able to win one match in the next two months, going winless until she returned to the Coupe Banque Nationale in Quebec City.
Returning to the city where she won her first WTA title in 16 years, Lucic-Baroni was able to recapture some of the same form from twelve months ago. Using her flat ground strokes to full effect at one of the few indoor carpet tournaments of the season, the Croat was able to overpower the majority of her opponents when she finally got going. However, to her dismay, she was unable to replicate her Cinderella run to the title last season this time around, and was overthrown by Annika Beck — who would later go on to claim the title — at the semi final stage in three sets.
The next and final five tournaments of the 33-year-old's 2015 season fluctuated in terms of results - one week she would lose in the third round, the next she would lose in the first. However, the world number 68 was still able to string together a few wins here and there, including a win over third seed Sara Errani at the BGL BNP Paribas Luxembourg Open - her final tournament of the season.
Final Thoughts
Generally speaking, Lucic-Baroni was far from her best for most of the year and maintaining the same consistency was her biggest kryptonite, one she hopes to improve on in 2016. However, she was still able to string together a couple of big wins against well-established players, and proved she could be a threat to almost anyone if she's at her best.
Grade: B