Marcin Matkowski and Nenad Zimonjic both began 2015 with different doubles partners. By March, they had decided to make changes and team up for the first time. What followed was a very mixed season that ended on a better note, with the duo qualifying for the ATP World Tour Finals.
Win-Loss Record
Matkowski-Zimonic racked up a record of 33-22 in 20 tournaments over the course of the season. That was good enough to see the pair finish 2015 ranked as the number eight doubles team. Both had begun the 2015 with different partners. Zimonjic was paired with Aisam-Ul-Haraq Quereshi. They had started slow before making the final of the Dubai Duty Free Tennis Championships. That was not enough to save their union though as Zimonjic-Quereshi split in March with their playing styles not meshing. Matkowski began the season with Robert Lindstedt. They too started slow at just 6-6 through the first two months of 2015. Their split may not have been too surprising with Matkowski still trying to find the right fit after spending the previous 11 season paired with Mariusz Fyrstenberg.
High Points
Matkowski-Zimonjic started their pairing with an immediate boost in form for both men. Their first tournament together was the Masters 1000 at Indian Wells. They made a good run to the semifinals before losing to Vasek Pospisil and Jack Sock 4-6, 6-3, 6-10. The high point for the duo would come during the summer as they advanced to their third final of the season in Cincinnati at another Masters 1000. On their path to the final, they would beat two of the top teams on tour in straight sets. They beat the tandem of Jean-Julien Rojer and Horia Tecau 6-3, 6-4 in the quarterfinals and then took out Ivan Dodig and Marcelo Melo 6-4, 6-4 in the semifinals. Their streak of losing finals in 2015 would continue though as Daniel Nestor and Eduoard Roger-Vasselin bashed Matkowski-Zimonjic 6-2, 6-2 in the championship match.
Low Points
Although it was just their second event together as a team in 2015, the Miami Open in March was disappointing. After opening their partnership with a 3-1 mark at Indian Wells, the Polish-Serbian duo would crash out in Miami in their opening match. Kevin Anderson and Jeremy Chardy teamed up to dish out a 6-3, 6-3 loss to Matkowski-Zimonjic. Another low came late in the season on the indoor hard courts in Vienna. At the Erste Bank Open, they would lose to another odd pairing with David Marrero and Andreas Seppi taking them down in the quarterfinals in a super tiebreak, 10-8.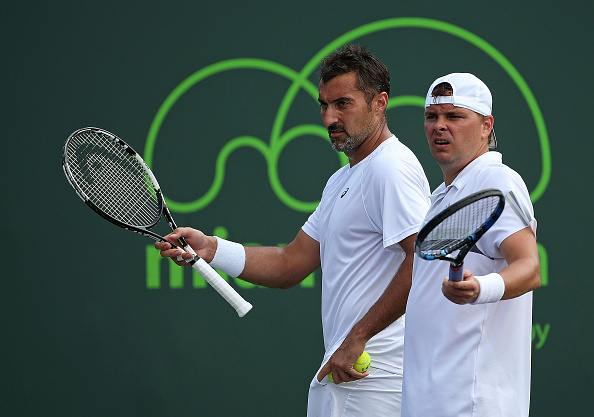 Zimonjic and Matkowski at the Miami Open/Photo: Getty Images
Best Results
Matkowski-Zimonjic made three finals in 2015. The first came in Madrid on clay, the second on grass at Queen's Club and the final one coming on the hard courts of Cincinnati. The brightest moments though came for this pairing as they played their first Grand Slam of the year together. After both men suffered through middling results at the Australian Open with different partners, they would arrive at Roland Garros with some confidence after a solid clay court swing. In Paris, they would play well and advance to the quarterfinals. They beat a solid team in Jamie Murray and John Peers in the round of 16 before exiting in a tough three set loss in the quarters to the Bryan Brothers.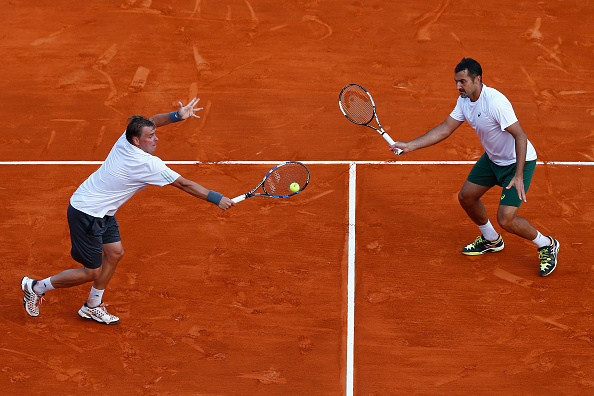 Photo: Getty Images
Form would carry over into the summer's grass court swing as their best run of results continued in England. At the AEGON Championships, they were seeded second. Matkowski-Zimonjic would make their second final of the season there, as they won three tiebreaks and a super tiebreak in the three matches leading them into the final. In the final, they would fall flat to Pierre Hugues-Herbert and Nicolas Mahut. That did not deter them as their momentum continued at Wimbledon. Their second Grand Slam together would see them advance to another quarterfinal. They exacted some revenge on Herbert-Mahut in the fourth round before being swept out in the quarters by the eventual champions, Rojer-Tecau. They would finish strong in the season's final slam in New York with their third straight quarterfinal appearance together, this one coming at the U.S. Open.
Worst Results
The post-U.S. Open finish was by far the worst string of results for the Polish-Serbian pairing. After their quarterfinal run in New York, the duo would go just 5-5 in their next five tournaments. They would still manage to slip into the ATP World Tour Finals despite that poor finish. They would find no joy in London to finish off 2015 though as they went 0-3 in round robin play at the Tour Finals. They were crushed in their opener 6-2, 6-4 by Rojer-Tecau, before losing a pair of super tiebreaks to Herbert-Mahut and Dodig-Melo to end their season.
Grade: C
There were good moments for this team. Making three finals was positive for this tandem. The three losses in those finals saw them mostly outmatched. They also made three Grand Slam quarterfinals, a solid achievement. Still, they had trouble beating the top tier doubles teams on a regular basis and when it counted most. Against the seven teams that finished in front of them in the final rankings, they went just 4-12 overall. That played a large part in both players seeing their titles streaks end. There will be no encore for this team in 2016. Both players will be with new partners to start the season. Matkowski goes with another Polish player in Lukasz Kubot, while Zimonjic will reportedly pair up with Gilles Muller.