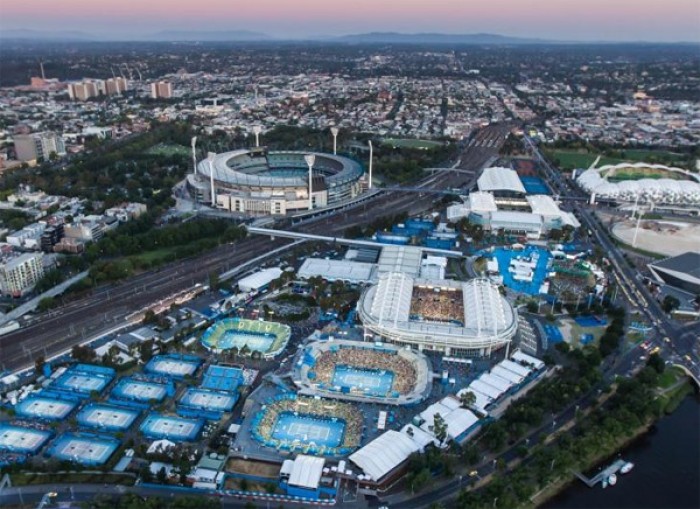 It looks like the Australian Open will remain in Melbourne for the near future and then some. Melbourne Park will continue to host the Grand Slam of Asia/Pacific until 2037. Sydney put in a bid to get the year's first Grand Slam but was denied.
Stadiums At Melbourne Park Major Difference
The New South Wales government proposed a $150 million indoor stadium next to 10 outdoor courts. The $150 million indoor stadium was set to seat 10,000 people. Keep in mind that Sydney already hosts the Apia International Sydney, the week before the Australian Open at the New South Wales Tennis Center, formerly known as the Sydney Olympic Park Tennis Center. Sydney hosted the Olympics in 2000.
The New South Wales Tennis Center's main stadium is Ken Rosewall Arena, and it seats 10,000. However, even a new stadium didn't convince Victoria's Acting Sports Minister Lily D'Ambrosio. "It's always been a Victorian affair. Sydney might have grand plans for 2037, but a run of the mill 10,000 seat stadium won't cut it - it's going nowhere," she said. Melbourne Park boast three stadiums with a capacity of 7500+. Margaret Court Arena seats 7500, Hisense Arena seats 10,335, and Rod Laver Arena seats 15,000.
Melbourne Park is currently halfway through with its current project which costs $700 million. All three stadiums now have retractable roofs with Margaret Court being newly renovated to seat the 7500 it can now plus the roof. The cost of that was about $150 million. The upgrades and renovations made for Rod Laver Arena cost $338 million.
These renovations include a footbridge which links the city center and a revamped loading bay which will lower the down time between concerts and stadium events. This project has been awarded to Lend Lease and was announced back in November. Melbourne Park is currently looking for the funding for a third upgrade and renovation. The cost of this upgrade will cost $300 million.