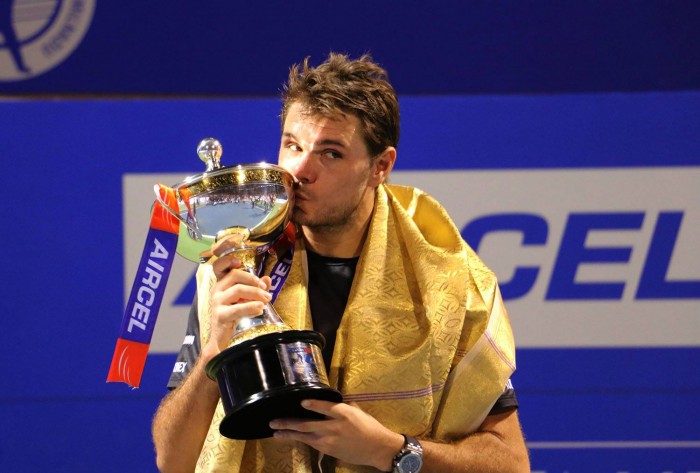 Chennai, India: For the third year in a row, Stan Wawrinka opened his season with a title at the Aircel Chennai Open, this time defeating the up-and-coming 19-year old Croatian Borna Coric in straight sets, 6-3, 7-5. The match was very close, but Wawrinka's experience helped him cross the finish line as the champion.
Wawrinka Only Needs One Break to Take First Set
The youngest player in the ATP top 50, Coric made his first-ever appearance in an ATP final on Sunday. He played very well overall, but was unable to overcome Wawrinka's serve and overall tough game. Both players held strong in the opening games, but Wawrinka struck first with a break at 3-2. In the very next game, Coric had 2 break point chances, but Wawrinka saved both with two incredible inside-out forehands before holding with a serve-and-volley. At 5-3, Wawrinka clinched the first set comfortably with an ace at 40-0. Despite only serving at 52% on his first serves, Stan was able to win 86% of those first serve points, thanks to 10 aces in the first set alone. He did face five break-points, but was able to save them all, unlike Coric, who lost the only one he faced, gifting the set to the Swiss number two.
'Stan The Man' Takes Title in Very Close Second Set
The second set was a tight-affair as well. Neither player faced a break point until they were knotted up at 5-5, when Wawrinka made his move. He began the crucial game was a crisp cross-court backhand winner. At 15-40, he lined up a down-the-line backhand, and crushed it perfectly, gaining the break and a chance to serve for the championship. He quickly raced out to a 40-0 advantage before catching Coric behind the baseline, using a dropshot to force the Coric error into the net, clinching the match and the title. In the second set, Wawrinka won an incredible 94% of first serve points, as well as 82% of second serve points. He was tough on his own serve, and got the one break he needed, just as he had done in the first set.
Despite the Loss, Coric Has Bright Future Ahead
While Coric fell short today, it is evident that he will be someone to watch in the years to come. He is only 19-years old, but he held his own against the 30-year old Wawrinka. He has an all-around game which he will continue to work on and improve. While today was only his first finals appearance, watch for him to continue making these types of runs in the immediate future. He realizes that this is an important step in his progress, adding post-match, "It was a great week for me here. Obviously facing Stan in my first final was a tough challenge; nevertheless, I'm very happy with my week and the start into the season."
Wawrinka Continues Dominance in India
With the victory, Stan now holds a 12-match winning streak in Chennai, including 24 consecutive sets won. He now holds the first three-peat in tournament history, becoming the ninth different active player to do so at an ATP World Tour event. The world number four was very happy with his continued success at the tournament, saying post-match, "I'm really happy to win the match the way I played today. Again, it was in two sets as it has been all tournament. The crowd was amazing. They give amazing support every year." With the victory, Wawrinka hopes to carry his confidence down to Melbourne, Australia, where he will attempt to win his second Australian Open crown.