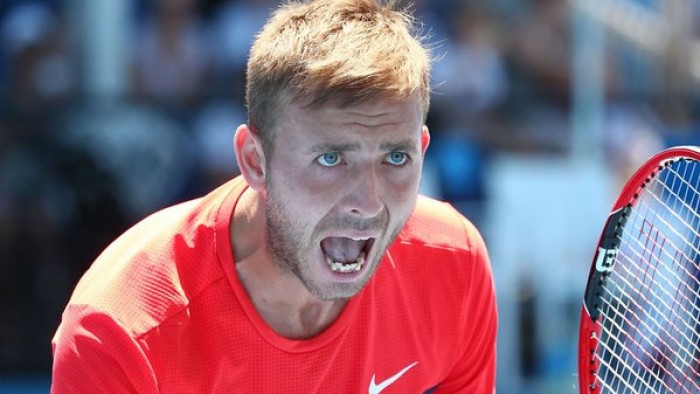 Throughout the history of Grand Slams, there have always been either wild cards or qualifiers that have smashed some sort of a glass ceiling. Goran Ivanisevic, a wild card for Wimbledon in 2001, needs no introduction. Although no qualifier has ever emulated him by winning a slam in the Open Era, several have at least managed to produce a deep run into the second week.
An example being Brian Baker's run to the last 16 at Wimbledon in 2012, when Lukas Rosol opened the way by sending Rafael Nadal packing. Here is a look at which men's qualifiers can win a match and which ones have the best chance of a run into the second week at the Australian Open.
Daniel Evans
First round opponent: (18) Feliciano Lopez
If anything, Evans seems to have the kindest section of any qualifier. Lopez, while a tough opponent, isn't getting any younger and he has been upset in the best-of-five format in previous slams. Most recently, he was taken down at Wimbledon by Nikoloz Basilashvili. The second round doesn't look that difficult with Steve Darcis or Guido Pella awaiting the winner and the seeded third rounder would be 10th seed John Isner. Isner is always capable of being dragged into a long, physical losing effort by lower ranked players due to his playing style as Evans' British compatriot James Ward will testify. The chances of Evans flying the qualifier flag is pretty high when compared with the other qualifiers in the field of 128.
Win Chances: 6/10
Second Week Chances: 4/10
Radek Stepanek/Tatsuma Ito
First round opponent: each other
It is pretty admirable of the charismatic Czech net rusher to enter the qualifying competition. For a man who has been on the fringes of the top ten and won a pair of Davis Cup titles, working his way through the qualification grind was not a task that he was too proud to attempt. He is arguably the favorite to beat Ito, who edged out Adrian Menendez-Maceiras to ensure a main draw berth. However, with a certain Stan Wawrinka likely awaiting in round two, chances are that we'll be seeing the last of "The Worm" (or Ito for that matter) before the middle of week one. A few years ago though, Wawrinka - Stepanek would be a much tighter call.
Win Chances: Stepanek 8/10, Ito 3/10
Second Week Chances: Stepanek 2/10, Ito 1/10
Jozef Kovalik/Marco Trungelliti
First round opponent: each other
This is a first ever Grand Slam main draw appearance for the young Slovak hope Kovalik, and he has been handed a kind opener as Trungelliti is also making his debut in the main draw of a slam. However, Grigor Dimitrov will be licking his lips at playing either of these inexperienced challengers in the second round. Whomever wins this encounter will almost certainly be sent on a plane to the next Challenger Tour event by the Bulgarian. Despite defeat by Roger Federer in Brisbane, Dimitrov looks motivated and determined under new coach Franco Davin. Davin is the same coach who inspired Gaston Gaudio and Juan Martin del Potro to Grand Slam glory.
Win Chances: 7/10 (both)
Second Week Chances: 1/10 (both)
Ryan Harrison
First round opponent: Andrey Kuznetsov
So what is next for the one-time great hope of American men's tennis? Harrison, to his credit, is another one that was not too proud to negotiate his way into the main draw without ranking or wild card help. His first rounder looks a tough call though against. Kuznetsov, who can hit the ball hard and clean on his day. He put that on display in overpowering David Ferrer at Wimbledon in 2014 and also recently gave Nadal a scare in Doha.
Harrison took a set off Andy Murray here in 2012 and if he can remember how he achieved that, he can win this match. The mercurial Ernests Gulbis or the inconsistent Jeremy Chardy would be waiting in round two, and it's not an insurmountable task to beat either one. Alas, Rafael Nadal awaits in the third round, so unless Fernando Verdasco thinks it's 2009 all over again, that would be the end of the tale. Still, it's not the Nadal of old. But progress for Harrison beyond week one? That is reliant both on him and Verdasco, which is probably asking too much.
Win Chances: 5/10
Second Week Chances: 2/10
Stephane Robert
First round opponent: Bjorn Fratangelo
Robert plays the game with a smile on his face at all times and the fun-loving Frenchman has entertained a few in his four set defeat to Andy Murray here two years ago. He has a reasonable opener with Bjorn Fratangelo, who was bageled by Evans in the final set of their qualifying match. The American would secure a lucky loser spot due to withdrawals. In the second round, if Robert negotiates his way there, it's likely to be against Kevin Anderson. There is no one on the tour in recent times you can describe as "beats who he should be beating and loses to those he should" than Anderson. The South African is the epitomy of consistency and it's hard to see Robert beating him.
Win Chances: 8/10
Second Week Chances: 2/10
Peter Gojowczyk
First round opponent: (8) David Ferrer
Gojowczyk is something of an enigma, having tested Nadal in Doha in the past and he also scored a monumental victory over Jo-Wilfried Tsonga in the Davis Cup for his country. So, there's some upset potential in him perhaps and it helps that Ferrer looked a step slower in Qatar. He was hit off the court by Ilya Marchenko. However, this is a slam and unless Ferrer's fitness has taken an unexpected nose dive since the off-season, you'd expect him to ultimately grind the German out.
If Gojowczyk was to pull off the remarkable, the one seed in his way before the second week would be Steve Johnson. In comparison to other sections, that is not exactly drawing the short straw. So, if he could pass round one, you never know what might happen. That is likely to be the stopping point.
Win Chances: 3/10
Second Week Chances: 3.5/10
Di Wu
First round opponent: Austin Krajicek
This is a rare foray into a Grand Slam for a Chinese male. While Li Na has carried the fight for Chinese tennis in the women's sport for the last decade, the ATP side has seen a lack of male star power from the Middle Kingdom as recent editions of the Beijing and Shanghai tournaments will testify. Those sites have been slaughterhouses for the local wild cards for a number of years but Di Wu has bucked a trend by earning a Slam draw spot on his own merit. Krajicek though is a solid pro who should in reality finish Wu off in the first round. It might well be more bearable to those watching back home than a second round loss to Japan's Kei Nishikori, who represents the great enemy across the sea.
Win Chances: 3/10
Second Week Chances: 1/10
Renzo Olivo
First round opponent: Jiri Vesely
This is quite a decent first rounder for one of the many Argentinian citizens with Italian heritage. Vesely has an economical playing style and when he's bad, he can be very bad. Not to mention he was beaten at Wimbledon recently by James Ward who has struggled since, so there's always a sense that someone a bit lower ranked might be able to force him into something of a meltdown. Ivo Karlovic would be Olivo's projected second round opponent and like Isner is probably the most beat able seeded adversary for a challenger-level player due to the lottery factor of most of his sets. Even if Olivo survives all of this, Gilles Simon is too canny in round three to allow the dream to continue any further.
Win Chances: 5/10
Second Week Chances: 2/10
Tim Smyczek
First round opponent: Daniel Gimeno-Traver
The gentleman from Milwaukee has fallen somewhat in the ATP World Tour rankings, hence not being seeded in the qualifying stages. Still, Smyczek managed to topple Kenny de Schepper in the final round of qualifying to secure his place in round one. For a qualifier, the section he's been placed in is not all that bad. Gimeno-Traver is allergic to anything other than red clay, while Viktor Troicki likely awaits after that.
The Sydney champion will have a tough week of tennis in the tank and as Vasek Pospisil proved last year at Wimbledon, he's not upset proof against lesser types. Milos Raonic would be the strong favorite in round three and usually gets the better of anyone lower ranked than himself. So you would expect Smyczek to go no further than that, if he gets that far. The American played a great match against Rafael Nadal last year, so he has better chances than most this columnist has already mentioned.
Win Chances: 8/10
Second Week Chances: 3.5/10
Mirza Basic
First round opponent: Robin Haase
Basic once upset Jerzy Janowicz at Halle a fortnight before the Pole attained a spot in the Wimbledon semifinals, but that's about it for the Bosnian journeyman as far as notable scalps go. Haase is likely to be too experienced for him, even if a little temperamental. Tomas Berdych will be waiting in round two. The Czech has little trouble flat-track bullying those lower down the pecking order than him, but struggles against the very elite. He's likely to slam the door shut on the Bosnian.
Win Chances: 3/10
Second Week Chances: 1/10
Yuichi Sugita
First round opponent: (23) Gael Monfils
The short straw as far as winning a round goes to Sugita, as Monfils should progress without too much trouble. Monfils of course might d rather entertain and clown his way to the second round, but this match will not provide too much trouble for everyone's favorite showman. Fortunately for Japanese tennis fans, Nishikori, Yoshihito Nishioka, Ito and Taro Daniel may hang around a little longer.
Win Chances: 1/10
Second Week Chances: 0.5/10
Taylor Fritz
First round opponent: (25) Jack Sock
Fritz is a promising American teenager with a sound work ethic. He came back from the brink more than once in his qualifying run, most notably from 4-0 down against Mischa Zverev in the final round. He had little luck with his placement in the draw, by coming up against probably the best male player in the U.S. currently in Jack Sock. However, Sock retired sick in the Auckland final against Roberto Bautista Agut. It may have been a precautionary pullout, but perhaps it redresses the odds a little in this match. Still, unless Sock's condition has not improved and a second successive retirement comes to pass, Fritz will likely be taught a harsh lesson by his senior compatriot.
Win Chances: 3/10
Second Week Chances: 1/10
Pierre-Hugues Herbert
First round opponent: Pablo Andujar
This is a significant opportunity for the man whose doubles prowess should give the French a huge shot of confidence that this could be their year in Davis Cup. This week, he has a chance to demonstrate that he is no slouch at singles either. Andujar, while a solid and unspectacular customer, is a winnable match-up. With regards to Herbert continuing his adventure past week one, he'll have to most likely negotiate past Benoit Paire. That is not impossible considering Benoit's potential for a meltdown but Jo-Wilifried Tsonga could wait in round three. Tsonga doesn't usually have any trouble in week one here, and he would almost certainly end his fellow Frenchman's dream if it gets that far.
Win Chances: 7/10
Second Week Chances: 2/10
Daniel Brands
First round opponent: Victor Estrella Burgos
Along with Evans, the most reliable hope of a deep qualifier run could be Brands. Brands has seen and done many things on the ATP tour. He once beat Roger Federer and should have led Nadal two sets to love at Roland Garros in 2013. His big serve and forehand combo gives him a possible shot of at least the third round here. Anything further would depend on what happens to Kei Nishikori. Victor Estrella Burgos is one of the great stories of the sport, winning an ATP title at the age of 34, but it's a kind, kind draw for the stocky German. His second round opponent likely would be 26th seed Guillermo Garcia-Lopez.
Of course, the Spaniard is a tough customer, but he's a seed you'd settle for being next to in the draw if you fancy knocking one over. Round three would theoretically be Nishikori, who would end Brands' dream. However, Nishikori faces Philipp Kohlschreiber in round one and if anyone has history for sensationally dumping out a big name and then subsequently flopping out, it's Kohlschreiber. That was on display here in 2008 and at the 2009 French Open. So while it's complicated, there's a path for Brands to escape week one if a few things fall into place.
Win Chances: 8/10
Second Week Chances: 3/10