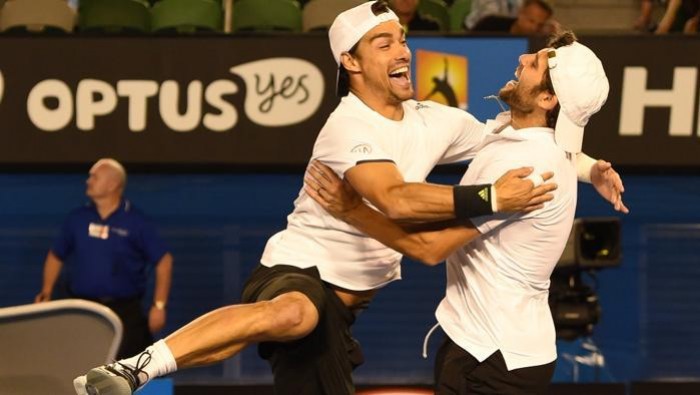 The men's doubles draw features a ton of quality and the Australian Open has traditionally been a very topsy-turvy affair on the men's side. Last year, two unseeded teams made the final. In 2014, it was the 14th seeded team of Robert Lindstedt and Lukasz Kubot beating an unseeded team for the title. The last time the top seeds won the men's doubles title was in 2013, when the Bryan Brothers beat another unseeded team. You get the drift. Expect the unexpected in this draw.
Australian Open Men's Doubles Draw Preview
First Quarter: Rojer-Tecau (1)
The top seeds enter this tournament without great form. Jean-Julien Rojer and Horia Tecau lost in the semifinals of their season opening tournament in Doha. They were shocked the following week in Sydney by unseeded wild cards Jordan Thompson and Matt Reid. This will be their third year paired together in Melbourne with last year seeing the duo make the semifinals. Their quarter has some land mines, including the defending champions, 5th seeded Italians Simone Bolelli and Fabio Fognini who eliminated them last year. The other seeds in this quarter are 15th seeds Marc and Feliciano Lopez and 12th seeds Juan Sebastien-Cabal and Robert Farah. The Lopezes already won a title in Doha to open the season and look like a very solid pairing. Throw in unseeded teams like Eduoard Roger-Vasselin and Juliean Benneteau, Chennai champions Oliver Marach and Fabrice Martin plus Leander Paes and Jeremy Chardy, and you've got yourself a stacked quarter.
Top Seed Predictions
(1) Rojer-Tecau: Third Round
Early on, they should be able to get through against some lesser quality teams. The third round though looks to give them their first challenge against the 15th seeds from Spain or perhaps the unseeded French duo of Roger-Vasselin and Benneteau. Rojer-Tecau definitely have the talent to get it going though, but this draw looks extremely tough and unpredictable.
(5) Bolelli-Fognini: Third Round
Simone Bolelli and Fabio Fognini tailed off significantly over the latter portion of the season in 2015. They did make the ATP Tour Finals, but failed to get out of the round robin stage. This year, they have yet to team up, while both have played doubles in other tournaments. That was likely just a product of schedule, but it still leaves them to rediscover their form together on-the-fly. Their first two rounds look good enough to expect them to get to round three. There, they could see 12th seeds Cabal-Farah or Marach-Martin. Look for more upheaval with the defending champions possibly going out in the third round. Their best-case scenario looks like the quarterfinals.
Quarterfinal Prediction
Marach-Martin def. (15) M.Lopez-F.Lopez
Second Quarter: Bryan Brothers (3)
It was a down year for the Bryans as they failed to win a Grand Slam for the first time since 2004. They did make a final at Roland Garros, but the Australian Open was another early exit for them in 2015. The Bryans lost for the second consecutive year in the third round. They started with a loss this season in stunning fashion to Jonathan Erlich and Colin Fleming. This quarter has the 7th seeds, Jamie Murray and Bruno Soares, in the bottom half. The new tandem is fresh off winning the men's doubles title at the Apia International Sydney. The other seeds in this quarter have great quality as well with 11th seeds Dominic Inglot and Robert Lindstedt as well as 13th seeds Raven Klaasen and Rajeev Ram. You also have unseeded teams like 2015 U.S. Open semifinalists Steve Johnson and Sam Querrey along with Eric Butorac and Scott Lipsky, who finished second at the ASB Classic in Auckland.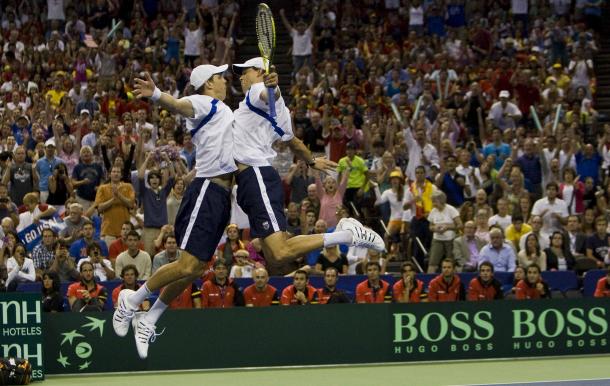 Top Seed Predictions
(3) Bryan Brothers: Quarterfinals
They open against Chris Guccione and Andre Sa, who are no slouches. A win there and they could see either Aussie pair Alex Bolt and Andrew Whittington (2014 quarterfinalists) or Indian legend Mahesh Bhupathi and Gilles Muller. Their early draw should be good enough to see them into the quarterfinals where they may face Murray-Soares or perhaps Inglot-Lindstedt. A semifinal isn't out of the question, but given their rough recent history and poor start, the Bryans likely will miss out on a semifinal.
(7) Murray-Soares: Semifinals
This new teaming of Jamie Murray and Bruno Soares has reaped immediate rewards. They are 6-1 so far in 2016 with a title. Their draw is not a simple one with a tough team of Jonathan Marray and Aisam-Ul-Haq Qureshi up first. The second round could see an interesting team of Polish players in Mariusz Fyrstenberg and Jerzy Janowicz. Keep an eye on that pair. The chemistry of this team looks good though and this columnist is looking for them to slip through to the semifinals.
Quarterfinal Prediction
(7) Murray-Soares def. (3) Bryan Brothers
Third Quarter: Bopanna-Mergea (4)
Rohan Bopanna and Florin Mergea are a bit underrated still, even after making the championship match at the Tour Finals last fall. This will be their first Australian Open together as they did not start to team up last season until April. They made the Sydney final last week and both are capable of delivering booming serves as well as solid net play. The defending U.S. Open champions Pierre-Hugues Herbert and Nicolas Mahut are the seeds opposite of them at number six. The other seeds in this section are 10th seeds Lukasz Kubot and Marcin Matkowski, and 14th seeds Treat Huey and Max Mirnyi. This quarter has less to worry about among the unseeded teams, but watch the teaming of Daniel Nestor and Radek Stepanek. They will be interesting and both are seasoned doubles players.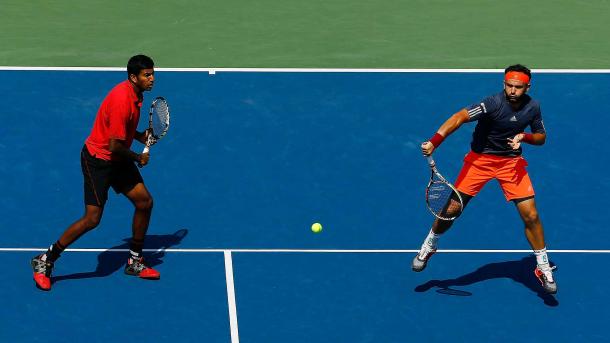 Top Seed Predictions
(4) Bopanna-Mergea: Semifinals
Their draw looks tasty as far as making a deep run. This pair made the Wimbledon semifinals and the U.S. Open quarterfinals last season, so they have good experience already in slams. As long as they remain consistent, this draw is conducive to at least a semifinal run.
(6) Herbert-Mahut: Third Round
The Frenchmen's U.S. Open title was one of the bigger shocks of the season. They did make the semifinals in Melbourne last season, but had some very mixed results between that point and the U.S. Open. Their opening rounds appear easy enough to at least get them to the third round. That is where their road could end though with the 10th seeded Polish pair Kubot-Matkowski possibly in the way.
Quarterfinal Prediction
(4) Bopanna-Mergea def. (10) Kubot-Matkowski
Fourth Quarter: Dodig-Melo (2)
The 2015 French Open champions, Ivan Dodig and Marcelo Melo, hold down the second seed. Opposite of them in this quarter are the 8th seeds John Peers and Henri Kontinen. Peers-Kontinen got off to a superb start by winning the doubles title in Brisbane. Dodig-Melo have not had a chance to rekindle their partnership yet this season, so they will be working back into form to start. They made the semifinals here last year after a couple of forgettable runs in Melbourne in 2013 and 2014.
The other seeded team that will get some notoriety is the 9th seeded duo of Vasek Pospisil and Jack Sock. Health may be a big issue for PopSock though as Pospisil received treatment for a back problem in his singles loss on Monday and Sock is still recovering from the flu. Sock also has the mileage of a five set singles match on him. The favorite unseeded team for the fans will be Lleyton Hewitt and Sam Groth. They have played plenty together and could upset the apple cart in this quarter. The unseeded team with the most potential though might be Michael Venus and Mate Pavic. They won the doubles title in Auckland last week. and pose a serious threat.
Top Seed Predictions
(2) Dodig-Melo: Second Round
Dodig-Melo figure to face a very tough test in the second round if ASB Classic champions Venus and Pavic continue their solid play. Should they survive, the second seeds should see an easier third round match. If seeds hold, it would be 16th seeds Pablo Cuevas and Marcel Granollers. A top four seed has seen a first or second round exit for the past three years in Melbourne. This might be a fourth year with Venus-Pavic full of confidence.
(8) Peers-Kontinen: Quarterfinals
It remains to be seen if Peers-Kontinen simply caught lightning-in-a-bottle in Brisbane or not. This will be a huge test for this new pairing. They don't have a particularly nice draw with the prospects of playing Groth-Hewitt in round two and any of three very solid teams in round three. PopSock, Alexander Peya and Philipp Petzschner or Erlich-Fleming. There are a lot of questions in this part of the draw, so Peers-Kontinen could answer them better due to their early season chemistry.
Quarterfinal Prediction
Venus-Pavic def. (8) Peers-Kontinen
Semifinals Prediction
(7) Murray-Soares def. Marach-Martin
(4) Bopanna-Mergea def. Venus-PAvic
Final Prediction
(4) Bopanna-Mergea def. (7) Murray-Soares