 Ukrainian Kateryna Bondarenko defeated 23rd seed Svetlana Kuznetsova day three of the Australian Open. The win for the world number 92 was a huge upset as she took out what a lot of tennis experts considered a "dark horse". Many critics thought Kuznetsova had a chance to go deep in the draw this year. The 30-year-old has shown poise in the big moments in the past as she was three-time quarterfinalist at the Aussie Open and a two-time Grand Slam champion. The Ukrainian now matches her best showing at the Australian with a third round appearance.
Bondarenko showed complete confidence for most of the match until she was pushed to close out the match with nerves. She struck 28 winners and converted on 5 of 14 break point opportunities. The world number 92 also took care of her serve, making 86 percent of her first serves in. K
Kuznetsova was not able to post the numbers she would have liked to win the match, making a mediocre 67 percent of first serves in and allowing her opponent to get a crack at her second serve. The Russian converted on two of four break point opportunities in the match.
Bondarenko Outplays Kuznetsova
Early round matches are never easy for seeded players. As was the case for the 23rd seed early on in the match. Bondarenko tried to be aggressive and assert herself in her first service game of the match. The 29-year-old held for a 1-0 lead after going to deuce and winning on advantage. Both players started testing each others games as the first set went on. An extremely long second game was played, going to deuce over and over again. Bondarenko held in firmly on the return end, garnering in a backhand forced error from her opponent to get the break and a 2-0 lead.
Bondarenko started ripping shots from every side of the court, hitting four winners to hold at 30 for an important 3-0 lead. The Russian finally got on the board in the fourth game as she got a couple errors from the world number 92, as well as a forehand winner for 1-3. T
he Ukrainian then hit patterns to Kuznetsova's backhand and drew two errors from that wing to give her a 4-1 lead. A slew of forced errors came in the ensuing game from the Russian's racket, as she got broken again for a 5-1 lead.
The unseeded player showed no signs of nerves early on as she closed out the first set with ease, a hold at love. The first set was wrapped up in 32 minutes of play.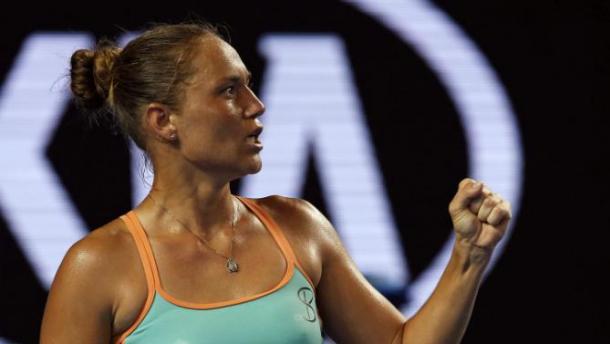 Bondarenko Closes Out In Nervy Finish
The unseeded players run of play continued as the second set got under way. A hold for Bondarenko to 15 helped her stay on serve at one apiece. An intense return game came in the next game, as the 29-year-old won her break point opportunity at 30-40. She then imposed herself at net in her service game with volleys and a winner to get a strong hold at love for a 3-1 lead.
Kuznetsova was completely out of her element as her opponent hit a string of winners to break her at love for a 1-4 deficit. It seemed like the 23rd seed's Australian Open hopes were almost over as she was down a set and two breaks. The veteran did not give up though, asking the question of her lesser opponent. She drew a forehand forced error on advantage to get a big break. Kuznetsova eventually clawed her way back in the match as Bondarenko's nerves got the best of her at 5-3. The match got evened up a five apiece.
Momentum then swung in the world number 92's favor as she stopped Kuznetsova's run, forcing an error for a 6-5 lead. The final game went to deuce and then advantage for the Ukrainian. She held strong and took the set 7-5 and completed the upset. The second set lasted 52 minutes.
With the victory, Bondarenko goes on to face 12th-seeded Belinda Bencic in the third round.