 The PopSocks, Vasek Pospisil and Jack Sock, had a very difficult season opener at the Australian Open on Wednesday, as the pair were forced to pull a major escape from a close encounter with Alexander Peya and two-time major champion Philipp Petzschner, coming from behind for the 1-6, 7-6(5), 7-6(5) victory
Petzschner/Peya Roar Out of Gate
Despite being outchanced in the opening set, it was the Austro-German pair who would strike first to start the match. Peya and Petzschner broke the Canadian-American youngsters twice in the opening set on three chances. Pospisil and Sock, who were playing their first match together since the BNP Paribas Masters in Paris last fall, looked rusty in the opening set, struggling on serve.
The pair only won fifty-four percent of their first serve points and only won a single point on their combined second serves. They had four break points in the set, but could not convert any as their opponents cruised through the set in twenty-seven minutes.
Better Serving Helps PopSocks Draw Even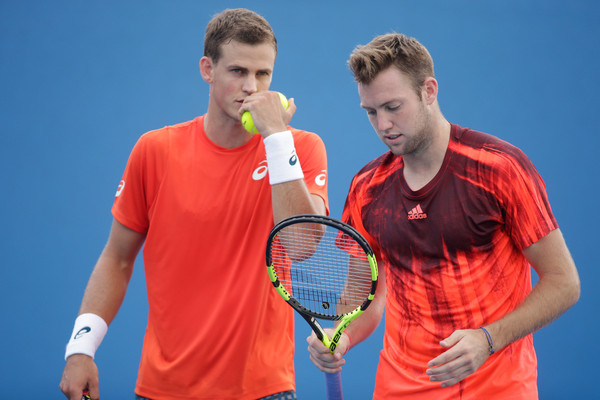 The blowout in the opening set seemed to help Pospisil and Sock kick their game into gear. The pair dominated their own service games in the second set, winning ninety percent of their first serve points and getting back over fifty percent of their second serve points. They did not give Peya and Petzschner a single break point in the set.
Unfortunately for the 2014 Wimbledon champions, their struggles on break points continued, as they missed both their chances to get the decisive break and the set required a tiebreak. The breaker was close, but the PopSocks upped their game, claiming the tight tiebreak 7-5 to force a deciding set.
PopSocks Survive Late Collapse to Advance
The final set saw both teams hitting their strides, as they equaled each other shot for shot. However, the PopSocks finally managed a break and found themselves serving for the match at 5-4. But of all times for their serves, which had been so good for the last two sets, to fail them, the letdown came at the worst moment. Peya and Petzschner broke back and held to lead 6-5.
Two games after serving for the match, the PopSocks found themselves down match point on their own serve. Just like true champions, they did not give up. They saved the match point to force another tiebreak. After the match, Pospisil said that saving the match point gave them confidence and momentum going into the tiebreak, which they won 7-5 to wrap-up the nail-biting victory in an hour and forty-seven minutes.
By the Numbers
The PopSocks blasted ten aces and finished the match having won seventy-seven percent of first serve points, but only forty-six percent of second serve points. That was still better than Peya and Petzschner, who only won forty-five percent of their second serve points.
Had the PopSocks lost, they would have been left to be haunted by their seven missed break point opportunities, which was more chances than their opponents had in total, including the three that were converted.
The PopSocks will take on Robin Haase and Fernando Verdasco in the second round.