 A year after being knocked out of the Australian Open in the third round, Roger Federer made sure there was to be no repeat, as he battled past Grigor Dimitrov 6-4, 3-6, 6-1, 6-4 to reach the round of sixteen and claim his three hundredth career match win at majors.
Federer Comes Out Firing
Grigor Dimitrov, the man formerly known as "Baby Fed," found himself under fire from "Big Fed" very early. The Bulgarian was pushed to deuce in his first service game of the match, and had to save a break point in the second. After surviving another deuce, his luck ran out.
The fourth time was the charm for Federer, as the Swiss broke to fifteen for a 4-3 lead. Serving to stay in the set at 3-5, Dimitrov found himself down set point. He saved it, and followed it up my mounting an attack on Federer's serve. He held a break point at 30-40 to even the set, but could not convert, as Federer won three straight points to close out the opening set.
Dimitrov's Turn to Attack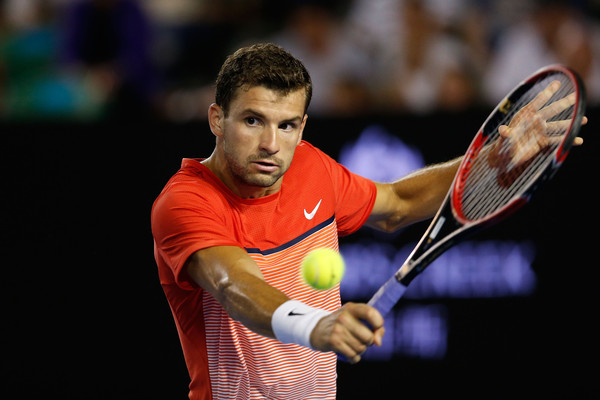 After being pushed on serve by Federer early in the opening set, it would be Dimitrov's turn to put the pressure on Federer's serve. The twenty-seventh seed erased a 40-0 lead and held break point, which Federer saved with an unreturnable serve.
It took the Swiss two more game points to hold, but notice had been served that Dimitrov was not going away quietly. The roles seemed to have completely reversed in the second set, as Dimitrov was holding easily. In Federer's second game, Dimitrov broke him to love for a 3-1 lead. Federer had a chance to break back in the following game, but Dimitrov held on. Federer kept pressing, leading 15-40 in the next game, but still could not convert. Serving for the set at 5-3, Dimitrov cruised, holding to fifteen to even the match.
Federer Powers Back
Roger Federer had been knocking on the door in the second set, but could not break through. Wasted no time resuming his assault in the third set, finally breaking Dimitrov and racing to a 3-0 lead. The was gifted a 5-1 lead when Dimitrov, leading 40-15 in the game, Dimitrov lost four points in a row with unforced errors and a double-fault. The Bulgarian desperately tried to reclaim the break in the following game, holding a pair of break points at 15-40, because Federer was big in the clutch, saving both and holding to clinch the set in twenty-seven minutes.
Federer Holds On to Advance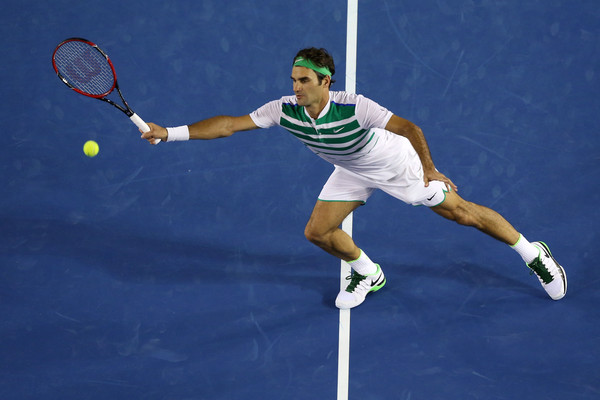 In the first three sets, only the player who went on to win the set managed a break of serve, which meant that the first break would be key in the fourth set. It would be the four-time Australian Open champion getting that decisive break midway through the set, as he broke courtesy of a forehand unforced error from Dimitrov for a 3-2 lead.
Federer would not relinquish the lead. Dimitrov tried hard to get it back, reaching break point in the next game, but Federer saved it. Dimitrov then found himself fighting to stay within a single break in the following game, as he blew a 40-0 lead and was forced to save three break points before holding. Despite keeping Federer from serving for the match, he was only delaying the inevitable. He could not muster a break and Federer served it out in the tenth game.
By the Numbers
Statistically, it was not Federer's best performance. He hit fifty-five unforced errors to only forty-eight winners. He also hit five double faults, although he covered them up with thirteen aces. Once again, converting break points was a problem for Federer, as he was four for fifteen. However, he saved five of six that he faced. Dimitrov nearly hit nearly twice as many unforced errors as winner, forty-four to twenty-three.
Federer will face off with David Goffin in the round of sixteen.