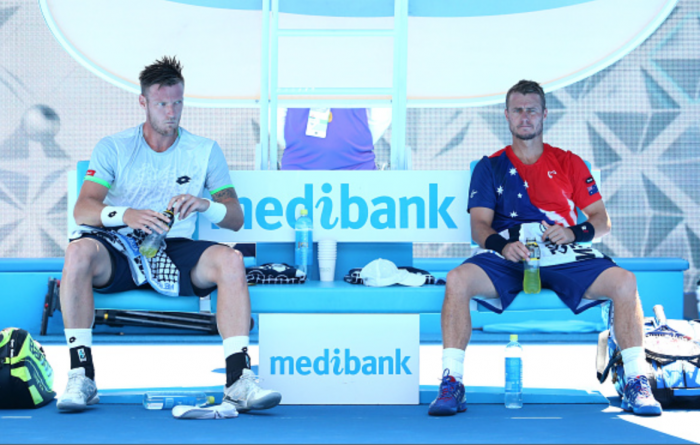 Australia's Lleyton Hewitt and his doubles partner fellow Australian Sam Groth took to the court in a men's doubles third round match on Margaret Court Arena. As the Australian's attempt to prolong Hewitt's final tournament, they faced a tough match up in the 2014 Wimbledon champions Jack Sock and Vasek Pospisil of Canada, seeded ninth.
How Hewitt And Groth Got Here
Hewitt and Groth defeated Dusan Lajovic and Viktor Troicki in the first round after Lajovic rolled over on his ankle early in the second set. The retirement of their opponents was a lucky break for the Australians as they had lost the first set. In the second round, Hewitt and Groth defeated Henri Kontinen and John Peers the eight seeds after losing the first set. The Australians won the next two sets 6-4, 6-4.
Opening Set Shocks The Home Crowd
Groth began the match serving and his powerful serve meant that all points in the game were won off the serve with no serve being returned into play. Sock began serving for his team and the value of Hewitt's return was clearly evident as more serves were returned into play. Hewitt's accurate but less powerful serve resulted in more points being played out, but he held his serve. Sock completed the first round of serves with his powerful deliveries and easily won his game.
Looking a little tight in his second service game Groth double faulted twice but Hewitt helped him save the game with excellent volleying. Sock also had a couple of double faults in his second game but he then proceeded to serve the game out.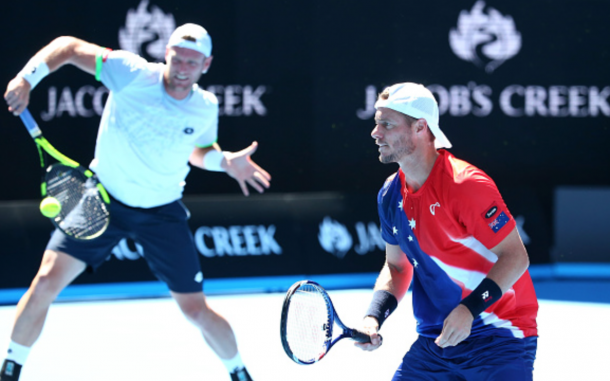 As the match moved along the excellent movement of both Sock and Pospisil and their anticipation of incoming shots led to their breaking Groth's serve. The next game with Pospisil serving for the set, Sock played aggressively at the net putting away three excellent volleys to seal it 6-4. The Aussie crowd was rather quiet in response as they hoped to see their pair do better.
Pospisock Finish It In Straights
Even though Groth was struggling with his serve, he started serving in the second set and was immediately broken by Sock and Pospisil. Sock had an easy service game and the energy seemed to be leaving the Australian duo. Hewitt also struggle with his service game and very quickly it was 3-0 for Sock and Pospisil. A strong hold by Pospisil made it 4-0.
Groth served better in his next game and was able to hold as the crowd urged them on. And then it happened again, for the third time in this tournament a match was delayed as a spectator in the box of Hewitt and Groth was in need of medical attention. Unconfirmed Twitter feeds reported that Groth's mother had collapsed.
After a 20 minute delay, players took a short warm up and play resumed with Sock serving. Hewitt and Groth were able to extend Sock's service game to a couple of deuces, Sock held on for the 5-1 lead. Hewitt then served in what could have been his last competitive match and with some great play he made the score 2-5 forcing Pospisil to serve it out. And on the second match point he did just that and so ends Lleyton Hewitt's competitive career.