 In a recent interview with the Australian Associated Press, tennis legend Mats Wilander shared his opinion on lightning rod Australian Nick Kyrgios. Wilander urged Kyrgios to "get it going" with regards to becoming a factor at Grand Slams.
Wilander Says Kyrgios Can Fill Hewitt's Shoes
Mats Wilander went on record with the Australian Associated Press recently with his thoughts on talented, but oft-troubled Australian Nick Kyrgios. Wilander said in the interview that Kyrgios has the talent and game to become a Grand Slam champion, but he needs to start putting in the work to match the words coming out of his mouth. Kyrgios recently talked about the retirement of Aussie legend Lleyton Hewitt, saying "I'm doing everything I can to try to take over for what he's left, but I'm a bit far away now. There's a little work to do."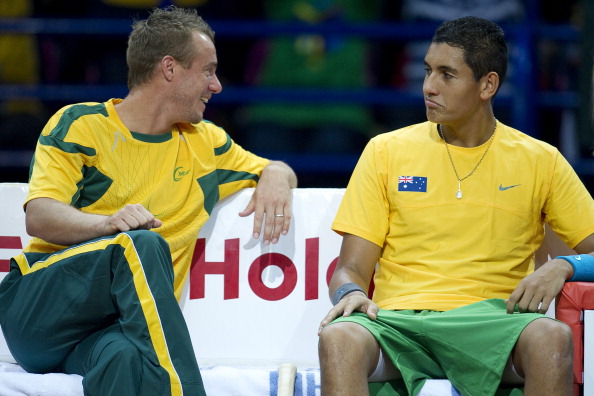 In the AAP interview, Wilander said that it is time for Kyrgios to "get it going" with regards to becoming the next Aussie to win a Grand Slam. "You need to kind of get going, especially if you have that game. He's not a little guy with no shots who needs to get completely stronger. He should be (winning slams already). He's got it."
Wilander continued saying the time should be now for the 20-year-old, because he can't expect for things to start clicking several years from now if he wants to win multiple slams. "You can't get there when you're 27. Well, you can because Wawrinka's done it, but you're looking to be a great player and win five or six majors; that's the whole point of playing tennis, not to win one."
It should be noted however that Wilander did not win his first Grand Slam until he was 27 at the 1982 French Open
Hard Work is Key
Wilander said that talent is only one part of the equation in becoming a Grand Slam champion. If anyone should know, it is Wilander. The Swede was a Junior Grand Slam winner like Kyrgios (Australian Open 2013) and used that as a catalyst to becoming the world number one by the age of 24. Wilander said that can only be done by being willing to put in the work to be the best, "Hard work is the biggest factor and the will to suffer and learn from suffering" said the Swede. "(Kyrgios) doesn't need to change his game, but he definitely needs to get stronger physically and polish his behavior on court."
Kyrgios Fun For Tennis, But Needs Better Behavior
Wilander says that while Kyrgios is enjoyable to watch due to his energy on the court, he needs to polish his behavior to take that next step. "He's so fun ... He's just completely `out there' on the court. You can't be `out there' when you're on the court" said Wilander. The Swede continued by saying that he thinks Kyrgios will break through at some point, "He's an intelligent guy. He just has to realize that you're not there. You have a long way to go."