 The home side started things off with Kristina Mladenovic taking on Camila Giorgi. It was their first ever meeting and Mladenovic was in cruise control as she took the first set with ease. However, a Giorgi comeback was on with the Frenchwoman faltering. Mladenovic struggled and could not get any rhythm as Giorgi got off the Italians to a great start winning 1-6, 6-4, 6-1. Then, it was Caroline Garcia up against Sara Errani. Garcia kept a cool head to get the vital win in straight sets 6-4, 7-5 to give France hope going into the second day.
Giorgi Sinks Mladenovic
It was a great start for France as Mladenovic looked to be in control throughout the first set. More errors flew off Giorgi's racket and her numerous double faults allowed Mladenovic to break twice in the first set. She went on to seal the first set 6-1 in 32 minutes.
Giorgi seemed to find her groove and came to life in the second set. She got the first break but gave it away later with a careless double fault. With the set at 5-4, it was Mladenovic who began to falter and her serves started to go awry. A foot fault call rattling her as she followed it up with double fault handing Giorgi three set points. The Frenchwoman hitting a double fault at the worst possible moment gifted Giorgi the set 6-4.
Mladenovic came firing at the start of the third set but Giorgi was the better player. The serve was not working for the Frenchwoman as the match progressed. Careless double faults and errors allowed Giorgi to get the early break. The Italian went on to get the double break to extend her lead to 4-0. A mini fight back ensued as Mladenovic got one break back. However, it proved too little too late as Giorgi broke again before closing out the set and match, 1-6, 6-4, 6-1 in an hour and 44 minutes.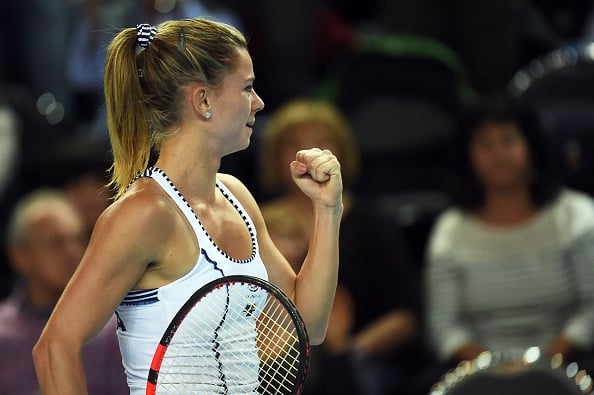 Winning Stats For Giorgi
Both women hit 11 double faults and a lot of those at the worse timings. Though, Mladenovic won all but one of her first serves she was only getting 34 percent of them in. In contrast, Giorgi got 48 percent of them in, which is not a very good number either but she also won more points on her second serve at 65 percent.
A game of errors as Mladenovic hit 37 unforced errors to Giorgi's 34. The Italian was also more successful with her break point chances as she converted five out of six of them. The Frenchwoman only converted four out of nine opportunities.
Garcia Holds Her Nerve Against Errani
Garcia showed no signs of nerve in a must win match. It was a close affair with early exchange of breaks in the first set to tie at 2-2. Errani was made to work hard to hold her service games. The Frenchwoman was standing well within the baseline when receiving and it paid off as she broke once more in the sixth game to lead 4-2. That break proving sufficient as Garcia clinched the first set 6-3.
The second set saw some great rallies and defensive and offensive play from both players. It started off in similar fashion as Garcia dictated play from the baseline to get the first break in the third game. Errani broke back to 3-3 as the error count rose for Garcia. The set went on serve until 5-5. With the crowd behind her, Garcia hit a beautiful return winner to break for 6-5 before coolly closing the match 6-3, 7-5 in an hour and 44 minutes.
Winning Stats for Garcia
Though the Italian got more first serves in, it was Garcia who won more of her first serves a 70 percent compared to Errani's 58.
The Frenchwoman capitalized on her chances well, breaking four out of five times, while Errani could only capitalize on two out of six occasions.
Garcia's 31 winners proving enough against Errani's 12.
All To Play For In The Second Day
Both teams are very much still in it as Mladenovic takes on Errani next while Giorgi is scheduled to face Garcia. In case of a tie, unless nominations change, the doubles will see Pauline Parmentier and Oceane Dodin take on Sara Errani and Martine Caregaro.