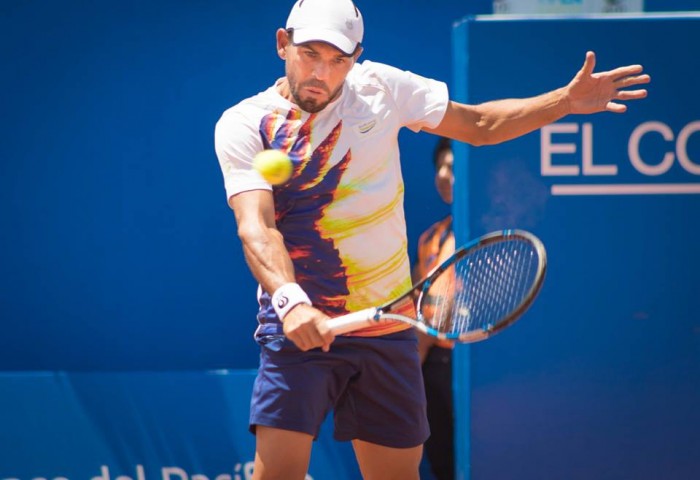 Victor Estrella Burgos overcame a brilliant serving performance from Thomaz Bellucci to successfully defend his Ecuador Open title on Sunday in Quito, claiming a 4-6, 7-6(5), 6-2 victory.
Bellucci Edges for Early Lead
A year ago, it was Estrella Burgos taking down Bellucci in the semifinals here in Quito, on his way to his first career title. It was a tight match, which the Dominican barely won in two tight sets. Bellucci was hoping to reverse his fortunes in this year's title match.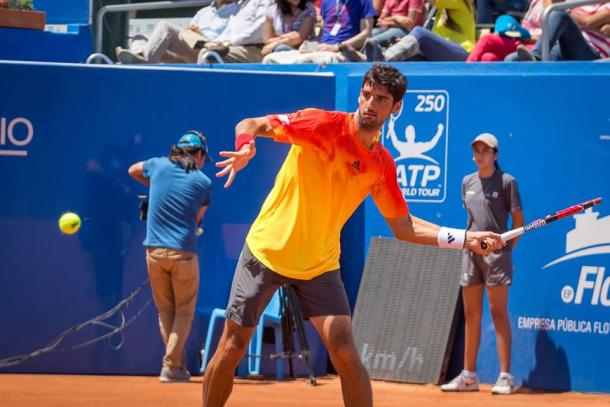 There was very little between the two clay court specialists in the opening exchanges of the match. Both men were solid on serve and gave their opponents very few chances. There was only one break point in the entire set, and it was converted by Bellucci. That lone break was all the Brazilian would need to claim the opening set, as he never gave Estrella Burgos a chance to break back. In total Bellucci only lost six points on serve in the opening set. Estrella Burgos was almost as good, only dropping eight points. Unfortunately for the reigning champion, Bellucci timed those points well and the one break gave him the opening set.
Estrella Burgos Holds On to Force Decider
The second set was much of the same. Both men were solid on serve, giving their opponent very few opportunities. Again, break points were hard to come by, and it was again Bellucci getting come opportunities. This time, Estrella Burgos was up to the challenge, saving both opportunities early in the set. However, Bellucci's serve was too much for the defending champion. The third seeded Brazilian only lost seven points on serve in the set and once again did not allow Estrella Burgos a single break point. At 5-5, the reigning champion was forced to save another break point, and hung on to eventually force a tiebreak. In the breaker, Estrella Burgos took advantage of his opportunity to narrowly edge Bellucci and force a deciding set.
Reigning Champ Turns Tables to Claim Title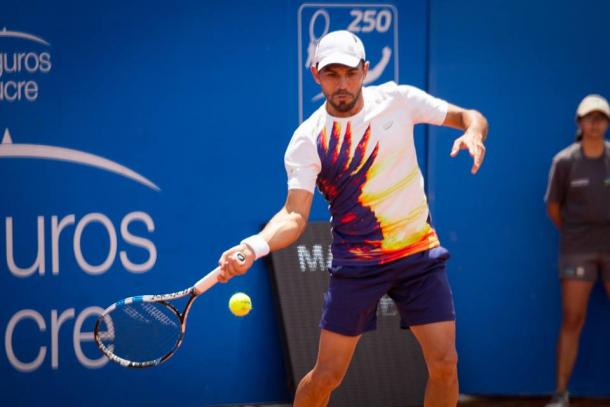 Despite not having faced a single break point in the match through two sets, Bellucci was forced into a deciding set. It appeared that losing the second set had demoralised the Italian, while it fired up Estrella Burgos. The Dominican completely turned the match around, dominating on his own serving while finally putting pressure on Bellucci's serve. This time, it was Estrella Burgos not facing a break point on serve and only losing three points on serve in the entire set. He finally began to break through on Belluci's serve, reaching break point seven times and succeeding twice. There was little the Italian could do to slow down the reigning champion, who wrapped up his second straight title in Quito with the 4-6, 7-6(5), 6-2 victory in just over two hours.
The win is the second title of Estrella Burgos' career, which is also his second consecutive title at the Ecuador Open. Last year, Estrella Burgos became the oldest first time winner in the Open Era in Ecuador.