At the end of the 2014 season. Sergiy Stakhovsky announced former French top twenty player, Fabrice Santoro, to his team. Now, the two will be parting ways.
Results in 2016
World number sixty seven Sergiy Stakhovsky has had a horrendous start to the 2016 season. He lost in the opening rounds in Qatar, the Australian Open and Sofia Open at the start of this month. Having just played Rotterdam, Stakhovsky failed to get out of qualifying losing to German Jan-Lennard Struff. Earlier in the year he also failed to make the MD, losing to Aleksandr Vukic of Australia at the Apia Sydney International. Sergiy Stakhovsky has failed to register a win in 2016, thus Santoro ending their relationship.
Stakhovsky's best result under the watchful eye of Santoro was back in Marseille when he made the semifinals.
The separation between the two men seems to have been made on good terms, reflected the appreciation of the eastern European player on his Twitter account.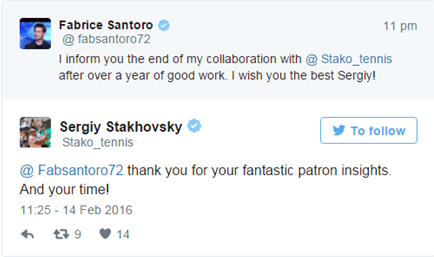 Stakhovsky's career
Sergiy Stakhovsky has been as high as number 31 in the rankings back in 2010 and won four ATP titles: the PBZ Zagreb Indoors, the St Petersburg Open, s-Hertogenbosch and New Haven. During his title run in Zagreb, he became the first lucky loser to win a title since 1991, he was ranked 209 and defeated top seed Ivan Ljubicic. Since then he has gone on to defeat Roger Federer and Ernest Gulbis at Wimbledon. During the win against Federer, Stakhovsky ended Federer's run of 36 consecutive Grand Slams where he had reached the quarterfinals. This was also the Swiss' earliest loss since Roland Garros in 2003. At that time, the Ukrainian was ranked 116 with Federer ranked third. This was considered the biggest upset in tennis history. The Ukrainian has never made it past the third round of a Slam in the singles or doubles.