The head of Australian women's tennis Nicole Pratt believes Ashleigh Barty has what it takes to make a successful return to the sport after 17 months away from the game. Barty had won the junior Wimbledon title at age 15 and then went on to reach three major Grand Slam doubles finals with Casey Dellacqua. In 2014 she decided to take a break from the sport as the pressure was too much to handle.
Return to tennis
Before announcing her decision to return to tennis after hiatus, Ash Barty decided to play cricket for her home town, the Brisbane Heat. The Aussie teenager returned to the game last week playing only the doubles draw at the ITF $25k event in Perth and successfully won with her partner Jessica Moore.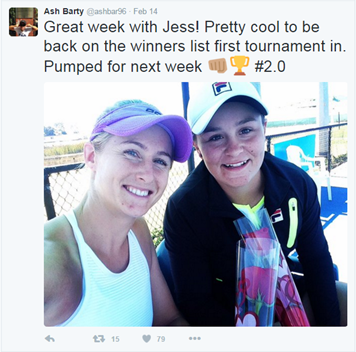 In an interview with the Courier Mail, Pratt has said that Ashleigh Barty is still young and has plenty of time to make it big on the tour again, using Li Na as an example, who took two years off and came back and won two Grand Slams in her late 20s.
Pratt has also said that Barty has become more confident and has assured that her time away from tennis and will make her comeback playing the qualifying draws of ITF events rather than use wild cards as she would rather work her way back to the top of the game and rankings. In the same interview, Barty's dad denied that his daughter was going back to the sport simply for the money, but insisted that she still had love for the sport.
She will play doubles in Perth again in a second Futures event, which is currently on going before contesting doubles with Dellacqua in Port Pirie in South Australia next week. "I'm looking forward to having her around the tour and having the chance to play with her again,'' Dellacqua said.
Former Wimbledon doubles champion Todd Woodbridge last week hailed her decision to return to the tennis tour.
"Take out (Martina) Hingis and she is the best doubles player in 20 years,'' Woodbridge said.