There is no secret that Simona Halep's game is not what is used to be, and at the beginning of this year, things seem more clear than it had ever been. Before this match, Simona Halep played only six matches, including Fed Cup, and she won three of them. A whole new situation compared to last year. Yes, her health issues had to do with most these results, but what is happening now?
Simona Halep is looking for that perfect state of mind. She wants results, but she needs equilibrium, both physically and mentally, unfortunately, today was not the case. Instead, Ana Ivanovic came and played without any pressure and had no fear to go and close out big points. Lately, Simona lost to a various types of player, and that only gave Ivanovic the confidence that she can do the same, but there was something more to that. The Serbian not only won one of the most important matches of this year, but the greater part is the way she did it.
An Amazing Battle Between The Two The winner: Ivanovic's forehand
Halep got an early break and seemed to be more involved than Ivanovic. The Romanian's body language was great, letting everyone know she wants to play this match in her terms. She was concentrated, her movement was on point, and took advantage of the fact that Ana was more focused on that still wet back court area. "It's like I'm on ice", is what Ana told Nigel Sears during her on court couching in the middle of the first set. Nevertheless, Nigel came to remind her that she does not need to concentrate on things she cannot control, but on tennis. Only one break, that was Ana's mission, to take that one break back, to control her position on the ball, to stay down on her legs and "really invest your energy". There was one slight problem: Simona's defense.
Up until that 5-4, Ivanovic tried to break that wall, looking for the forehand side, but with an amazing foot work, Simona managed to put back that extra-ball every time. She put pressure on Ana, who had to hit harder and cleaner from uncomfortable positions. An old recipe which worked. Ivanovic was missing, but nonetheless she was on the right track. There was no other solution but to stay there, close to Halep, and try to take advantage of Simona's mistakes.
That lethal forehand, the 2008 version, was the real key. It gained her amazing points, it gave her enough confidence, and from a set point down, Ivanovic went on to win three consecutive points. Just a matter of time, patience and great ground strokes to make Halep doubt of herself.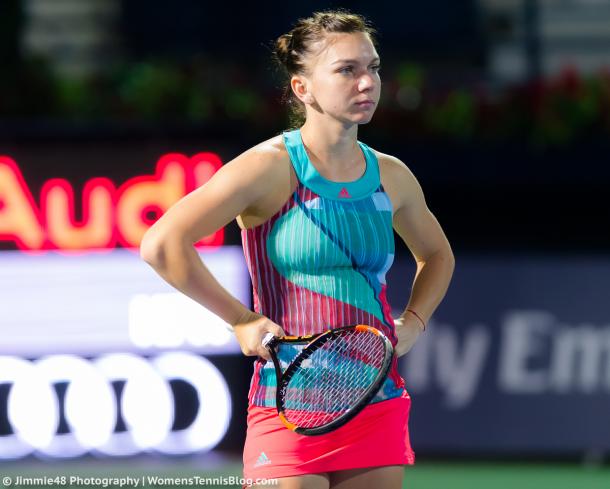 Dominating the tiebreak, Ivanovic did not stop there. She was the better player in all aspects, she managed to clear her game of unforced errors, on the other side, though, Simona began struggling to keep her numbers under control. Ivanovic, took advantage of Halep's week second serve by entering inside the court and putting even more pressure, just so it would all come crumbling down for Simona.
At some point, in the second set, it seemed like nothing could stop Ivanovic atomic forehand (at the end of the match she had 23 winners from that forehand side) just as nothing could have stopped Halep committing unforced errors with that exactly same forehand.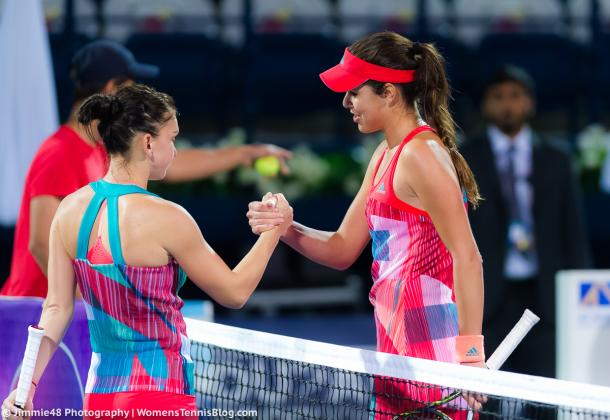 Takeaways from the match
The Serbian seems more prepared to come back stronger, not only because she managed to crush Gavrilova in the first match, and now, controlling her emotions in the first set (maybe if Sears, wouldn't have said the things Ivanovic needed to hear, the outcome of the first set might have been different), but her attitude is the right sign that she wants to take back her place in the rankings.
Her backhand, especially the cross court one, rose to the occasion and impressed at times. She did not overreact with her pirouettes, had quite a low number of "ajdes", and that only tells us that she believes in her shots, in herself and in her return to the top five (at least). All in all, Ivanovic is happy with the way she performed so far: "Honestly I am very delighted, it was a very, very though match. First set was a great battle, she is such a great player, and she's been playing very strong lately, so I had to raise my game, and I think it was one of the best matches I've played, especially towards of the end of the first set. It was not easy, but I'm really thrill to be through."
So, what to expect from Halep? After Fed Cup, she said that, for her, the season starts now. Pain free and with a stronger belief that she can reach the highest stages of the Middle East tournaments, she lost her first match at the tournament she was supposed to defend a title. No doubt, she knows that these moments are crucial. Her real test is coming right now. More questions than ever, and she needs to find again that smart-aggressive style she owned a year and a half ago.
But the worst part is that she has no time. "Yeah, I think I played OK. I was pretty aggressive, she played really well, she came back well. I served OK, I returned OK, so… I'm disappointed that I lost, but it's OK, I feel good. Physically, I'm OK, no pain…anywhere, so it's good. And the most important thing (is) that I'm healthy. Yeah, it's a bit tough, but for everyone it's the same, so I cannot say it's the reason that I lost, it's normal. These are the conditions and we have to accept".
These are the conditions we have to accept indeed, and on this note we can only wait and then analyze the outcome.