In an interview with a Brazilian television channel, Rafael Nadal opened up about many things. He talked about his shotmaking and playstyle. He also talked about rival Novak Djokovic, the Olympics, and Grand Slams. The world number five is currently at the Rio Open, trying to take the title after a disappointing semifinal loss to Dominic Thiem last week in Buenos Aires.
Nadal's Feared Forehand
Without a question, Nadal's most important shot is his forehand. The topspin he generates with his whipping motion on his follow through. Lately however, the Spaniard has been leaving his forehand short, leaving it vulnerable to be attacked. The 14-time Grand Slam champion opened up on the importance of his forehand, "I think my most important shot is the forehand. The backhand is also an important shot and when I play well (with it), I open the court more and have more chances. In Buenos Aires, my backhand lacked, so I will try to so better here, but I also know that lately what has been lacking in my game the most has been confidence in my forehand."
Nadal Knows He Needs To Attack More
At 29, the Spaniard has been playing at the highest level for 13 years now. With his injury history, Nadal knows that to add to his longevity, he'll need to be more aggressive, "No, I do it to have maximum success possible in every tournament. If things go well or if things go bad, my career will still be long. I am not very young, I am 29, in fact 29 and a half (he added jokingly). I started (playing in the professional Tour) at 16 so my career being long or short is not a problem. We have tried to adapt to the new times and opponents, and nowadays I think I have to come forward more."
Nadal Speaks On The French And The Olympics
During the interview, Nadal was asked if he was tired of winning at Roland Garros. He said he wasn't, and that you never get tired. The Spaniard is a nine-time French Open champion, boasting two losses in the 11 years he's played at the French Open, in the 2009 fourth round to Robin Soderling, his earliest loss ever, and to Novak Djokovic in last year's quarterfinals.
Nadal was the 2008 Olympic champion, defeating Fernando Gonzalez in the gold medal match. Injuries forced the Spaniard to miss the 2012 Olympics. He talked about how special the Olympics were but that Grand Slams are the backbone of the sport, "For me winning the Olympics in 2008 was incredible. It made me so happy and all the experiences and emotions are unrepeatable. Olympics are very very special, but Slams are the backbone of our sport."
Nadal On Novak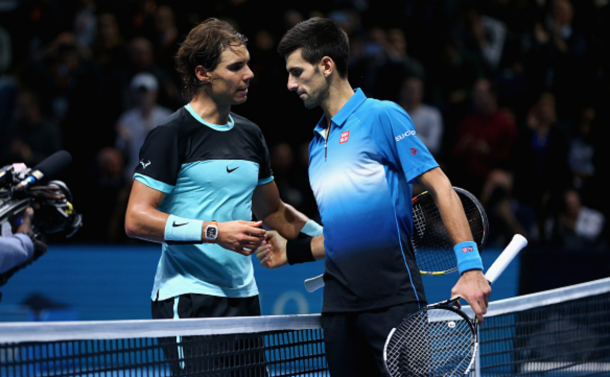 Finally, Nadal talked about his friend and rival Novak Djokovic. This year, Djokovic dominated Nadal at the Qatar Open final, surpassing him in the head-to-head for the first time. Djokovic has owned Nadal as of late, winning their last five meetings with only a 7-5 opening set at the French Open as the only set the Serb has not won at a score of 6-3 or better.
Here's what Nadal had to say, "I think Djokovic is at an incredible level and today he is very difficult to beat. I cannot think about him, but only about me, of what I have to do to try to be at the maximum level."