Garbine Muguruza has a weight of expectation on her shoulders ever since she reached the final at Wimbledon last year. However, her start to the 2016 season has not lived up to these expectations, exiting the Australian Open in the third round and losing to Elina Svitolina in the second round of the tournament in Dubai. In the latter match, the Spaniard hit 68 unforced errors.
Not Ready To Compete
During the off season, Muguruza had a foot injury which made it difficult for her to train at a level that she wanted to. The Spaniard said during her press conference that "I am not ready to compete. I have to start from zero and I have to forget these two tournaments."
The world number five talked about wanting to work on her overall game, she told the press "I have to work a little bit more on my shots and on my physical condition."
Despite recent results, Muguruza has admitted that she is not worried about her current level because she knows what she needs to do to improve. The 22-year-old said during her press conference, that she knows what she needs to do but she thinks it will "take some time to do it."
When asked for a reason why she is in a slump, Muguruza answered "I do not have a particular reason." The Spaniard also stated that she is not the only person who is going through or has gone through a difficult time. The world number five said that "To be at the highest level is tough and being the favorite does not mean anything a lot of times. But it has not happened to me alone, but to other good players too."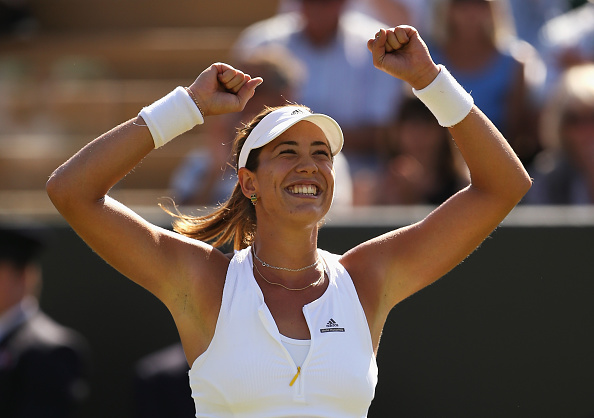 Dealing With Pressure
Since an impressive run at Wimbledon last season, many people have tipped Muguruza to go on to achieve big things. The world number five talked about the pressure on her to win every time she goes out on the court. Muguruza said "Definitely I am playing with more pressure.", and "You expect that every time I enter the court I have to win. It's logic."
Muguruza admitted that she knows she will be in the situation where people expect her to win, many more times within the future. The 22-year-old said that no matter what happens she will not become depressed, but instead she will "simply keep practicing.", as "If things do not go well in the next tournament, it will go well in the next one."
Will Muguruza Play In Doha?
The world number five is still unsure as to whether she will participate in the tournament in Doha, which starts in three days time. Muguruza said that she needs to talk to her team to see what their thoughts on her participation are.
Muguruza continued to say "Many times you have to stop, practice and return strong in the other tournaments than going on competing when you do not feel comfortable." The Spaniard then told the press that if she was not at 100 percent she is unlikely to play in Doha, suggesting that the world number five may spend time practicing so that she is ready for the other tournaments she has coming up.