 Top seed Rafael Nadal slipped past Nicolas Almagro 6-3, 7-5 to reach the quarterfinals of the Rio Open. Nadal was at times, back to his best as he defeated his fellow Spaniard to continue his quest to recapture the title in Rio.
Nadal Eases Through Opening Set
In the first game of the match, Nadal had to fight off two break points in a lengthy deuce game. He successfully held for the 1-0 lead. Both players then held serve to get the set to 2-1. In the fourth game, the 14-time Grand Slam champion broke Almagro, racing out to a 3-1 lead. Nadal then consolidated the break, holding with ease to 4-1. Both Almagro and Nadal held again, bringing the set to 5-2. Almagro then served to stay in the set, holding his nerve brilliantly at-love. The pressure then moved to Nadal with the 2014 Rio champion to serve for the set. Nadal fended off three break points, eventually serving out the set to capture the lead.
Second Set Tight Until The End
Almagro began the second set holding for a quick 1-0 lead. Both players each held serve twice from there, bringing the score in the set to 3-2. The nine-time French Open champion then held for 3-3, putting the pressure on Almagro as the set moved into the business end. At 3-3, Nadal took advantage of a weak service game from Almagro to secure a 4-3 advantage. The lefty then played a poor service game, giving Almagro another shot as he broke back to level the set at 4-4.
Nadal would charge right back, breaking Almagro again to go up 5-4. Almagro then converted the fourth straight break of the set as he broke a tense Nadal to again draw even. At 5-5, Nadal would return the favor as he made it five straight breaks and took a 6-5 lead. Nadal once again had given himself another chance to serve for a spot in the quarterfinals. This time, there was no mistake with Nadal serving out the match at the second time of asking with relative ease.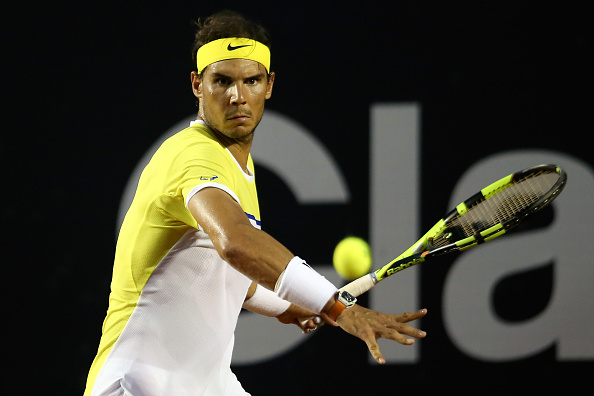 Nadal Discusses His Second Round Win
"I played a near-perfect first set and made almost no mistakes. On the second one I was a little bit nervous, especially when I was serving, so it took me a little bit more time to close it", said the fourteen time major champion. "The most important thing is that I won, I'm playing well and feeling much better than I was last week. I'm physically stronger."
Nadal Behind The Numbers
The Spanish lefty served fairly well, making 71 percent of his first serves and also winning 71 percent of those points. Nadal was weak on second serve, winning only 45 percent of the points. The Spaniard played the big points very well though, something that had been lacking in past months. Nadal saved 75 percent of the break point chances against him. The nine-time Roland Garros champion also converted break points well, cashing in 80 percent of his break point chances. For this columnist, the former Rio champion played one of his best matches of 2016.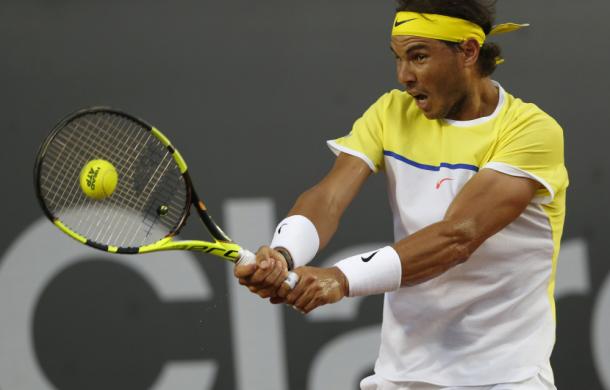 Up Next For Nadal
Up next for the Spanish lefty is awkward hitting Ukranian Alexandr Dolgopolov. Nadal and Dolgopolov have played seven times with Dolgopolov winning their last two meetings since the Spaniard won their 2014 clash in the Rio final. Dolgopolov defeated Nadal most recently in a titanic three setter at Queen's Club in 2015.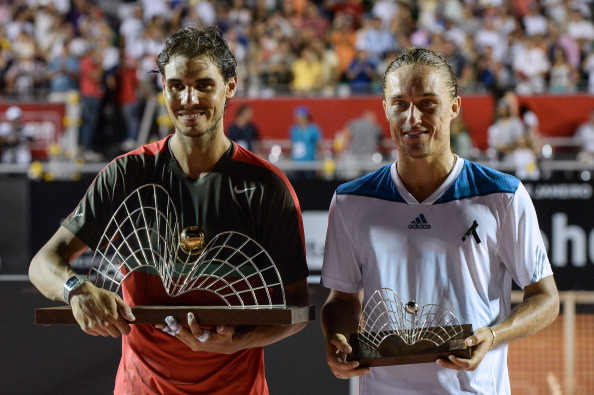 "It's going to be another difficult match. He beat me on the last two matches and it's a player that makes you change the way you play and gives you few opportunities," said Nadal. "He is a solid player, so you need to take advantage of his mistakes."
Dolgopolov countered with his thoughts on Nadal and their previous meetings, saying, "I beat him on hard and grass courts, so it´s completely different here because he is a different player on clay. In any case, I think I'm ready, and I have some time to recover now," said the Ukranian. " I'm more confident in myself now because I've beaten him twice and I know I can do it. I feel fine this week in Rio and I'm playing well"
Nadal will look to build some much needed confidence by having a deep run in Rio, and this will be a pivotal match for both players.