 There is no way to describe Rafael Nadal's Golden Swing, where he failed to reach a final, other than as a disappointment. After failing to convert a match point in the semifinals of Buenos Aires against Dominic Thiem, Nadal was upset in the semifinals of the Rio Open last night by 45th-ranked Pablo Cuevas.
Nadal, who is now 0-4 against top 50 opponents in 2016, never looked to be confident in the match, making uncharacteristic unforced errors and struggling to string together consecutive strong points. With his next tournament being the Masters 1000 event in Indian Wells, Nadal desperately needs to figure out what went wrong on the clay in South America.
Out of his Control
After his victory over Nicolas Almagro in the Rio second round, Nadal said that he was happy with his performance and was feeling confident again. But that confidence was non-existent in his semifinal match with Cuevas. However, Nadal felt that "I had opportunities and I fought until the end. I lost matches like this in Australia, last week and now here. I accept it and keep working."
The top seed also was willing to give full credit to Cuevas, saying "He is a great player especially on clay, very dangerous. At the end of the second set and during all the third he served well."
Nadal led 3-0 in the opening set, but allowed Cuevas to even the set. He also blew a 6-4 led in the tiebreak but managed to clinch it. After the opening set, the match was dominated by Cuevas. Nadal offered the explanation "I lacked tranquility in some moments."
Not the Month He Needed
Rafael Nadal did not hide his disappointment at his results in the two lower-level tournaments he played this past month, saying "I lost opportunities in Buenos Aires and here."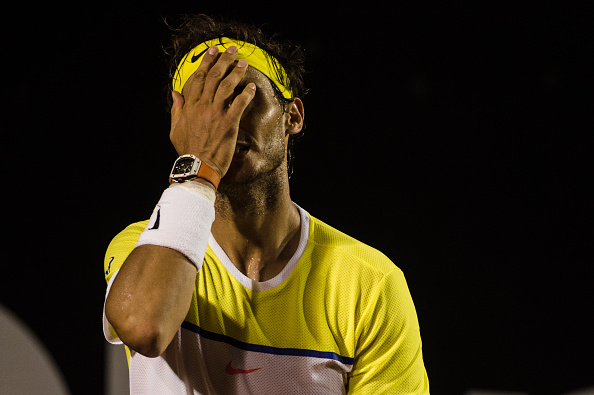 "Clearly when you lose two weeks in a row with good chances to qualify for the final it's never good, I fought until the end, I have had a good mentality accepting difficulties and fighting, but I lacked consistency in the important moments. I lacked a little bit of luck, I hope it goes better."
Nadal came into 2016 with momentum, but after starting the season by reaching the final in Doha, Nadal has struggled, going 4-3 dating back to the Australian Open. The highest ranked opponent he has beaten was world number 52 Paolo Lorenzi. The Spanaird had a golden opportunity to re-find some form the last two weeks but was unable to find a solution to the confidence and consistency problems that ail him.
After leaving his favorite surface without a much-needed title, or even finals appearance, he will next appear on the hard courts at the Masters 1000 event in Indian Wells.