It was a dominating display from Margarita Gsaparyan in the first round at the Qatar Total Open.  Karolina Pliskova, who was looking to bounce back from her early loss in Dubai, just never got her rhythm and game going. It was all the Russian from start to finish as she crushed the Czech in their first ever meeting 6-1, 6-1 in a mere 49 minutes.
Pliskova's Weapon, Her Serve, Was Out Of It
The lanky Czech usually uses her serve to the best advantage. But from the start, Pliskova struggled to get her first serves in. Gasparyan got the early break in a game where Pliskova hit two double faults before sending her forehand wide, going up 2-0. The Czech did well to earn the break back with a cross court winner in an enticing rally.
That would go on to be the only game won by Pliskova throughout the set. Her service games were always under threat and she could not get any rhythm going. As a result, she started doing more errors as well. Gasparyan did well in her own service games and looked the more comfortable player on court breaking Pliskova twice more to close out the set in 25 minutes.
Gasparyan Asking All The Questions As Pliskova Crumbled
With a set of new rackets, Pliskova held her own service game for the first time to start the second set. Gasparyan followed up with a love hold in her service game. The Russian was hitting with more confidence as an exquisite backhand return winner set up a couple of break points. She goes on convert to 2-1 with a beautiful backhand pass.
As much trouble she was having on her serves, the Czech also found it hard to make any headway on Gasparyan's service games. The Russian was moving well and her defense was good, putting back extra balls for Pliskova to handle and emerging victorious most of the times. She broke Pliskova once more to extend her lead to 4-1 before finishing her game to go 5-1 up.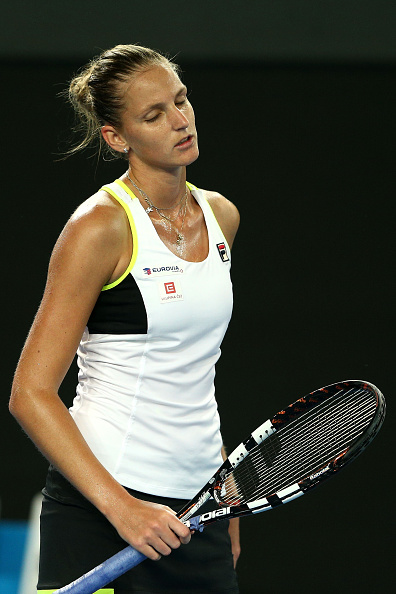 By this time, there was no fight left in Pliskova. She looked to be just going through the motions as she gave away three set points to the Russian. She hands the game in dramatic fashion hitting a double fault as Gasparyan seals her first top 15 victory in commanding style.
Match Statistics
Pliskova's low serve percentage at 44 robbed her of her biggest weapon. Gasparyan on the other hand was getting a decent 66 percentage of her first serves in.  The Czech also hit 10 double faults which pretty much summed up a miserable day she was having with her serves.
Gasparyan also hit 15 winners while Pliskova managed 10. The Russian only hit 7 unforced errors playing a clean game to Pliskova's staggering 24.
The Czech barely had any opportunities to break her opponent, converting just one of her two chances. While it was chances galore for the Russian, who successfully converted six out of the eight she had.