Simona Help had her chances in this match, especially after winning a really tough first set, and things seemed to go, once and for all, in a good direction. She came into Doha with a single goal in her mind: to get matches under her belt. A nightmarish start of the year, a scenario few could have even imagine, with health issues, lack of confidence, matches lost against players she should have easily beat, she is now struggling to win a match in a tournament. Last time the Romanian lost four consecutive WTA matches was in 2012 (Bruxelles, Roland Garros, Hertogenbosch and Wimbledon). This rough patch makes things even harder. She needs to bounce back in terms of form and mental confidence as soon as possible.
A highly competitive match with a 1 hour and 13 minutes first set.
From the early beginning of the match things were looking extremely intense, both players were giving their best, Elena Vesnina with a great serve, good movement, and Halep trying to be more aggressive than ever. After both managing to break one another, Vesnina had to face six break points in one of the longest games of the match. Halep was getting more comfortable with every point won or lost. Vesnina often replied with a great serve or a forehand winner right after Halep was getting closer to break. That is something Vesnina was great at in this match. She managed well with the pressure Halep tried to put on. And what made this match so fun to watch was precisely the similar style these players have. They both move extremely well, have a strong backhand and a great forehand.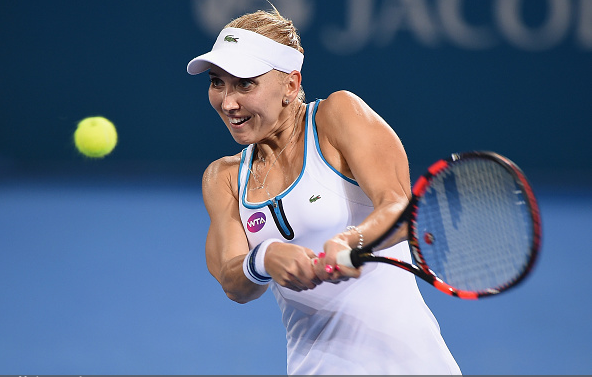 Vesnina has been inside the top 100 for the last ten years, but she lacks consistency in her game. However, against Halep she definitely played a top 20 tennis, maybe even better than her 2013 season when she reached a 21 career high ranking. Tonight, her ranking did not reflect the tennis she played.
They both went toe to toe, pushing each other, a high quality match in which, at 5-5, Vesnina looked like she was believing she can get the win. She got past qualification in Doha, then beat Dubai's semifinalist, Caroline Garcia, in the first round and now, against Halep she was about to serve it out for the set. Here things get a little bit complicated. She called for her coach to get some positive reinforcement and last minute pieces of advice on how to close it out. A drop shot at 6-5, 15 all, was a sign of nervousness, everything a big player needs in such crucial times. Halep knew right away Vesnina would not be able to play the same quality tennis as she did in the previous games so, she took advantage of that. From dominating the last three games, Vesnina went on to make a lot of unforced errors, two with her forehand, one with her backhand, and a double fault to give Simona Halep a 6-1 lead in the tie-break. A simple formality for the Romanian and Halep won a long and grueling first set.
From what was supposed to be Halep's match, Vesnina steps in and gets the win.
With a greater confidence after snatching the first set, Halep went on playing mistake free, up until one moment though. Halep got an early break, then marvelously took a 2-0 lead with a backhand down the line. A one-way traffic beginning of the set and everyone was expecting Halep's first WTA win since Sydney. Everything was flowing her way, her movement was great: facing two break points Halep was wide on the forehand side and in the next second she was in the middle of the court hitting a backhand winner. At 4-1, it seemed Simona Halep got her work done.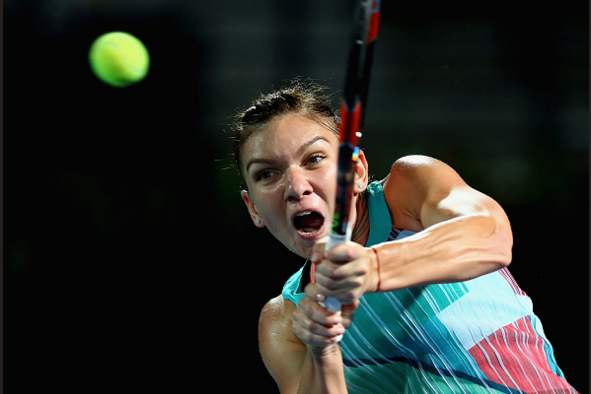 Afterwards, Vesnina realizing she had nothing to lose, as she put it in her own words at the end of the match, began prolonging the points, to go more for the depth, to improve even more her first serve percentage. A situation which took Halep by surprise. She had to hit more balls than she was used to, she had to run more and that caught up with her. Vesnina raised her level and one thing she should be credit for is the fact that she gave Halep no pace, no rhythm and the angles she was playing with messed Halep timing. So often, Halep was unable to reach Vesnina's drop shots, so often she seemed exasperated of the Russian's fighting skills. Since that 4-1, Vesnina won five straight games to take it to a third and deciding game.
A 27 minute third set in which Halep looked unsettled, even worried at times, she only managed to level it up for 1-1 and then Vesnina played a high level tennis, winning nine of the last ten games and closed it up for 6-1. The Russian got one of her biggest win of her career and this is what she had to say afterwards: "For the last two years this win is number 1 for me. Simona is a great player, she's such a solid player, she had amazing years, for couple of years she's in top 10, she's number three in the world and I'm really pleased with my game today." So, how did she turn it around: "You, know, that's my character, I'm always fighting until the end and I was thinking "I am on center court here in Doha, I am playing Simona, 1-4 down, I mean it doesn't matter, just fight, game by game, ball by ball", and it just worked".
Match statistics
Vesnina had a higher first serve percentage with 71%, while Halep had only 56%, a considerable decrease in the third set, in the second set she managed to get in 70 percent of her serves. The Russian converted eight of her 15 break points opportunities, while the Romanian only converted five of her 16 opportunities.
In terms of winners and unforced errors, things are not as clear. At the beginning of the first set, they both had 30 winners and 99 points won, nevertheless at the end of the match Vesnina had three more winners than Halep (36), but also ten more unforced errors (46).