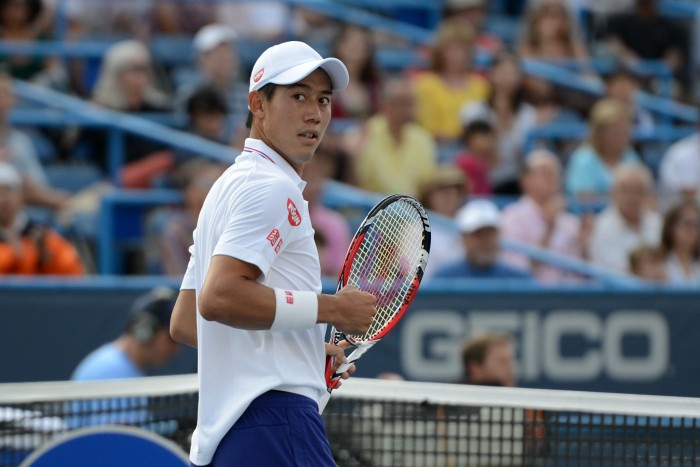 The first male Japanese player ranked within the top ten, Kei Nishikori, has expressed his intention to capture the number one ranking. Nishikori also commented on his approach to the remainder of the season.
Nishikori Knows Work Still Needs To Be Done
Nishikori has experienced success against the top players with two wins against Novak Djokovic, two wins against Roger Federer, one win against Rafael Nadal, and one win against Andy Murray. His greatest success has been upsetting Djokovic in the semifinals in the 2014 US Open.
"I dream to be No. 1 one day, but in order to do it I have to improve in many aspects. Physically I have to become more powerful, I have to be more precise and I need to make other changes. Now the best is Novak, who is having a great moment," said Nishikori.
Although talented, his greatest weakness remains his lack of physicality, especially compared to the other top players. Currently ranked number six in the world, injuries have hindered Nishikori from moving to the top. He suffered from shoulder, hip and abdominal injuries in 2015, withdrawing from several tournaments.
He admits to struggling with the constant pressure of being a top player, saying, "Being a professional player is tough, but I keep being focused and I hope to improve much more."
Focused on Acapulco
Currently playing in Acapulco, Nishikori hopes to improve from his performance at the tournament in 2015, "I am focused only on my tennis, not on other players' tennis. I lost the final last year with David Ferrer, but Now I feel strong and I can do well."
Nishikori swiftly got past Thiemo de Bakker in the first round, winning 6-0, 6-3. Seeded second, he could play either Sam Querrey or Dudi Sela in the next round.
Nishikori also expressed confidence in his potential at the Olympics in Rio de Janiero this summer, "Rio is very important for me. Japan will have strong players in many sports and win a medal will be difficult, but when you are among the best everything is possible."
The Rio Summer Olympic Games begin on August 6th.